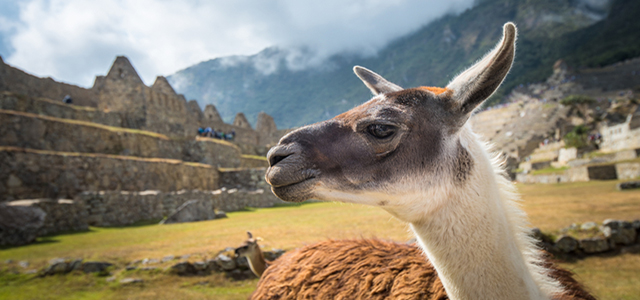 Why Peru's Sacred Valley Shouldn't Be Overlooked During Your South America Travels
Too many people travel to Peru with one thing in mind. To visit Machu Picchu, one of the greatest archeological sites in the world. While Machu Picchu is undoubtedly an engineering feat (it was constructed on top of a mountain after all), it's still not the only archeological wonder in Peru. It just happens to be the most famous one. But that doesn't mean the other pre-Colombian sites aren't equally impressive or unique in their own right.
Photo Credit: © iStock/Cameris
Here are five reasons why you shouldn't overlook Peru's Sacred Valley and give it much more than just a passing glance.
Cusco isn't the best introduction to the Sacred Valley.
While it was once the capital of the Inca Empire, the Cusco of today looks drastically different. It's the city that most people fly into before they make their way to Machu Picchu and as a result of this, it's overrun with tourists. Not to mention, because of said tourists, in the areas around the Plaza de Armas, locals try to entice you every couple of feet with offers for manicures, massages, and more. Although there are countless sights to check out (The Church of the Society of Jesus, Cusco Cathedral), the city, at least in the central area, just feels too "artificial," too tourist heavy. In short, it's lacking in the authenticity that you will find elsewhere.
A day trip to Sacred Valley sites isn't enough time to really see everything.
Many people base themselves in Cusco and spend the day visiting popular attractions in the Sacred Valley. However, contrary to what some people think, the Sacred Valley is huge. There are enough sites to keep one occupied for a couple of days at least. There's everything from a famous crafts market, Pisac, to ancient agricultural terraces in Moray, to the salt pools of Maras that are still panned today, to the ruins at Ollantaytambo that are impressive even by the standards of Machu Picchu. Keep in mind that all of the sites in the Sacred Valley are spread out from each other so you will spend a fair amount of time getting to each one. But you'd spend more time if you started from Cusco.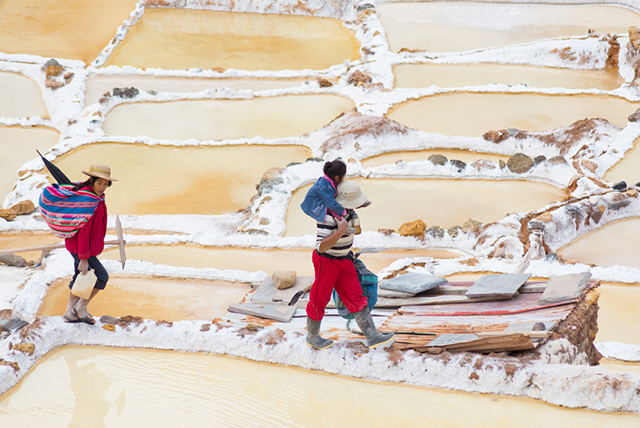 Photo Credit: © iStock/fabio lamanna
The Sacred Valley sits at a lower elevation than Cusco.
One of the best ways you can adjust to extreme altitudes (those of 10,000 feet or more) is by acclimatizing at a lower elevation. Cusco's altitude is over 11,000 feet while places in the Sacred Valley like Ollantaytambo are less than 9,500 feet. While you'll still feel the "burn," it will be somewhat less pronounced at the lower elevations and will help your body physically adjust too.
The Sacred Valley is extremely rural, but that's a good thing.
When driving in the Sacred Valley, you may not see anyone for miles, except for maybe a stray vaca (cow) or two. The landscape is barren and untouched and with the exception of the roadways, which still feel similar to what the Spanish conquistadores might have seen centuries ago when they first arrived. With nothing but the majestic Andes in front of you, it's a magnificent piece of scenery to behold. (On a side note, don't rent a car. Hiring a private driver is extremely inexpensive and your nerves will thank you.)
By visiting the Sacred Valley, you'll see numerous sights that many people never will and don't even know about.
I had always wanted to visit Peru because of Machu Picchu. But once I started my research and decided not to hike the Inca Trail, I knew that I didn't want to be based in Cusco the whole time. I wanted to see a side of this country that many visitors don't, because they're too focused on hiking the trail and seeing the famous Inca ruins. Staying in Ollantaytambo for three nights was idyllic, as the scenery was breathtaking and the town itself not overrun with tourists, especially to the degree that you'll find in Cusco. At the ruins of Ollantaytambo, I learned that it was once the royal estate of an emperor who had conquered the region. Machu Picchu gets all the buzz, but that was still only a citadel. Seeing the salt pools at Maras and learning that they're still panned by the descendants of the Inca was surreal.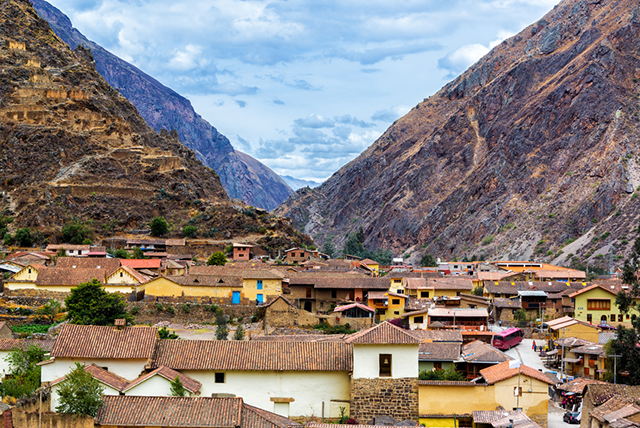 Photo Credit: © iStock/DC_Colombia
Machu Picchu was an incredible place to visit. But it's the lesser known sites that I saw that really left their mark on me. It's never bad to travel to a destination for a sole purpose, but don't let that be the only reason to go either, because you will undoubtedly discover the gem that is Peru's Sacred Valley.
Main Image Photo Credit: © iStock/javarman3
About the Author: Librarian by day, die-hard travel fanatic and aspiring writer by night, Julie is the author of the travel and food blog, The Red Headed Traveler. When she's not traveling she's either testing out a new recipe (she loves making ethnic food) or being a wannabe foodie in Pittsburgh where she is attempting to eat her way through as many restaurants as she possibly can.
Featured Vendor

Get Hertz Discounts
Subscribe to Our Blog!
Like Us On Facebook