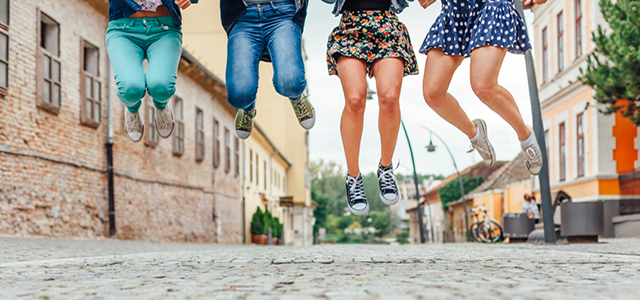 Move Over Austin: Houston is the Coolest City in Texas for These 6 Reasons
What comes to mind when you think of Houston, Texas? What might come as a surprise is just how distinctly unique the Texas City is when compared to its fellow neighboring cities in the Lone Star state. Some might go as far as to say that Houston is a bit quirky, out of the box, or unlike the reputation that might precede it. Houston is most definitely a hustling and bustling major city, but it's also a really fun city, something that might be unknown to those who haven't spent much time there, so next time you are in town, spend a little time discovering some really cool things that make Houston, well…Houston.
1. The Sound of Silence
Houston's public drinking water was stored in an
underground cistern
that was built in 1926 and it was used for decades until it sprang a leak that couldn't be found or repaired. Due to this, the public reservoir was drained and it sat around abandoned, unused and forgotten about. Meanwhile, above the old cistern, Houstonians went about their days, while below them sat an empty cavernous space the size of one and a half football fields. City officials debated whether or not to turn it into a parking garage. It's an eerie space full of silence and luckily, due to a $1.2 million grant from The Brown Foundation, the cistern is accessible to the public and up to code. The cistern will eventually be used as a one-of-a-kind performing and visual arts venue. It's currently equipped with a walkable path that lets visitors navigate around the maze of columns.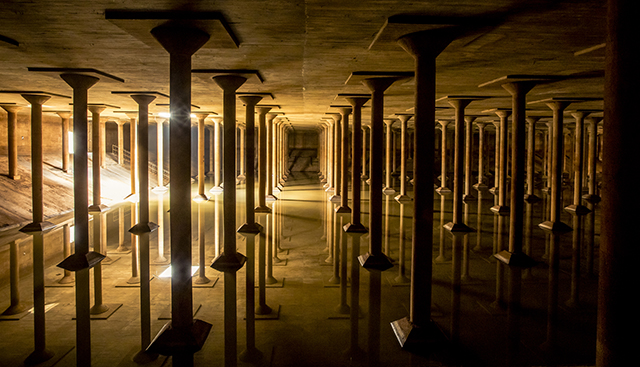 2. Where Is Everyone?
Down below Houston's streets lays a 7.5 mile long
tunnel system
. The series of subterranean passages was built to accommodate the city's 150,000 employee workforce as they made their way to do their everyday tasks such as doctor's appointments, banking, shopping, etc. It's basically an underground mall, a very long mall that is. Walking above it during the day, looking around for working professionals throughout the streets is a bit bizarre due to their absence, until you take the stairs or escalators down to the air-conditioned underground bliss.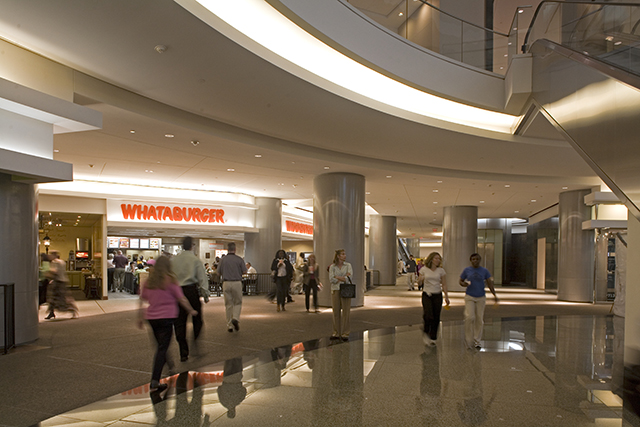 3. Don't Push The Button! Ok, Push It.
This is one of those times where it's ok to press that little red button. Behind downtown's
Wortham Theater
, where Preston Street crosses Buffalo Bayou, inset in the staircase that leads down to the river is a non-descript red button. Here's a hint: push the button. What happens next will surprise you and will have made the mission to find the button well worth it.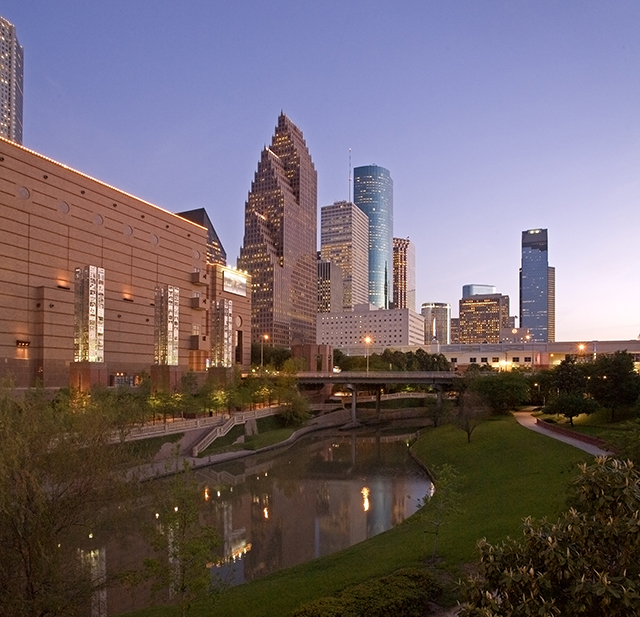 4. An Unforgettable Monument
For more than 20 years, Houston postman Jeff McKissack worked on his maze-like
Orange Show Monument
. It's made from using concrete, brick, steel and pretty much anything else he could find. Within, there are a series of walkway mazes, balconies, arenas and exhibits, all located inside an East End lot. When he passed in 1980, the unfinished project was rescued by a non-profit that set out to preserve the structure. The site is now open for tours and special events and the only way to fully understand what it is, is to experience it in person.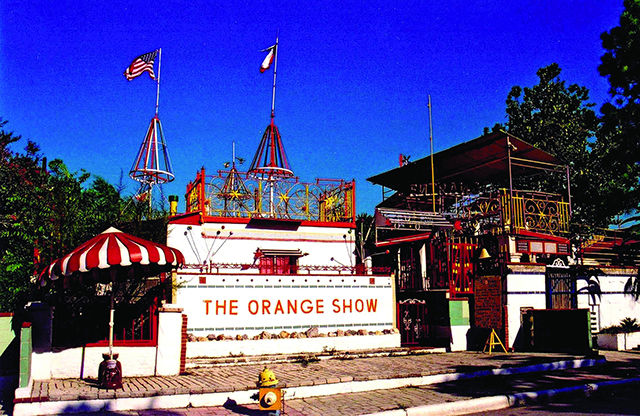 5. Go For The Music, Stay For The Beer
What's better than an actual music store that sells actual records? Well, nothing. Step back in time to when brick and mortar shops stocked new and used CDs, and actual vinyl records. For any music aficionado,
Cactus Music
is a must visit while in Houston. Vinyl can be test-driven on Cactus' dual turntables. Additionally, the indie-shop hosts in-store performances from local bands, complete with free Saint Arnold's beer!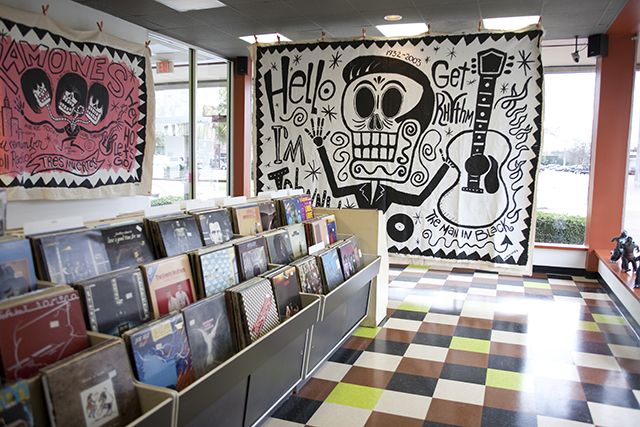 6. Not For Picnics, But Worth a Stroll
Cemeteries spook some out, but in actuality, they can be rather interesting to explore. Situated on 84 acres along the Washington Corridor,
Glenwood Cemetery
serves as the final resting place to some of Houston's most iconic residents. Take a walk through the grounds and keep an eye out for ornate headstones of more than 20 mayors, past governors, oil tycoons and even Howard Hughes.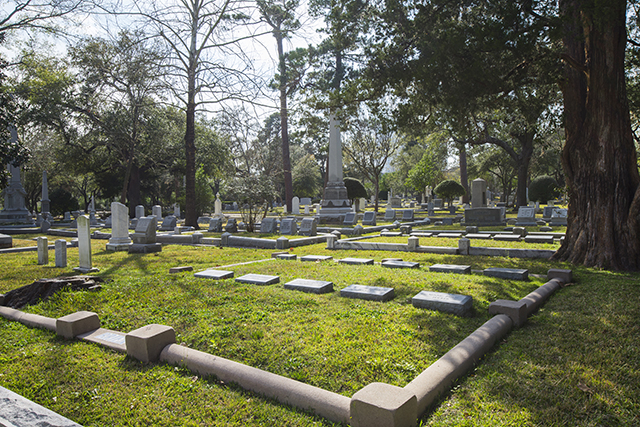 Main Image Photo Credit: © iStock/Kikovic
About the Author: David Duran is a Brooklyn-based luxury, hospitality, culinary, and overall freelance travel writer who contributes to such publications as Fodor's, Travel + Leisure, Destinations Weddings & Honeymoon, and Caribbean Travel + Life, among others. When not traveling 20-25 days a month for his work, he spends his free time planning more travel! To read some of his work, check out his online portfolio, and follow him on Instagram and Twitter at @mrdavidduran.
Featured Vendor

Get Hertz Discounts
Subscribe to Our Blog!
Like Us On Facebook