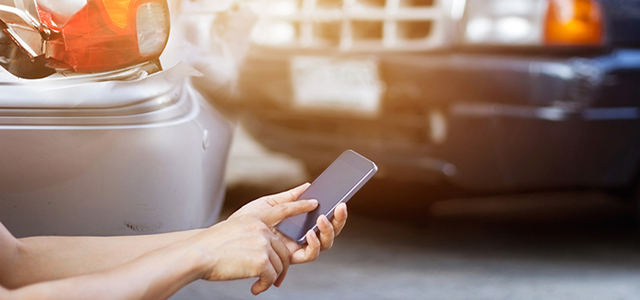 What You Need to Know if You Wreck Your Rental Car on Vacation
It's the ultimate travel nightmare: you got in an accident and wrecked your
rental car
, and possibly even another car. Getting in an accident is horrible either way, but wrecking your rental car might be a lot more complex afterwards – since it's not yours. Here is what you need to know if you wreck your rental car.
The main take-away: handling an accident in a rental car is pretty much the same as an accident in your own car, except for insurances and paperwork afterwards.
You got into an accident, what now?
The first thing to do is to make sure you are safe and stay calm. Then check if everyone in your vehicle is safe and then follow with checking other involved cars and the surrounding area. Do not move your car! Of course: call 911 right away; for safety and also because you will probably need a police report for insurance purposes. Set up flares or call the police to prevent oncoming traffic from crashing into your accident.
As soon as you are sure you are not hurt and your area is safe, take pictures of the accident. Make sure to capture the position(s) of the car(s), and the damage on the car(s), etc. Exchange contact and insurance information with other drivers involved. A tip often given is to not mention you are driving a rental car. Some people might try to take advantage of it.
This is when it starts being different from getting into an accident with your own car. You now know everyone is safe, you have pictures of the situation and damages and contact information for other people involved. Now you call the rental company and let them know you got in an accident. Ask them how to proceed, since this might be different with different companies.
Also inform your own insurance of the accident. Make sure to inform all involved parties. Remember to contact:
Your credit card company that insures damages on your rental car (hopefully?)
Your personal car insurance
Your medical insurance
Insurance
Make sure to be properly insured while renting a car! Your credit card might promise you "full coverage on rental cars," but this only applies to your own (rental) car, not another car that you might have collided with or medical expenses that might come up.
While renting a car, the rental company will often offer you an insurance that covers expenses like this. If you own a car, your own insurance might already cover rental cars. Be sure to check this beforehand! If you do not own a car and are renting one, you should also have insurance for cases like this. It's better to be safe than sorry.
Then what?
Sometimes you will need to file a police report, other times just exchanging information is good enough.
If you can still drive the car, you can leave after exchanging information. Drive safe and calm, it's okay if you need to go somewhere where you can calm yourself down and where you can call the insurance companies.
If the car is totaled and cannot be driven anymore, it needs to be towed. In this case, the rental company might replace the car for the rest of your trip, but that depends on the policy of the rental company.
Make sure to keep an eye on your body after the accident. You might not have any obvious injuries, but they might come up after, like a whiplash. Make sure to visit a doctor if you experience any pain. Also take your time to evaluate your experience and maybe talk about it, especially if the accident was extreme, since some people get traumas from extreme accidents.
So in short:
Be aware of your insurances
Stay calm and check if everyone and your surroundings are safe
Take pictures of the scene
Exchange information with involved parties
Inform the rental company
Inform the insurance companies
Main Image Photo Credit: © iStock/CBCK-Christine
About the Author: Milou van Roon runs a Digital Media Agency called Explorista Media that is dedicated to making travel brands into online rockstars. She's hardly ever home in The Netherlands, and regularly abuses the European low cost flights under the excuse of 'blogging about it' on budget travel blog http://explorista.net. Be sure to follow her adventures on Instagram (@Explorista).
Featured Vendor

Get Hertz Discounts
Subscribe to Our Blog!
Like Us On Facebook