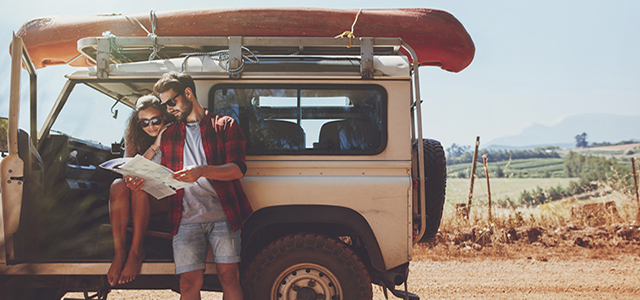 10 Things to Know Before You Rent a Car Abroad
When planning a trip overseas, it may be easy to add
renting a car
to your travel list, but the realities are that renting a car abroad is not as easy as one would expect, and at times can be troublesome if you show up unprepared. There is a lot to consider before renting a car in a foreign country and once you do manage to get behind the wheel, there's still more to keep in mind. So before you book your overseas ride, make sure you take the time to review some important factors we've listed below.
1. International Driving Permits
That's right, your U.S. driver's license may not be enough in some countries. Some foreign governments require travelers to obtain an international driving permit prior to arriving. The best way to find out if you need a permit is to check with the country's embassy. Fortunately, it's rather simple to apply for one.
AAA
and
National Automobile Club
offer permits and each require two passport-style photos, a small fee, an application and a waiting time of approximately 4-6 weeks, so plan ahead.
2. Make Sure You Are Comfortable
Many countries overseas rent manual transmissions as a standard and if you are not ok with driving a stick shift, be prepared to pay a premium for an automatic vehicle. Also, remember that roads and highways may be paved poorly, narrow, winding or just dangerous. If you are a nervous driver, take into account that self-driving can be stressful. And of course, countries such as England, Australia and South Africa drive on the opposite side of the road…
3. Background Checks
If your driving record isn't perfect, it's possible to be rejected at the counter. Some rental agencies look at your background to check for incidents of reckless driving, accidents or other traffic violations and if your background does not meet company standards, you could be out of luck, even if you already had a reservation. It's best to research and or call if you feel you may have an issue. This tip is especially true when attempting to rent in Canada.
4. Credit Card Blocks
Most rental car companies will place a hold or block on funds to secure your rental, so make sure you have a valid credit card with enough funds so that you won't be stuck without money on your trip if the company holds more than you thought they would. Typically, the full amount of the rental plus an additional amount is held, but it's best to check with the individual company prior to renting.
5. Inspection is Necessary
Before you jump in the car and go, make sure to thoroughly inspect the vehicle. Most rental car companies require you to sign an inspection form, and if you do find any damage, make sure to have an employee sign off on the form prior to departing. It's easy to be in a rush and grab the keys and go, but it's never fun paying for pre-existing damage.
6. Review Your Insurance Policy
While rental reimbursement insurance covers the cost of a rental car, it does not protect the rented vehicle in the event of an accident. Before accepting the insurance option offered at the counter, check with your personal insurance policy to see if it includes collision and comprehensive coverage overseas. If it doesn't, it's better to pay the extra bucks for additional coverage.
7. Additional Drivers
If you are planning on sharing the driving responsibilities during a trip or plan on having anyone else possibly drive the vehicle, even just to run an errand, it's best to include them on the rental contract, which can be more expensive, but can save you if something were to happen while that driver was behind the wheel. Your rental contract is only valid for the names appearing on the document.
8. Accessories
You may want to try and save a few dollars by bringing your own navigation system with you, but remember that most of those devices are programmed to work in the country you live in, and might not have the proper updates for whichever foreign country you are visiting. So before you go, make sure it's good to go, otherwise, go ahead and spend the extra amount on a navigation system, as it will make the trip a lot easier and keep you from having to pull over to ask for directions.
9. Before You Drop Off
Make sure you know exactly what time you need to return the vehicle and what all the company requires of you prior to doing so. Some companies charge additional fees, at times a full days rental charge for late drop offs. The same goes for returning the vehicle without filling up the gas tank.
10. Before You Drive Off
Stop signs, speed limits and general rules of the road can be completely different in a different country, and at times, you might be driving on roads that have signs in different languages. Try and familiarize yourself with the basics such as passing other vehicle rules, seat belt laws, alcohol limits and even rules about honking your horn. Being an international driver does not give you a hall pass, so do your best to brush up on the rules of the road.
Main Image Photo Credit: © iStock/Jacob Ammentorp Lund
About the Author: David Duran is a Brooklyn-based luxury, hospitality, culinary, and overall freelance travel writer who contributes to such publications as Fodor's, Travel + Leisure, Destinations Weddings & Honeymoon, and Caribbean Travel + Life, among others. When not traveling 20-25 days a month for his work, he spends his free time planning more travel! To read some of his work, check out his online portfolio, and follow him on Instagram and Twitter at @mrdavidduran.
Featured Vendor

Get Hertz Discounts
Subscribe to Our Blog!
Like Us On Facebook