Travel Guide: Reykjavik, Iceland
Iceland's capital, the beautiful city of Reykjavik, is one of the prettiest places in Europe. With its snow topped hills, volcanic landscapes and incredible geothermal spa's and pools, Reykjavik attracts thousands of tourists each wanting to return year after year. As well as its rich Viking history and dramatic coastal position, Reykjavik is known for its nightlife with many late night clubs and bars in the heart of the city, as well as groovy cafes and restaurants offering traditional Icelandic foods. This handy Reykjavik travel guide delves further into the city and tells you all you need to know for that all important trip… best get planning!
Essential Information
Currency:
Icelandic Krona (ISK)
Time difference:
+4 hours EDT/no change GMT
Telephone code:
+354
Travel time from NYC/London:
just under 6 hours (NYC)/just over 3 hours (London) by plane
Fun Facts About Reykjavik
Number of resident sheep:
approximately 1,277,000 – that's 4x the human population of the entire country!
Number of McDonalds:
a big fat ZERO! In fact, there are also no Starbucks to be found in the whole country either!
Number of volcanic sites:
11
Number of geothermal spas and pools:
15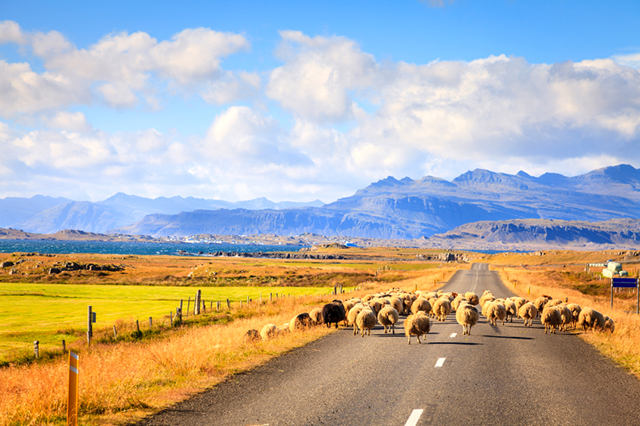 Getting Around
Bicycles:
If you can cope with hills and strong winds then seeing the city by bike is a fantastic way to explore! There is no public bike share program in place in the city, but you can rent bikes at any time from companies like
Reykjavik Bike Tours
. Most cycling can be done either on the roads or sidewalks as there are not many dedicated cycle paths, although this is increasing year after year. Remember that pedestrians always have right of way if you are cycling on the sidewalks!
Buses/Coaches:
Public transport is great in Reykjavik, with easy to read timetables and frequent services between pick up points all across the city. It's worth purchasing a Reykjavik City Card for up to 72 hours of unlimited bus travel, free admission to some tourist attractions and discounts at participating restaurants and shops. Please note that bus drivers are unable to give change so you must use the correct money when purchasing fares!
Walking:
The city itself is fairly compact and Reykjavík is often referred to as a big town rather than a city! Due to its size, everything is located in close proximity, with most hotels, tourist attractions, bars and restaurants positioned within a 1.5 square kilometre area, meaning everything can essentially be reached on foot. The Tourist Information Centre in the heart of Reykjavik offers free City Walks Maps which are super helpful at guiding visitors between the historic sites and landmarks as well as lesser known places like the hidden gardens, parks and recreational centers.
Top Tourist Attractions
The Northern Lights
What is it?
Also known as the Aurora Borealis, they are a natural phenomenon lighting up skies across the Arctic and Antarctic regions. Auroras are produced when solar winds disturb the magnetosphere turning charged particles into magnificent light displays in the atmosphere.
Why visit?
The Aurora Borealis are one of the natural wonders of the world and are on just about everyone's bucket list! Seeing the Lights is something that everyone should do and is a once in a lifetime opportunity.
Top tip:
The best time to go is during the winter months, between September and March, but visitors are often encouraged to go between November and February for the best chances at spotting the Lights. The weather must be clear, without rain or snow, and the skies must be pitch black!
Essential info:
Obviously as they are a natural occurrence, catching a glimpse of the Lights cannot be guaranteed. Most tour companies offer another free excursion if the Lights aren't spotted on the first night. Don't forget to wrap up warm and wear sensible clothing – you may be up 'til very late at night trying to spot them!
Golden Circle Tour
What is it?
One of Iceland's most popular excursions visiting three major tourist sites including the geological wonder of Thingvellir National Park, the incredible Strokkur Geysir and the enchanting Gullfoss Waterfall.
Why visit?
The tour is a great way to see the South of Iceland, covering around 300 kilometre of road from Reykjavik, on an all day excursion. If you only do one tour on your visit this is without doubt the best one that the country has to offer!
Top tip:
Wait patiently for the Strokkur Geysir to erupt; every 4-8 minutes it shoots a column of boiling water 30 meters into the air and is a natural phenomenon that attracts thousands of tourists each and every day.
Essential info:
Running daily from 9 a.m. (with various hotel pick-ups) these tours last for approximately 8 hours. Prices are typically 10,500 ISK per adult, 5,250 ISK for teenagers 12-15 years and free for children under 11. There are plenty of tour operators to be found in the city, but we personally recommend the
Discover Iceland 4x4 Golden Circle Glacier tour
.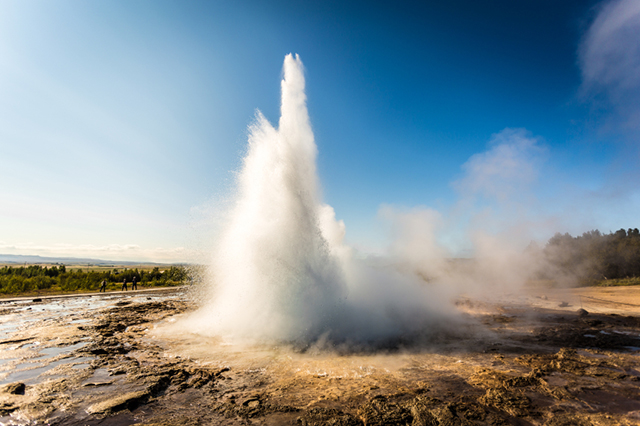 Hallgrimskirkja Church
What is it?
A beautiful Church right in the heart of Reykjavik, first built in 1945 completed 38 years later. Architect and designer Gudjon Samuelsson wanted it to resemble the molten lava flow of Iceland's rocky landscape, hence its unique shape and coloring.
Why visit?
The church houses an enormous organ which is 15 meters high and weighs 25 tons – this alone is a sight worth seeing but visitors can admire the incredible architecture both internally and externally.
Top tip:
Climb to the top of the Church and visit the observation tower for incredible panoramic views across the entire city.
Essential info:
Open from 9 a.m. until 5 p.m. October through May and 9 a.m. until 9 p.m. June through September with Eucharist masses every Wednesday and Sunday at 8 a.m. and 11 a.m. respectively. Admission to the tower is 900 ISK for adults and 100 ISK for children.
Blue Lagoon
What is it?
Located in a lava field on one of Iceland's southwestern peninsulas, The Blue Lagoon geothermal spa is one of the most visited attractions the country has to offer and is labelled one of the 25 Wonders of the World.
Why visit?
A visit to the Blue Lagoon Spa is a must for anyone looking for a unique adventure in beautiful volcanic surroundings. Swim in 98° - 104°F heated waters, book a massage or unwind in one of the many saunas and steam-rooms for the ultimate spa experience.
Top tip:
Don't miss the large pots of silica mud dotted around the poolside. Guests can use these as facemasks for a rejuvenating beauty fix throughout their visit.
Essential info:
Tours and transfers can be arranged with pick up points for various hotels. Standard entry price with transfers is 9,200 ISK per adult, 5,000 ISK for teenagers 14-15 years and free for children under 13.
Reykjavik Hotel Picks
Budget: BEST WESTERN Hotel Reykjavik
Situated in the center of downtown Reykjavik, amongst the vibrant streets filled with shops, bars and restaurants, this 3-star hotel offers a comfortable stay in a convenient location. The hotel offers double, triple and family rooms to suit every guests needs, and upgrades to deluxe rooms or junior suites are also available. The stunning Hallgrimskirkja Church is within easy reach, just 1 kilometre away, and the pretty harbour is also nearby. The onsite bar and cocktail lounge offers guests the perfect chance to enjoy a drink and unwind after a busy day of exploring!
Luxury: Hilton Reykjavik Nordica Hotel
This 4-star contemporary hotel with modern and spacious rooms offers guests a luxurious stay. Executive suites are available, most of which offer stunning ocean views across Reykjavik's bay and harbour. Around a 20 minute walk away from the city center, the hotel is perfectly positioned close enough to everything you could want, but quietly tucked away from the hustle and bustle of Reykjavik's busy streets. The elegant on site restaurant serves traditional Nordic dishes and there are also spa and fitness facilities for guests who would like to escape the cold!
You're Ready to Visit Reykjavik
So, based on the facts, figures and tips in this guide you should now be able to visit Reykjavik fully informed and ready to navigate your way around the city. Spend your time wandering around the bustling shopping streets (particularly Laugavegur), relaxing in one of the many unique thermal pools and spas or trying your luck at catching a glimpse of the phenomenal Northern Lights. The pure and natural beauty of Iceland will leave you wanting to return time and time again!
About the Author: Jess is a 22 year old travel-obsessive, always planning her next adventure! She loves ticking iconic landmarks off her bucket list and has a particular passion for fun filled European city breaks. Follow her latest news over on her travel blog 'Journeys with Jessica.'
This post contains references to products from one or more of our partners. We may receive compensation when you click on links to those products. For an explanation of how ABN works, visit this page.
Featured Vendor

Get Hertz Discounts
Subscribe to Our Blog!
Like Us On Facebook