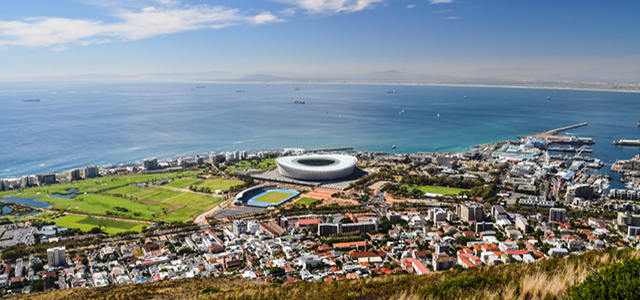 Travel Guide: Cape Town
A city of diversity, history, culture and natural beauty, Cape Town is a true global destination. The perfect city for those of us who look for a bit of everything in our holidays, beautiful beaches, fabulous food, fascinating cultural and natural wonders mean that this really is a city for everyone.
No one should visit Cape Town without trying to sample some of the variety that's offered, this is not a place to sit in your hotel for a week. Take a day trip to the winelands of Stellenbosch or Franschoek, hike Table Mountain and feast in the new foodie meccas. Or sunbathe on the sublime beaches after partying all night at one of the new, cool bars scattered all over the city. Here are a few things to keep in mind when you travel to Cape Town.
What to Do
Table Mountain, Robben Island and the V&A Waterfront spring readily to mind when one thinks of Cape Town. Whilst these are famous attractions for totally justifiable reasons, and well worth visiting, Cape Town offers so much more.
The best way to get a feel for a city packed with so much history, both ancient and modern, is to join one of the free walking tours offered.
Cape Town Free Walking Tours
do excellent twice daily walks, leaving from Green Market. A fantastically fun way to orient yourself and learn a surprising amount about the city and its origins, try and join the historic city center tour as early as possible during your stay. If time allows, squeeze in the afternoon tour and wander the vibrant, colorful streets of Bo-Kaap, the traditional Cape Malay area of the city.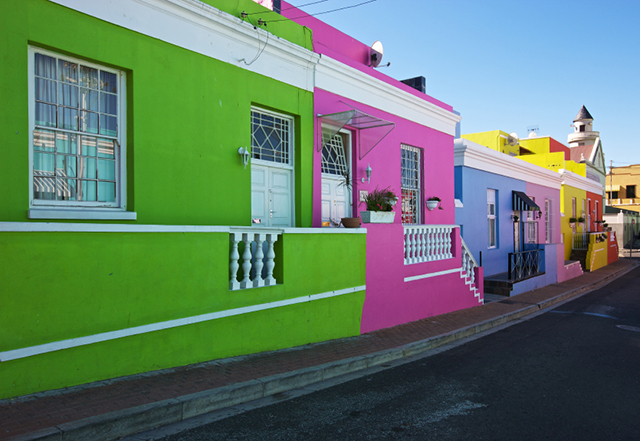 When sightseeing gets to be too much, take some time out in the
Kirstenbosch National Botanic Gardens
. Set against the slope of Table Mountain, meander around the gorgeous array of tropical flora, walk through the treetops on the canopy walkway and have a picnic amongst the flowers.
In a region known for its wine, recent years have seen a huge rise in popularity of Micro-breweries and craft beer.
Weinhaus + Biergarten
has a lovely relaxed courtyard where it's perfectly possible to watch the hours slip away while sampling the range of brews available. If you're looking for a real challenge,
Beer House
on Long Street has 99 varieties to choose from, try the snack pairing to get those taste buds going.
Cape Town is like London in that it's made up of smaller areas, each with their own distinct subculture and atmosphere. Woodstock, an up and coming arty area is well worth a visit. Made famous by
The Old Biscuit Mill
which houses a trendy mix of designer boutiques, top class restaurants and a hugely popular food market, it's an interesting and enjoyable place to experience a different side to the Mother City. It's worth noting that here, and in other areas of the city, some residents argue against the gentrification of the areas, so try and spread some of your pennies around to the local artists and original population where possible.
For a touch of sophistication you can do worse than afternoon tea at the
Belmond Mount Nelson Hotel
. Sit on the terrace, stroll around the garden and feast on delicious savories before plunging head first into the prettiest table full of cakes and pastries you've ever seen. The pianist sets off the scene perfectly, just don't expect to need dinner that evening!
Finally the beaches, from glamorous Camps Bay, family favorite Clifton and beautiful Llandudno there really is an option for everyone. Take a drive along the coast and discover your favorite.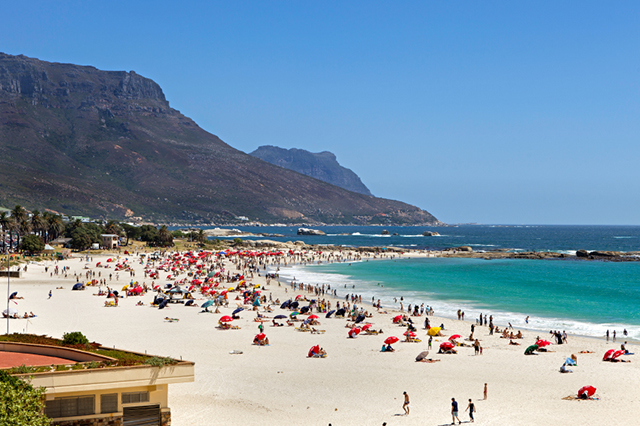 Where to Stay
Hotels in Cape Town aren't the cheapest, so renting an apartment though Airbnb or other home renting site is always a good idea. However, there are some lovely boutique options.
Cape View Clifton
is a fabulously relaxed but sophisticated option which enjoys views of Clifton and Camps Bay. A gorgeous pool and decked area, beautifully decorated rooms and great location make this a sure fire winner. If you prefer something the city side of the mountain,
Kensington Place
is another lovely option. Central enough to be convenient for the attractions but quiet and romantic enough to relax in, you're sure to fall in love with the city when this sublime retreat is your base.
When to Visit
There is no bad time to visit Cape Town, simply decide what type of holiday you are looking for and choose accordingly.
Summer lasts from November to February. Long sunny days, low rainfall and minimal humidity make this the perfect time to visit, if you don't mind sharing the city with everyone else there enjoying the great weather as well.
March and April are autumn. Beautiful still days and fewer tourists make this time of year another great option, particularly if you're visiting the winelands, which turn lovely shades of orange and russet around this time.
Winter is late May to August. You'll experience four seasons in one day, so pack for every occasion. If you love the outdoors you shouldn't discount winter. The Cape Peninsula is as green as can be, waterfalls cascade down the mountains and you won't be trekking in scorching sunshine.
Finally, spring is undoubtedly delightful. Mild weather, prime whale watching season and before the hordes arrive, September and October are gorgeous months to visit.
About the author: Hi everyone, I'm Alex, a 27 year old English girl who loves gin, giraffes, adventure and luxury in equal measures! Back from a few years living in Botswana I'm now based in London but travel all over the world as often as I possibly can. Follow along for a daily dose of adventure, beauty and wanderlust!
Featured Vendor

Get Hertz Discounts
Subscribe to Our Blog!
Like Us On Facebook