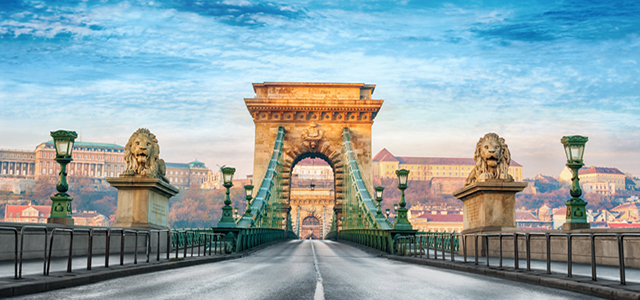 Travel Guide: Budapest
Budapest is one of the most popular tourist destinations in the world and is fast becoming one of the trendiest cities in Europe. Split into two parts, Buda and Pest on either side of the River Danube, the Hungarian capital is home to a multitude of historical landmarks, from the exceptional Chain Bridge to the magnificent Parliament Building. For those looking for a little bit of culture, you'll find a number of UNESCO World Heritage Sites dotted along the banks of the Danube, as well as plenty of beautiful thermal spas cementing Budapest as one of the most cultural and historical cities on the planet. This handy guide delves further into the city and tells you all you need to know for that all important trip… best get planning!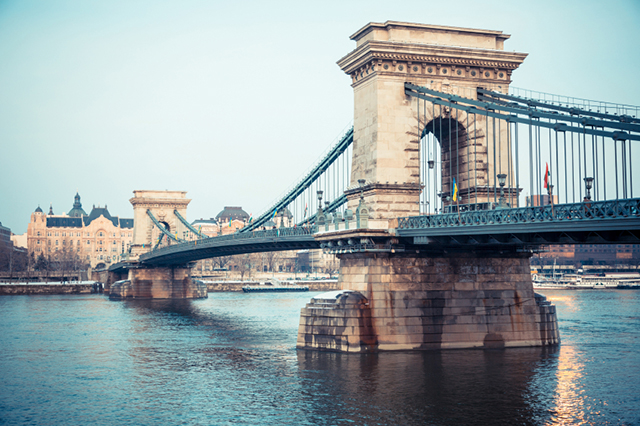 Photo Credit: © iStock/william87
Essential Information
Currency:
Hungarian Forint (HUF)
Time difference:
+6 hours EDT/ +1 hour GMT
Telephone code:
+361
Travel time from NYC/London:
Just over 7 hours(NYC)/ 2 hours (London) by plane
Fun Facts About Budapest
Number of hot springs across the city:
118
Number of different districts in the city:
23
Number of bridges:
11
Number of sunshine hours per year:
over 2,000
Getting Around
Metro/trams:
Operated by BKV, an enormous Hungarian transportation company, Budapest has a fantastic public transport system providing trains, trams and metro connections all across the city. There are three main metro lines that interconnect and services run every 2 minutes at peak times – so convenient for exploring! Ticket prices are reasonable and can be used all day long to get to anywhere in the city.
Buses:
A great value for your money and with fantastic routes all across the city, hop on and hop off tours are a fantastic way to see the sights.
Giraffe Tours
are excellent and run five different routes with 38 stops (including a night tour, a boat tour and a walking tour!) every day at frequent times, allowing tourists to see all the top attractions. Tickets can be used an unlimited amount of "hop on, hop off" times over a 48 hour time period, which at a price of just 6,000 HUF (or 22€), is a super flexible and super cheap way of exploring the city!
Walking:
The most flexible way to see the city is on foot. Wander around the bustling streets at your leisure and participate in many of the walking tours run by expert tour guides, some of which are free!
Top Tourist Attractions
Hungarian Parliament Building
What is it?
Although it's only just over 100 years old, the Hungarian Parliament Building is one of the largest in Europe and perhaps the most iconic landmark of Budapest. Home to the Hungarian government leaders, the building is hugely important to the country and was built as a result of the famed Hungarian poet Mihály Vörösmarty stating "the nation lacks a home."
Why visit?
The architecture is incredible and it's created with such an eye for detail that it looks totally amazing from every possible camera angle. Stretching 268 meters in length along the Danube embankment, and adorned with white neo-gothic arches, turrets and statues, this 96 meter tall building is truly remarkable and looks particularly spectacular lit up at night. The tour also provides an interesting insight into Budapest's political history and allows visitors to explore all of its magnificent doors, staircases, elevators and offices.
Top tip:
Take a river cruise at night to see the building lit up in all its glory!
Essential info:
Tours run daily from October through April from 8 a.m. to 4 p.m. (only until 2 p.m. on Sundays) and from 8 a.m. to 6 p.m. May through September (until 4 p.m. on Saturdays and 2 p.m. on Sundays at this time). Ticket prices are 2,520 HUF per adult with free entry for children and half price entry for students.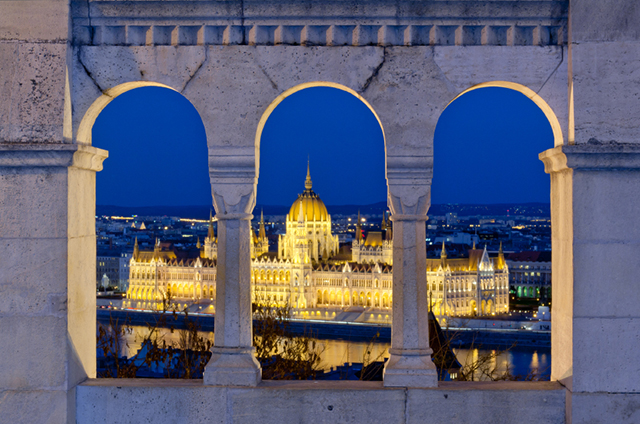 Photo Credit: © iStock/SzabolcsKiss
Széchenyi Baths
What is it?
Built in 1913, the Széchenyi Thermal Baths are one of the largest spa complexes in Europe, and the first ever thermal baths to be built on the Pest side of the city. After expansion in 1927, a public bathing department and a beach site were built forming part of the outdoor pools that exist today.
Why visit?
The natural waters of the Széchenyi Thermal Baths are said to have healing powers and are a must for any visitors suffering from muscle pain. Visitors looking to relax and unwind in the most beautiful of settings are most welcome here. There's also a number of saunas, steam rooms, whirlpools and Jacuzzis for those looking to do more than just swim.
Top tip:
Book a ticket to the incredible late night water disco at the outdoor baths for the ultimate pool party experience with laser rays, music and DJs! Sparties (spa parties) are an up and coming craze in Hungary and are extremely popular with students and tourists visiting Budapest.
Essential info:
Opening hours are 6 a.m. to 10 p.m. daily, with the exception of occasional late night events. Ticket prices start from 4,500 HUF.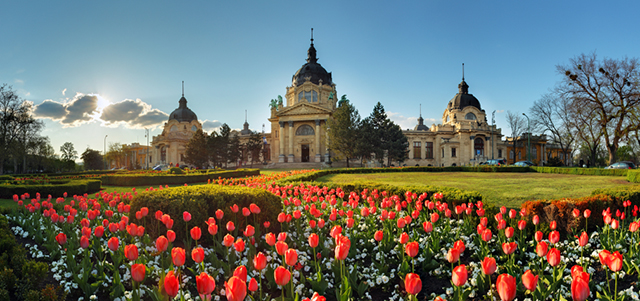 Photo Credit: © iStock/TomasSereda
St. Stephen's Basilica
What is it?
Building first began on the largest church in Budapest in 1851 and took over 50 years to complete. Designed in neo-classical style, the dome is 96 meters high, the exact same height as the Hungarian Parliament Building, symbolizing the balance between church and state in Hungary.
Why visit?
Named after its Patron Saint, King Stephen, the church was architecturally labelled as a cathedral by Pope Pius XI in 1931 and boasts a wealth of history and beauty with ornate features and decorative ceilings. The church is also home to the preserved hand of King Stephen which is a tourist attraction in itself!
Top tip:
Climb the 364 steps to the top of the dome for incredible panoramic views of the entire city.
Essential info:
Open all year round with free entry to all. The cost to climb the dome is 500 HUF.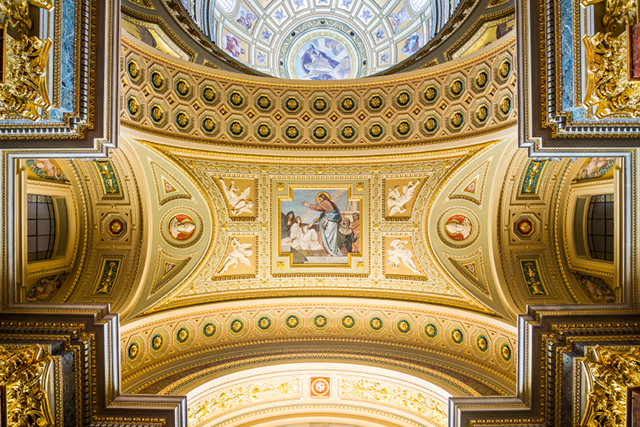 Photo Credit: © iStock/bimserd
Buda Castle
What is it?
Located on the southern tip of Castle Hill, and also referred to as the Royal Palace, Buda Castle is home to the Hungarian Kings and its impressive regal history dates back as far as 1265. The castle was declared a UNESCO World Heritage Site in 1987.
Why visit?
There is so much history to explore on site and the true beauty of Budapest can be seen from all angles of the spectacular castle. There are also stunning views across to the River Danube and no trip to Budapest should be complete without visiting Buda Castle!
Top tip:
Visit whilst a festival is in full swing for the ultimate Hungarian experience. There are Easter Festivals, Wine Festivals and Medieval Festivals running throughout the year, along with a whole host of other attractions.
Essential info:
The courts and courtyards of the castle are open 24/7 all year round but the castle itself is only open Tuesdays through Sundays from 10 a.m. to 6 p.m. Castle district walking tours (2.5 hours) are available for about 8,570 HUF (or 27€) per adult and about 4,285 HUF (or 13.5€) per child.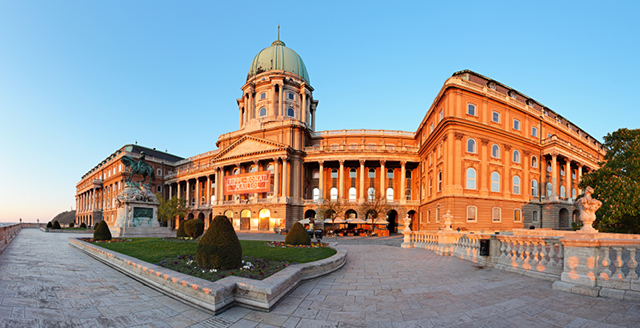 Photo Credit: © iStock/TomasSereda
Budapest Hotel Picks
Budget: BEST WESTERN PLUS Hotel Ambra
Perfectly positioned in the heart of Downtown Budapest, and close to major tourist attractions, this 4-star Best Western Hotel offers comfort and style to those looking for a relaxing break in this vibrant European city. The hotel boasts a complimentary breakfast, a steam room and Finnish sauna, a 24 hour front desk and a multilingual staff, as well as air conditioning and free Wi-Fi is available in all of their rooms and in the hotel's public areas. An array of restaurants and bars are located within the immediate vicinity of the hotel.
Luxury: Budapest Marriott Hotel
Located on the banks of the River Danube, this glamorous 5-star award-winning hotel offers elegance and convenience for both leisure and business guests. Each of the 362 rooms/suites feature magnificent riverside views, luxurious bedding and smart bathrooms with Wi-Fi available throughout the hotel. The hotel is located close to several tourist attractions including the Buda Castle and Margaret Island in particular. There's an 80 kilometer swimming pool, sauna and whirlpool for those looking for a little bit of luxury. This hotel also boasts the contemporary AQVA Lounge Bar, Peppers Mediterranean Grill and Lobby Café for those looking to unwind and relax with dinner and drinks without having to leave the hotel.
You're Ready to Visit Budapest
So, based on the facts, figures and tips in this guide you should now be able to visit Budapest fully informed and ready to navigate your way around the city. Spend your time wandering around the bustling streets and explore both the Buda and Pest sides to see all corners of the city. Don't forget to try their famous Hungarian Goulash and experience the healing powers of the thermal spas – I challenge you not to fall in love with beautiful Budapest!
Main Image Photo Credit: © iStock/Peter_Horvath
About the Author: Jess is a 22 year old travel-obsessive, always planning her next adventure! She loves ticking iconic landmarks off her bucket list and has a particular passion for fun filled European city breaks. Follow her latest news over on her travel blog 'Journeys with Jessica.'
This post contains references to products from one or more of our partners. We may receive compensation when you click on links to those products. For an explanation of how ABN works, visit this page.
Featured Vendor

Get Hertz Discounts
Subscribe to Our Blog!
Like Us On Facebook