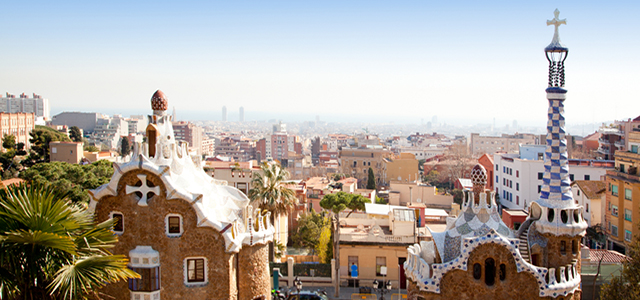 Travel Guide: Barcelona, Spain
Barcelona is one of the most popular tourist destinations in the world and its influence in media, education, the arts and science all add to its leading status as a major global city. The Catalonian capital is home to no less than eight UNESCO World Heritage Sites, cementing its place in the world as one of the most historical and cultural cities on the planet. With plenty of tourist attractions including a theme park, zoo and even eight city beaches, there are so many things to see and do. This handy Barcelona travel guide delves further into the city and tells you all you need to know for that all important trip… best get planning!
Essential Information
Currency:
Euro
Time difference:
+6 hours EDT/ +1 hour GMT
Telephone code:
+0034
Travel time from NYC/London:
Just over 7 hours (NYC)/2 hours (London) by plane
Fun Facts About Barcelona
Number of metro stations:
163
Number of people who walk up and down Las Ramblas every day:
approximately 150,000
Number of tapas bars:
97
Number of beaches:
8, the main one (Barceloneta beach) was labelled #1 in National Geographic's list of
top ten city beaches in the world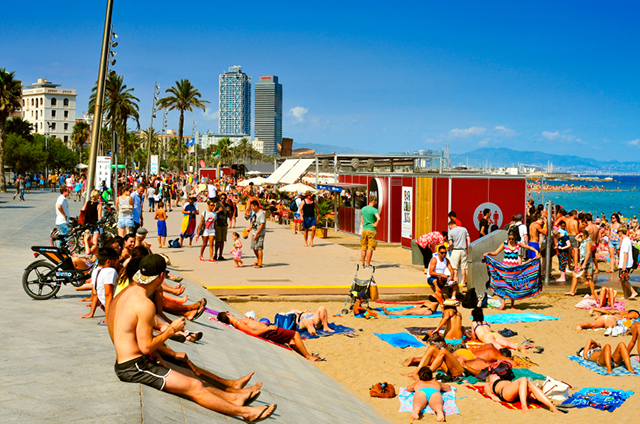 Getting Around
Metro:
Similar to the underground tube system in London, the Barcelona metro system began its operation in 1924 and is connected by over 102 kilometres of track serving 163 stations. Running from 5 a.m. to midnight everyday apart from Saturday's where a 24 hour operation is in service, the metro is highly convenient, especially if you're planning to stay out late and experience the buzzing Barcelona nightlife. Ticket prices are reasonable and can be used all day long to get to anywhere in the city.
Buses:
Barcelona drivers are officially labelled as the worst drivers in the world, but are a friendly and safe option, with hop on and hop off tours running three different routes every day at frequent times, allowing tourists to see all the top attractions.
Walking:
The most flexible way to see the city is on foot. Wander around the bustling streets at your leisure and participate in many of the walking tours run by expert tour guides, some of which are free! Like these ones from
Feel Free Tours
.
Top Tourist Attractions
La Sagrada Familia
What is it?
One of Europe's most famous basilicas is Catalonian designer Antoni Gaudí's masterpiece, which is still unfinished even after its initial construction in 1882. The Roman Catholic Church is listed as a UNESCO world heritage site, despite its unfinished construction, and works are scheduled to be completed by 2028.
Why visit?
The architecture is incredible and it's created with such an eye for detail that the basilica looks totally amazing from every possible camera angle! The Church will have three grand façades when it is eventually completed: the Nativity façade to the East, the Passion façade to the West, and the Glory façade to the South (yet to be finished) all of which I'm sure are a sight worth seeing by themselves!
Top tip:
Pay €4.50 extra per adult to climb to the top of one of the eight completed towers for breath taking views across the city, 65 meters above ground.
Essential info:
Opening hours are 9 a.m. to 6 p.m. from November to February, 9 a.m. to 7 p.m. in March and October and 9 p.m. to 8 p.m. April to September. Ticket prices are €15 per adult with free entry for children under 10.
Park Güell
What is it?
A series of public parks including pretty gardens and architectural buildings located on Carmel Hill, part of the Catalan coastal range. Built between 1900 and 1914, the park was officially opened to the public in 1926.
Why visit?
Güell Park is another one of Gaudí's creations and was declared as a UNESCO World Heritage Site in 1984. The Park's high vantage point offers the most stunning views across Barcelona and the bay, and there's even panoramic views of La Sagrada Familia.
Top tip:
Take a picnic and find a space on the main terrace, the focal point of the park. A long bench made in the shape of a sea serpent creates many little alcoves from which to enjoy a pleasant social atmosphere.
Essential info:
Opening hours are 8:30 a.m. to 6:15 p.m. October to March, April to September 8 a.m. to 8 p.m. Ticket prices are €8 per adult with free entry for children under six.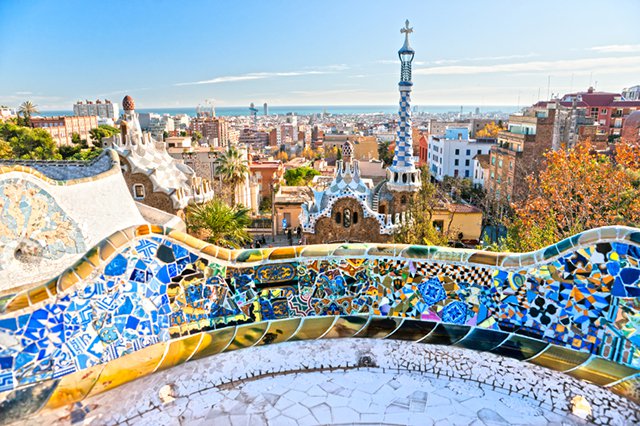 Camp Nou
What is it?
The largest sports stadium in Europe, with almost 100,000 seats, which has been home to the Barcelona Football Club since 1957.
Why visit?
With its major role in sports history, including hosting two UEFA Champions League finals and the 1992 Summer Olympics, a visit to the Camp Nou Experience is a must for every sports fan.
Top tip:
With its stunning panoramic stadium views visitors are encouraged to head to the fans stands for the ultimate Barcelona selfie.
Essential info:
Open all year round apart from January 1st and December 25th, and closed on and around match days. Check the
Camp Nou website
to book in advance. Ticket prices are €23 per adult with free entry for children under six.
La Boqueria Market
What is it?
Barcelona's biggest food market with a history dating it back to the 13th century. Located in the heart of the bustling Las Ramblas, thousands of tourists and locals visit the market day after day.
Why visit?
With stalls selling everything from the freshest fruits, vegetables and meats to hundreds of different flavoured ice creams, smoothies and chocolates, there's something for everyone. There's even bars, cafes and restaurants for visitors looking to take time out of their day to enjoy local Spanish food and drinks at their best.
Top tip:
Many seasonal events, from cooking schools to carnivals, take place here throughout the year. Check the
Boqueria Market website
in advance to see what's happening and marvel at the market when it's at its colourful and cultural best.
Essential info:
La Boqueria is open Monday to Saturday from 8 a.m. to 8:30 p.m. and is closed on Sundays. Entrance is free.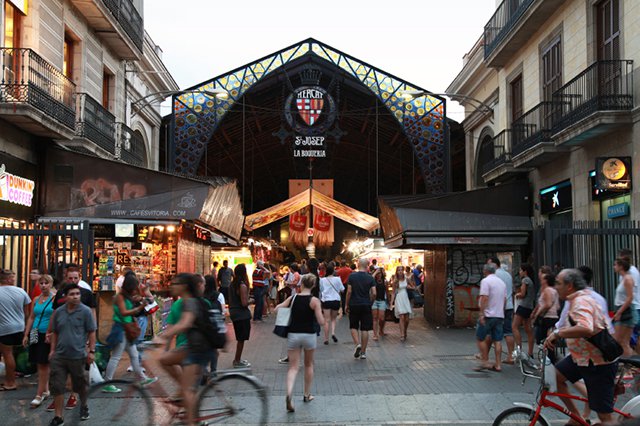 Barcelona Hotel Picks
Budget: Best Western Premier Hotel Dante
Th Best Western Premier Hotel Dante is located right in the heart of the city; a 10 minute walk from Catalunya Square and the Gaudí tourist attractions. With a Mediterranean restaurant and lounge bar on site, there are also plenty of restaurants, bars and shops within a 100 meter radius. The hotel offers a 24 hour reception desk and breakfast is included with certain room reservations. The hotel offers free Wi-Fi throughout the hotel (score!) and modern, spacious and clean accommodations. Overall this a great hotel option if you're traveling on a budget.
Luxury: Alexandra Barcelona A DoubleTree By Hilton
The Alexandra Barcelona hotel is in a great location. You can easily access some of the hottest tourist spots in the city and you're right near Las Ramblas. The hotel offers an on-site Italian restaurant, Da Luca Café & Bar, and restaurants, bars and shops are all within walking distance from the hotel. The hotel offers a 24 hour reception desk as well as 24 hour room service. Enjoy free Wi-Fi at the hotel and when weather is permitting, enjoy their 300 square meter outdoor terrace and swimming pool. Take advantage of their sauna, fitness center and massage services during your stay. This is a total luxury hotel in a smart, contemporary building.
You're Ready to Visit Barcelona
So, based on the facts, figures and tips in this guide you should now be able to visit Barcelona fully informed and ready to navigate your way around the city. Spend your time wandering around the bustling streets of Las Ramblas or simply whiling away the hours in one of the city's lively bars while sampling their local tapas or paella dishes and some delicious Spanish sangria.
About the Author: Jess is a 22 year old travel-obsessive, always planning her next adventure! She loves ticking iconic landmarks off her bucket list and has a particular passion for fun filled European city breaks. Follow her latest news over on her travel blog 'Journeys with Jessica.'
This post contains references to products from one or more of our partners. We may receive compensation when you click on links to those products. For an explanation of how ABN works, visit this page.
Featured Vendor

Get Hertz Discounts
Subscribe to Our Blog!
Like Us On Facebook