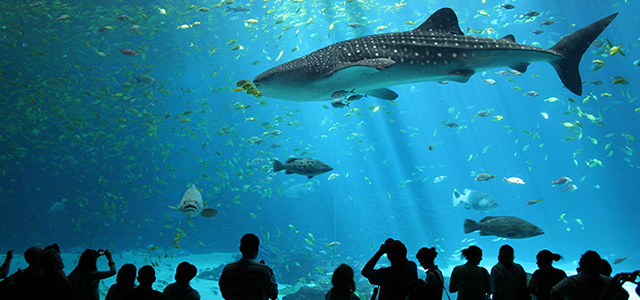 Tour the 6 Coolest Aquariums Around the World With Us
June 8th was World Oceans Day and what better way to celebrate the world's oceans than by learning more about them? Fortunately, there are some pretty incredible aquariums around the world that focus on educating visitors about what makes the oceans so spectacularly wonderful and why we need to make sure that we are taking care of them as well as its many, many residents that reside beneath the surface. But while learning something new, it's also very much okay to enjoy your experience, and these aquariums around the world have a lot to help you out with that.
1. Georgia Aquarium, Atlanta
The world's largest aquarium is located in Atlanta, Georgia. Shocked? The Georgia Aquarium opened in 2005 and is home to a massive 6.3 million gallon tank which contains the Ocean Voyager Exhibit. The aquarium is also best known for its whale shark population, as it's the only aquarium outside of Asia to serve as a home for whale sharks. If aquariums are your thing, this is one that can't be missed.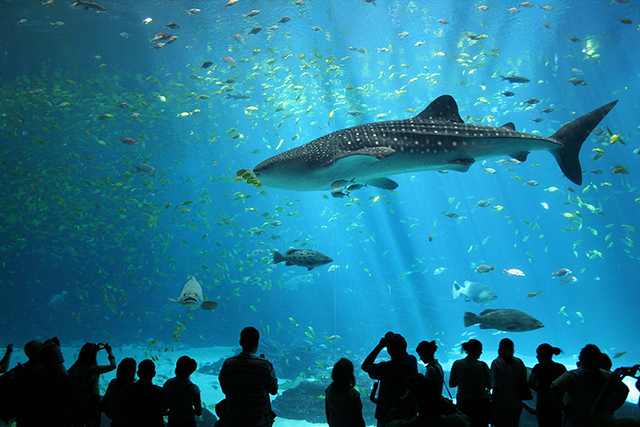 2. Shedd Aquarium, Chicago
Having opened in 1930 and situated on Chicago's lakefront, Shedd is home to 32,000 animals that represent more than 1,500 species of fishes, amphibians, reptiles, invertebrates, birds and mammals from waters around the world. The John. G. Shedd Aquarium, is a not-for-profit organization supported by the people of Chicago and the State of Illinois and has been dubbed, "The World's Aquarium." Shedd once was the largest indoor aquarium in the world with 5 million gallons of water.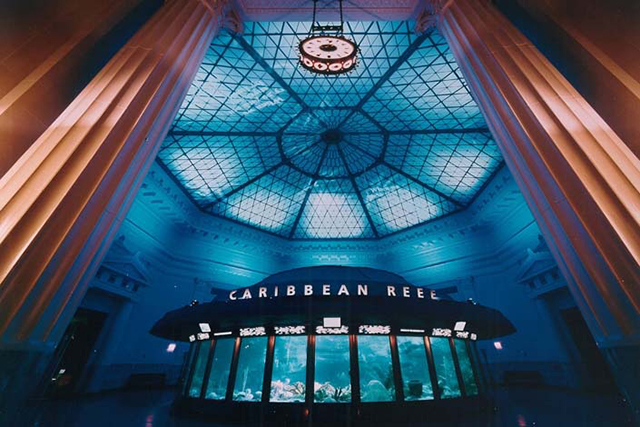 3. Turkuazoo, Istanbul
Turkuazoo – which is really fun to say, opened up in 2009 in Turkey. Located inside the Forum Istanbul Shopping Mall, it's definitely an impressive distraction if one gets bored of shopping and needs some chill time with some sea creatures. There's an underwater tunnel here measuring in at 262 feet in length and the aquarium also has a rainforest habitat, and a flooded forest wetland habitat. The largest tank here holds 1.32 million gallons of water and there are over 10,000 species living in the aquarium.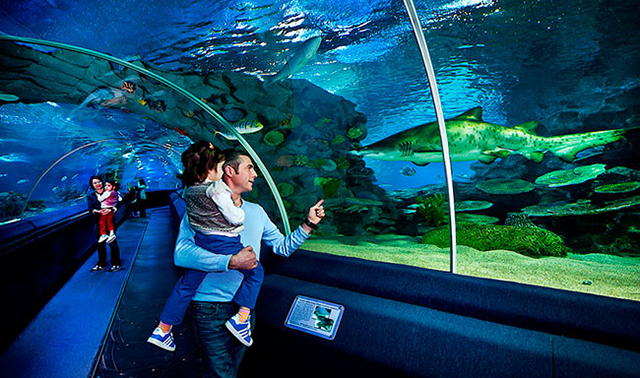 4. uShaka Marine World, Durban
Inside a marine-themed park in Durban, South Africa is the largest aquarium on the African continent. Thirty two tanks contain just under a million total gallons of water. The aquarium at uShaka Marine World was designed and constructed to appear like a wreck under the sea. Additionally, one of the city's most popular restaurants inside the park has a large wall aquarium, which is populated by sharks.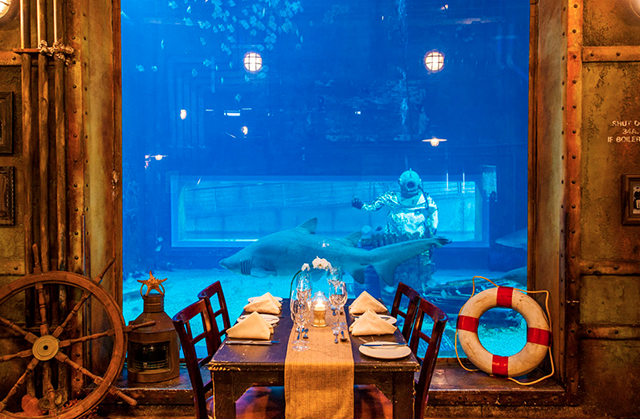 5. Shanghai Ocean Aquarium, Shanghai
One of the largest aquariums in all of Asia, this particular one contains just under a million gallons of water. Exhibits at Shanghai Ocean Aquarium are divided according to geographic region and the aquarium contains a number of endangered species. Additionally, the aquarium is home to the longest underwater tunnel on the planet, coming in at an intense 509 feet in length, which makes for a uniquely different "underwater" experience.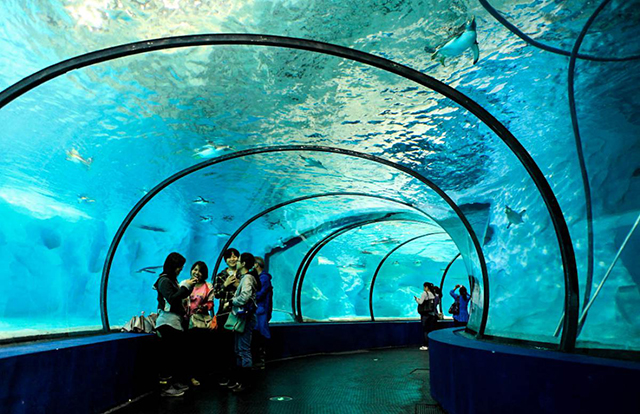 6. The Aquadom, Berlin
Definitely not the largest aquarium in the world but when you walk into the Radisson Hotel in Berlin and see this enormous cylindrical aquarium located in the atrium of the hotel, it's quite impressive! The Aquadom, which is 82 feet high and 36 feet in diameter, contains a million liters of water. Inside, there are over 2,600 different species. But the best part about this aquarium is that you can ride an elevator up through the center of it and see through the walls as you do so. Once up top, you can stand on a platform and look out over the tank.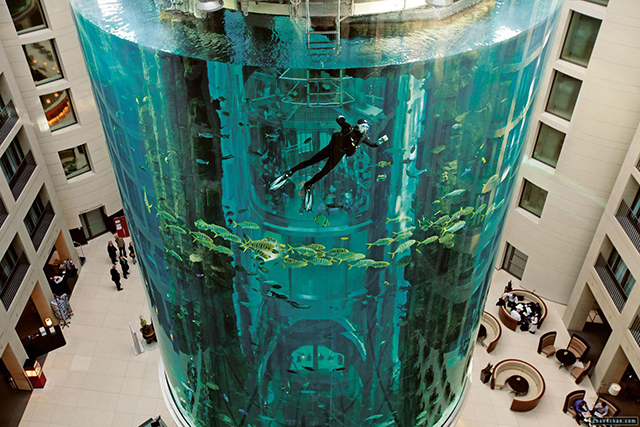 About the Author: David Duran is a Brooklyn-based luxury, hospitality, culinary, and overall freelance travel writer who contributes to such publications as Fodor's, Travel + Leisure, Destinations Weddings & Honeymoon, and Caribbean Travel + Life, among others. When not traveling 20-25 days a month for his work, he spends his free time planning more travel! To read some of his work, check out his online portfolio, and follow him on Instagram and Twitter at @mrdavidduran.
Featured Vendor

Get Hertz Discounts
Subscribe to Our Blog!
Like Us On Facebook