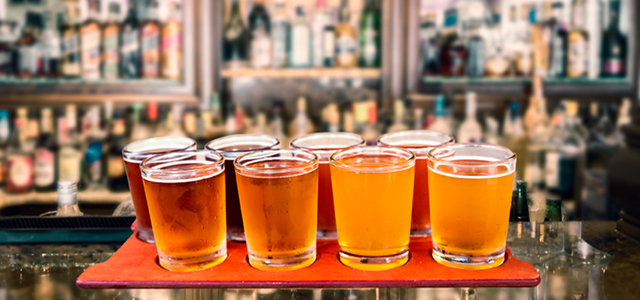 Top 5 Cider Hotspots in New York City
For centuries, hard cider held the admiration now associated with beer. Today, it's rapidly returning as the beverage of choice for discriminating drinkers. Cider's pleasing flavors, gluten-free ingredients, and low alcohol content have earned it a well-deserved promotion to the draughts of distinctive bars and restaurants. Here are five locales in the Big Apple where cider spanning the globe flows aplenty.
1. Murray's Cheese Bar
Sip ciders paired precisely with divine charcuterie and esoteric cheeses aged in cool caves to perfection. Down the block from Murray Abraham's legendary institution, this cozy Village nook proffers an eclectic selection of sparkling dry ciders from the northern reaches of New England to the crisp, chartreuse apples of Basque County, Spain. Splurge on the tart Malus Baccata, crafted from Siberian crab apples foraged in the forests of Upstate New York. Linger over a thoughtful brunch or sample new favorites with $5 happy hour specials.
264 Bleecker Street, Greenwich Village (Between Leroy and Morton Streets)
2. Gramercy Tavern
Taste New York's finest ciders in the classy atmosphere of one of Manhattan's most acclaimed establishments. Choose from an extensive list of dry and off-dry offerings to accompany a refined menu of mouthwatering cuisine curated by executive chef, Michael Anthony. Relish a unique quince, apple, and pear melange from Santa Cruz or indulge in an artisanal aperitif originating in the wild orchards of Switzerland. Please your palate with a pour of sweet ice cider while sharing a banana cream pie for two with your sweetheart.
42 East 20th Street, Flatiron (Between Broadway and Park Avenue South)
3. Arts and Crafts Beer Parlor
Unwind at a cultural center that unapologetically proclaims itself the anti-sports bar. The innovative proprietors have ditched the flatscreens and ear-splitting beats in favor of art installations and intelligent conversation. You'll feel at home as you delight in aromatic Swedish passion fruit and extremely accessible black cherry hard ciders reminiscent of your childhood. Explore well-balanced apricot and flavorful elderberry ciders brewed in New York City while admiring Jorge Arias' The Colors of Sound: portraits of classic rockers who indelibly impacted our interpretation of modern music.
26 West 8th Street, Greenwich Village (Between Macdougal Street and Fifth Avenue)
4. The Queens Kickshaw
Hop on the subway to Queens for gourmet grilled cheese sandwiches and vegetarian comfort food complemented by more than 20 hand-selected ciders. With casual surroundings and friendly, knowledgeable staff, dive into a myriad of funky French and Irish ciders. Chef Kenji Hurlburt's novel recipes, cultivated exclusively from local produce, include satisfying ramen, savory cider cheese with soft pretzels and addictive pickled plum popcorn. Be sure to stop in during happy hour for $4 bar snacks and $9 cider flights.
40-17 Broadway, Astoria (Queens) (Between Steinway and 41st Streets)
5. Wassail
Saunter down Orchard Street for the Disneyland of cider featuring more than 90 varieties. Effervescent apple-based cocktails, including the Fatal Flying Guillotine and Sandpaper Cadillac, are more than clever names and serve as ideal cider introductions for the newly indoctrinated. Seasonal vegetable focused tapas plates beg to be shared, alongside exceptional bottles of Italian and German ciders, in the intimate dining room. Don't miss brunch or happy hour for the Wassail "Burger;" this quinoa, farro, and smoked mushroom patty, smothered in provolone and cheddar and topped with smoked onions, is arguably the best veggie burger in New York.
162 Orchard Street, Lower East Side (Between Rivington and Stanton Streets)
If you have yet to try cider, now is your chance. Go forth in this golden age of fermented apples and be merry!
Main Image Photo Credit: © iStock/pyzata
About the Author: Scott Josephson is a New York based writer who has visited all 50 States. His passion for music inspired him to drive to Graceland and the Rock and Roll Hall of Fame. His next goal is to visit all seven continents. When he's not on the road, Scott enjoys reading mind-bending science fiction and attending concerts and cultural events.
Featured Vendor

Get Hertz Discounts
Subscribe to Our Blog!
Like Us On Facebook