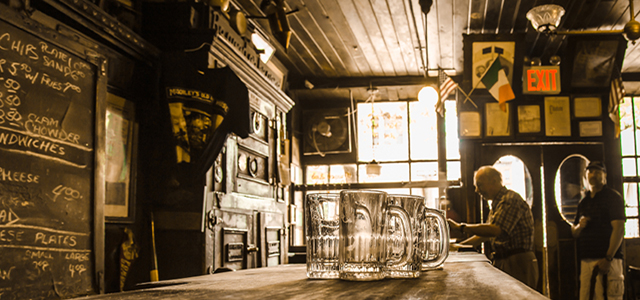 The 5 Best Hidden Bars in New York City And How To Find Them
The charm of speakeasy bars isn't just that they are secretive, it's that they offer an indelible atmosphere best experienced in New York City, where people love their booze with a side of intrigue. With hidden entrances, vintage decor, and inventive cocktails, these gems lure people with their exclusivity and the spirit of the Roaring Twenties. They might be hard to find, but it will be worth the effort!
1. The Back Room
Of all the secret bars in the city, this was one of the few that was in business during Prohibition and offers authenticity. Tucked behind a toy store on the Lower East Side, this bar isn't exactly easy to locate. You pass through a metal gate and venture down the stairs into a dark alley, which leads to another set of stairs leading to the front door. Adorned with gilt-framed portraits, chandeliers, red wallpaper, and comfy velvet sofas, you'll feel as if you traveled to another era. The speakeasy maintains an old-time feel by serving drinks in tea cups, just like during the infamously clandestine era. Visit Mondays for "Speakeasy Dollhouse," an immersive theatrical performance featuring mystery and, naturally, revolving bookshelves.
102 Norfolk Street (between Delancey and Rivington Streets)
2. PDT (Please Don't Tell)
This East Village watering hole may not be the most confidential any longer, thanks to being voted one of 50 Best Bars in the World, but that doesn't change the fact that you must go through an old-fashioned phone booth in Crif Dogs on St. Marks Place to enter. Pick up the phone and press the buzzer only once to enter through the secret brick wall. Inside this sophisticated sipping den, you'll discover dark wood ceilings, brick walls, and a gleaming bar where bartenders serve specialty cocktails, including the Paddy Wallbanger (an Irish twist on its classy cousin) and the fragrant Persephone. Call around 3 p.m. to make a reservation on the night you want to visit.
113 St. Marks Place (between 1st Ave and Avenue A)
3. Apothéke
Inspired by 19th century drug stores, this dark, moody bar tucked away on unfamiliar Doyers Street is famous for its liquid libations infused with organic produce and herbs from nearby Chinatown markets or fresh from their own rooftop garden. On the door hangs a chemist's sign; inside you'll find shelves with antique medicinal bottles and test tubes collected from around the world, alongside lamps crafted from chemistry beakers. Comfy couches beckon you to chill with cool drinks like the Pain Killer. The bartenders wearing lab coats fit right in; they are expert chemists, after all. Visit on Mondays, Tuesdays, Wednesdays or Sundays to enjoy live jazz. Those interested in learning mixology can sign up for classes with Apothéke Academy for an immersive experience. Contact the bar to obtain a password for entry.
9 Doyers Street
4. Employees Only
Marked only by a neon red Psychic sign, this art-deco inspired, award-winning bar is best known for its late-night eats and specialty drinks. Mixologists donning white chefs uniforms get in on the fun with the guests (hence the bar's name). The shelves behind the gold and mirror bar glow green, and museum-style lighting shines on reproductions of famous art from the 20s and 30s. Enjoy classic cocktails with a twist, like Provencal (lavender-infused Plymouth Gin stirred with Herbs de Provence-infused French Vermouth and Cointreau) and Mata Hari (Remy Martin 1738 Cognac shaken with Chai-infused Martini Rosso and pomegranate juice, served straight up). Enjoy house specialties, including truffled grilled cheese with parmesan fries in the rear dining room.
510 Hudson Street (between Christopher and W 10th Streets)
5. Bathtub Gin
Inside Chelsea's Stone Street Coffee Company, you'll find an innocuous door at the back wall which leads you to the dimly lit, sophisticated Bathtub Gin. True to its name, there's a copper bathtub prominently displayed at its center. Here, you'll find delicious martinis made with Junípero Gin, Dolin Rouge, Maraschino liqueur, Boker's bitters and lemon oils. The Bathtub Tonic, made with house sparkling tonic water expertly mixed with Ford's Gin is especially popular among patrons. If you happen to catch one of their live burlesque shows, you're in for a glamorous treat. Getting a bit tipsy and taking photos in the bathtub is not prohibited at all.
132 9th Avenue (between 18th and 19th Streets)
We hope you have a fabulous time at these off-the-beaten path speakeasies; be sure to tell your friends (or not).
Main Image Photo Credit: © iStock/littleny
About the Author: Lavanya Sunkara is a writer based in New York. Her love of adventure has taken her all over the world from Australia to Zanzibar. When she's not traveling, she's hiking with her dog, and planning her next getaway. Follow her on twitter @Nature_Traveler. Read her articles at www.nature-traveler.com.
Featured Vendor

Get Hertz Discounts
Subscribe to Our Blog!
Like Us On Facebook