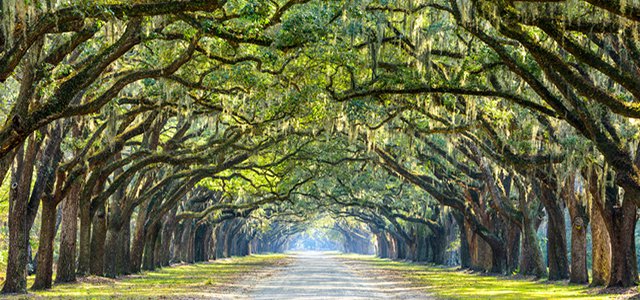 Top 10 Things To Do in Savannah, Georgia
The oldest city in the Peach State, famous for its stately mansions, haunted houses, and historic squares, is a must-see for a true Southern experience. It's easy to fall in love with Savannah, with its sprawling oaks with cascading Spanish moss, beautiful weather year-round, wonderful food, and attractions within walking distance. Whether you are there for a week or a long weekend, here are ten recommendations for your visit to this charming Georgia destination.
1. Forsyth Park
Thirty acres of gorgeous land encompasses this famed public garden where you are bound to spot joyful folk strolling down tree-shaded paths, savoring the refreshing mist from the cast iron fountain, and bouncy dogs with their owners. Don't be surprised if you see someone walking their pet pig, too! That's the eccentric Savannah you'll find in this remarkable park. On a sunny day, you are likely to find a wedding happening under a giant tree. You'll also discover monuments commemorating Confederate Soldiers, the Spanish-American War, and the Marine Corps.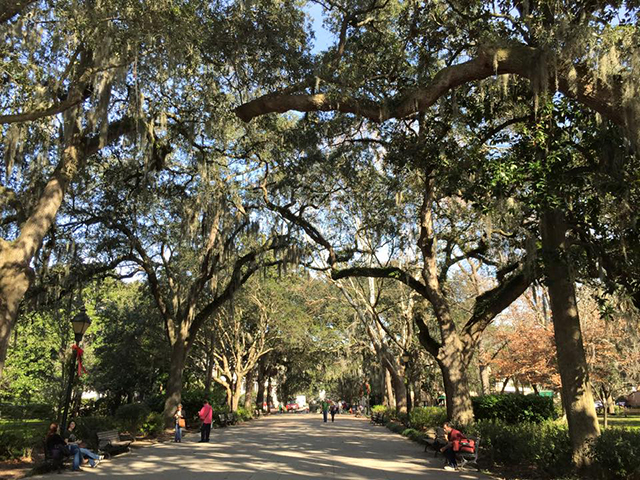 2. River Street
Two miles from Forsyth Park awaits picturesque River Street overlooking the Savannah River. While other cities sport souvenir shops and chain restaurants, the stores here are small businesses true to Savannah style, such as the Peanut Shop (hawking over 50 varieties of hand-roasted peanuts) and old-style candy stores offering fresh fudge. Unique galleries, restaurants, and an open-air market line the nine-block brick concourse; pubs overlooking the water are housed in restored 19th century cotton warehouses. This seaside spot is also ideal for strolling, ship-watching, and meeting the statues of "the Waving Girl" Florence Martus and her trusted border collie, who still welcome passing ships.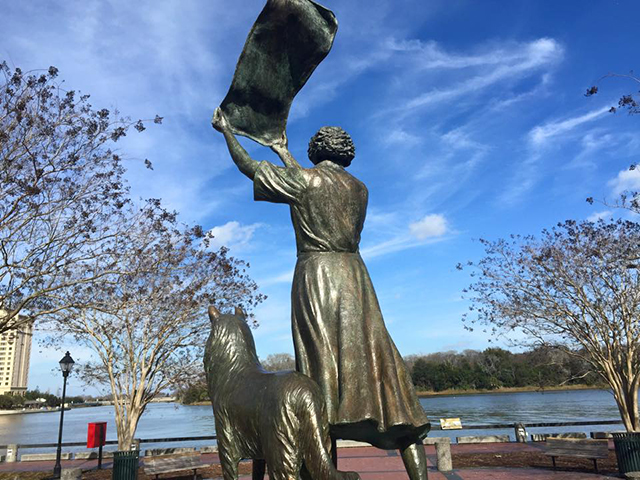 3. Historic Squares
Perhaps the most distinguished feature of Savannah is its picturesque squares scattered throughout the Historic District. The 22 squares, built between the mid-17 to 1800s are named in honor of those who contributed to the city's revival. Huge oaks hang over the benches, pathways, statues, and fountains, creating invigorating, calming spaces for locals and tourists alike milling about or simply taking a break from their daily lives. Be sure to pay a visit to Chippewa Square, where the iconic bus stop scenes from Forrest Gump were filmed (the bench was actually a prop!).
4. Walking Ghost Tour
No visit to Savannah is complete without a ghost tour. While you could go on a vehicle tour (often in a slow-moving hearse), choose the more chilling experience with Sixth Sense Savannah Walking Ghost Tours that takes curious visitors on an afterhours mobile séance. Tour guide Dawn, who calls herself "Dawn of the Dead," shares terrifying true tales of the many ghosts of Savannah. If you are staying in the Historic District, you'll learn that some of the creepiest homes in Savannah are within walking distance. Mercer House, popularized by the best-selling book, Midnight in the Garden of Good and Evil, which the nighttime tour saves for last, is a true highlight.
5. Juliette Gordon Low House
One of the houses you'll encounter on your walking ghost tour is the birthplace of Juliette "Daisy" Gordon Low, founder of Girl Scouts of the USA. Built in 1821, Gordon's Victorian home is the first to be recognized as a National Historic Landmark in Savannah. Its interior has been restored to reflect the 1880s and furnished with Gordon's family pieces, including some of her original artwork, jewelry, photographs, and writings, offering great insight into an era in which women were making extraordinary strides.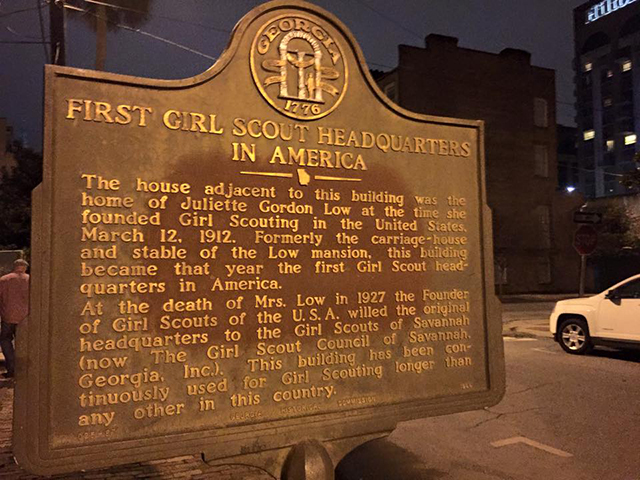 6. Tybee Island
Even though you could easily spend days basking in the Savannah sunshine, a half hour drive takes you to Tybee Island, a three mile stretch of beach featuring sand dunes and deep, blue waters with rolling waves. Located on a barrier island, Tybee is a great spot for swimming in the Atlantic Ocean and catching some rays. Dolphin tours, watersports, and a lighthouse are just a few attractions awaiting your visit to this scenic coastal town.
7. Fort Pulaski National Monument
History buffs should not miss Fort Pulaski National Monument, a pentagonal edifice located on Cockspur Island at the mouth of the Savannah River, 15 miles east of the city. Built during the 1830s and 1840s to protect Savannah from foreign attacks, the fort, named after Revolutionary Hero Count Casimir Pulaski, came under siege by Union Forces in 1862. Walking around this now peaceful fort, you'll notice the remnants of a 30-hour bombardment, gaping holes and dents in the walls, and cannons left behind by the surrendering Confederates. Despite the damage and the decades it has been standing, the monument is remarkably intact, with an estimated 25 million bricks and 7.5 foot thick walls. A moat encircles the monument, reflecting the ravaged walls and providing a delightful breeze.
8. Bluff Drive, Isle of Hope
For gorgeous antebellum houses enshrouded with Spanish moss draping from the majestic oaks lining the streets, take a short drive to Isle of Hope, a historic island in the Southeastern portion of the city. The long, winding road of Bluff Drive has spectacular views of mansions and quaint cottages on one side and the Intercoastal Waterway on the other. Park your car and take a lazy stroll from LaRoche Avenue past 19th Century homes and end at Noble Glen Drive.
9. Southern & Diverse Cuisines
There's no shortage of places to enjoy authentic Southern cuisine, especially when you dine at the legendary Johnny Harris, serving Cajun shrimp and grits and fried green tomatoes under a dome of stars. Broughton Street offers plenty of eclectic choices, from Thai at Aroy-jung to Tequila's Town for sizzling Mexican. This old town is even in with new trends and the proof is in the pizza at Mellow Mushroom, made with vegan cheese and tempeh. For a spooky supper, reserve a table at the lovely Olde Pink House, an 18th century haunted Georgian mansion with portrait-lined walls, fireplaces, shimmering chandeliers and rumors about visits from the spirits. Be ready for delicious comfort food and servers who don't shy from sharing their spectral encounters.
10. Hilton Savannah DeSoto
If you want to be where the action is, book a room at the magnificent
Hilton Savannah DeSoto
, conveniently located in the heart of the Historic District. This 246-room hotel is steps away from popular attractions, bars, and restaurants. Accommodations on higher floors offer breathtaking views of beautiful churches, mansions, and tree-lined squares of the charming district. Add modern luxury to your rendezvous with history when you stay at this inviting retreat.
In Savannah, the sun feels brighter, the wind more refreshing, and the food tastier. We hope you have a wonderful time visiting the Hostess City of the South on your next trip!
Main Image Photo Credit: © iStock/Sean Pavone
About the Author: Lavanya Sunkara is a writer based in New York. Her love of adventure has taken her all over the world from Australia to Zanzibar. When she's not traveling, she's hiking with her dog, and planning her next getaway. Follow her on twitter @Nature_Traveler. Read her articles at www.nature-traveler.com.
This post contains references to products from one or more of our partners. We may receive compensation when you click on links to those products. For an explanation of how ABN works, visit this page.
Featured Vendor

Get Hertz Discounts
Subscribe to Our Blog!
Like Us On Facebook