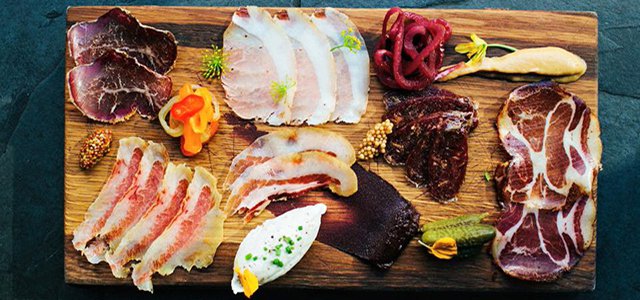 The Perfect Pittsburgh Foodie Weekend
Pittsburgh is no longer the place where all that's available is your vast array of fried, greasy foods and of course the ubiquitous Primanti sandwich. No, in recent times Pittsburgh has become the city that's being heralded by countless national publications including
Bon Appetit
which named Pittsburgh as the "next big food town" in 2014. Not to mention, numerous chefs in the Steel City are James Beard nominees making it quite the epicurean destination. Here's how to spend the perfect foodie weekend in one of America's most revitalized cities.
Friday Afternoon/Evening
Just like any other city around the world, Pittsburgh is big on happy hours and while IC Light beer was the preferred drink of the past in this blue collar town, mixology and craft cocktails are big here and you'll see this reflected on the many drink menus.
You can't go wrong with a place whose claim to fame is being known as Pittsburgh's largest bourbon bar as it's home to a 350+ whiskey bourbon collection. Whether you like your bourbon neat or on the rocks, or mixed into a cocktail, the options at Butcher and the Rye are varied and unique. The small plate food offerings are also terrific should you feel the need to nosh while drinking. The Nauti-Mule and the whiskey flights (three ¾ oz. samples) are personal favorites.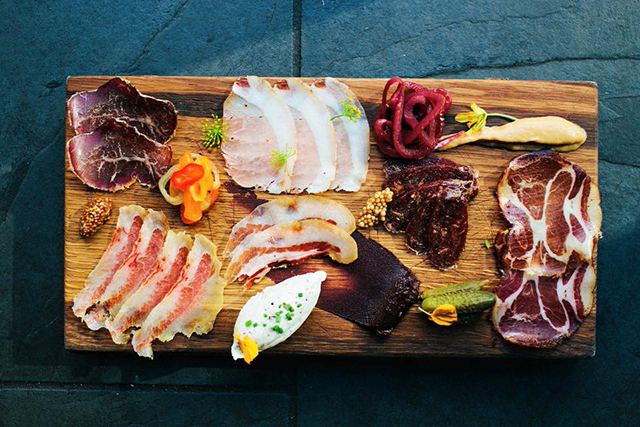 Photo Credit: Facebook.com/butcherandtherye
When you've had your fill of pre-dinner drinks, walk literally next door to Täkō, the newest brainchild from the Richard Deshantz restaurant group. This upscale Mexican-style taqueria serves up innovative Mexican street food in a fun and eclectic environment. The street corn is delicious (makes you feel you're on a Mexico City
calle
) and the Korean and Duck Confit tacos are to die for. This is possibly the city's hottest dining spot at the moment so just be sure you make a reservation plenty in advance.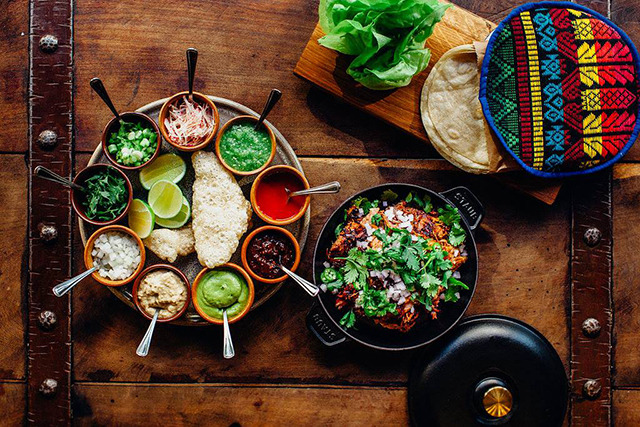 Photo Credit: Facebook.com/takopittsburgh
Saturday Morning
There is nothing the Richard Deshantz Restaurant Group can't not do (remember them?). They are owners of the three hottest and most popular restaurants in Pittsburgh including Meat and Potatoes, their first brainchild. Besides being one of the few restaurants in Pittsburgh to serve Saturday brunch, it's also known for its build your own bloody mary bar and perennial favorites like chicken and waffles and its croque madam (a croque monsieur, just with a fried egg on top).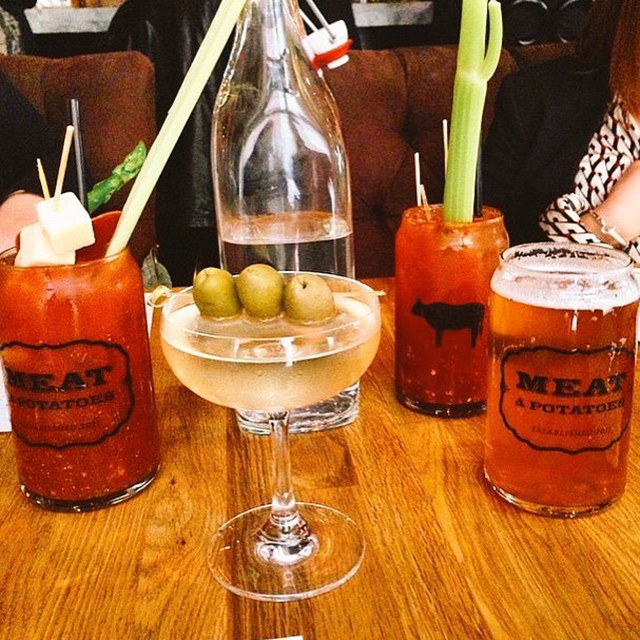 Photo Credit: Facebook.com/MeatAndPotatoesPgh
Saturday Afternoon
Now that you'll want to walk off all of those calories you just consumed at brunch, head on over to one of the city's most popular and beloved neighborhoods, the Strip District (or just the Strip as it is referred to by locals). What the Westside Market is to Cleveland, the Reading Terminal Market to Philadelphia, the Strip District is Pittsburgh's culinary pulse.
Home to a variety of international grocery stores and cuisines, boutique shops, and restaurants, the Strip has just about anything you and your stomach could want.
For your best ethnic grocery shopping needs, head to S & D Polish Deli (you can also get prepared lunches here), Reyna Foods (the best spot in Pittsburgh for your Latin American food needs), Pennsylvania Macaroni Company (their cheese counter features cheeses from around the world at incredibly low prices), and any number of the oriental markets that line Penn Avenue (Lotus Food Company is my favorite due to its more organized interior).
If during all this walking around you've worked up an appetite and happen to be visiting in the warmer months, check out Lucy's Bahn Mi stand. Lucy is the bahn mi master of Pittsburgh (banh mi are Vietnamese-style sandwiches) and is set up right next to Bar Marco in the 2200 hundred block of Penn Avenue. You know you're getting the real deal as Lucy is from Vietnam and every winter she returns there for vacation to sensibly avoid those Pittsburgh winters.
Chicken Latino is another tried and true favorite for quick and inexpensive ethnic fare. If Peruvian-style rotisserie chicken is your game, head here. The ubiquitous Latin sides of yucca and plantains are also not to be missed.
Saturday Evening
While the Strip is great for ethnic fare and shopping, no other neighborhood in Pittsburgh tops Lawrenceville in terms of best restaurants. One of the city's oldest neighborhoods, Lawrenceville has completely revitalized itself in recent years and has a restaurant scene to match.
For some pre-dinner entertainment on the libations front, Industry Public House (they have smoked bourbon), Arsenal Cider (not the child kind), and Grapperia (Italian bar featuring a whole lot of different types of grappa-Italian brandy) are some good choices.
Photo Credit: Facebook.com/industrypublichouse
Nothing beats a meal when you feel as if you've been transported to the country where that cuisine is from. And dining at Umami does just that. It's an
izakaya
(Japanese pub) that serves up a wide array of sushi and Japanese street food. Everything from grilled bacon quail egg to tonkotsu ramen and karaage (Japanese fried chicken) can be found on its extensive menu.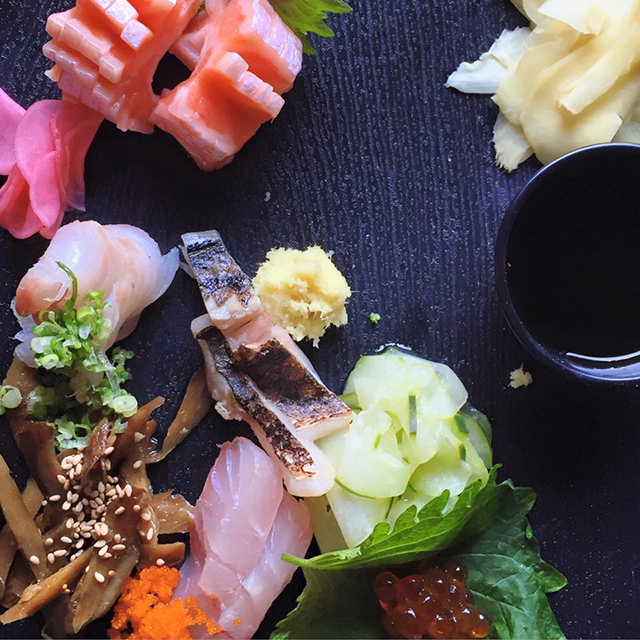 Photo Credit: Facebook.com/UmamiPgh
Sunday Morning
Before you depart from the Steel City, shouldn't you have one great final meal? And being Sunday and all, this calls for Sunday brunch.
Head on over to another neighborhood that has seen a major renaissance in recent times, East Liberty. It's home to Paris 66, a Parisian style bistro straight out of Le France. Voted best French restaurant in Pittsburgh, its menu will make you wish you were overlooking the Champs Elysees. Brunch selections include everything from quiches and croquet monsieurs to omelettes and crepes, both the sweet and savory varieties.
You can also get macarons to go, the perfect treat for the ride home or the wait at the airport.
Pittsburgh is no longer the city of yesteryear. Its skies have changed, its people have changed, and so has its food scene. Pittsburgh may not be on par yet with the culinary makeup of places like New York or Los Angeles, but it's certainly getting there.
About the Author: Librarian by day, die-hard travel fanatic and aspiring writer by night, Julie is the author of the travel and food blog, The Red Headed Traveler. When she's not traveling she's either testing out a new recipe (she loves making ethnic food) or being a wannabe foodie in Pittsburgh where she is attempting to eat her way through as many restaurants as she possibly can.
Featured Vendor

Get Hertz Discounts
Subscribe to Our Blog!
Like Us On Facebook