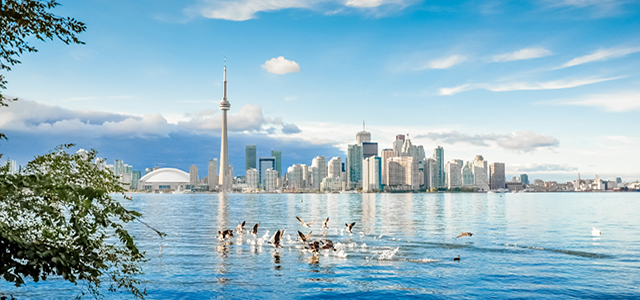 The Best Things to See and Do in Toronto
Toronto ranked number 4 in 2015 on the world's top most livable cities list released by the Economist Intelligence Unit (EIU). And that's definitely not a surprise given how much Toronto has to offer to its inhabitants and visitors. Toronto, as you may know, is the capital of the province of Ontario and the most populous city in Canada. It is a clean, safe city that has an impressive number of cyclists and, you guessed it, attractions for anyone: from natural wonders close to the city to impressive science centers and educative, interesting museums; from many different cultural areas to beautiful, worldwide famous markets; from national historic sites to the famous CN Tower and beyond. So, if you are thinking of visiting Toronto, make sure you plan to stay for several days so that you will be able to visit the most important tourist sites and, why not, even go off the beaten path. Here is a list of things to do and places to see while in Toronto.
See Toronto's Most Known Landmark
The
CN Tower
is without a doubt Toronto's most famous landmark. You cannot miss it and you should visit it even if only to enjoy the amazing experience of walking on a glass floor – yes, you'll see the city from above. If you are an adrenaline junkie, then you should try the
Edge Walk
, a hands-free outside walk on a 1.5-meter wide ledge on the edge of the main pod (you'll be attached to a safety harness and rope), all for $195. At 351 meters (out of the 553 meters of the CN Tower) you'll find the
360 Restaurant
that offers some of the best views over Toronto, and at the LookOut Level you'll also find the
Horizons Restaurant
.
Photo Credit: © iStock/mikeinlondon
Have Fun and Learn New Things at Science Centers and Museums
Royal Ontario Museum (ROM)
The
Royal Ontario Museum
is Canada's largest museum of world cultures and natural history. This impressive museum is a trip back in time and reveals how the cultures and the world evolved. Here you'll find giant dinosaurs, mummies, minerals, and more – with various programs available for children. The admission prices start at $17 for adults, with different prices for children, seniors, etc. Temporary and special exhibitions are also hosted here – right now there is one dedicated to Pompeii.
Ontario Science Centre
This is one of the most famous family oriented attractions in Toronto. Children of all ages are able to discover interactive and passive experiences featuring a wide area of fields, from science to geology, from music to the science of nature, from human anatomy to communication, and more. Be sure to dedicate an entire day to thoroughly visit the three main buildings that host these exhibits.
Ticket prices at the
Ontario Science Centre
are $22 for adults, $16 for youth, seniors, and students and $13 for children. Admission for the IMAX is an additional cost, but you can purchase a ticket package for the best deal.
Bata Shoe Museum
13,000 items from across the globe in a museum dedicated to footwear – now this is an interesting and, for some, unusual museum. The
Bata Shoe Museum
website states that "BSM has strived to use shoes to tell stories – stories about cultures, stories about history, stories about society and stories about people." Ticket prices are $14 for adults, $12 for seniors, $8 for students, and $5 for children ages 5-12 with various packages available as well.
Other Museums to Visit
Toronto has many other interesting and fun museums. The
Textile Museum of Canada
(TMC), for instance, features 13,000 items covering two millenniums revealing precious information regarding materials and their everyday use. The
Art Gallery of Ontario
is an enchanting experience for any art lover. Over 80,000 works from the first century to nowadays reunited in a single place. This museum is home to the largest collection of Canadian art, but European, African and Oceanic art are also featured here. And, if you want to end your visits to museums in a... sweet way, then go to the
Redpath Sugar Refinery
, which houses Toronto's Sugar Museum. And, don't forget about one of the newest attractions in the city,
Ripley's Aquarium of Canada
with its impressive underwater tunnel and the jellyfish display. Another important attraction is
Casa Loma
, a stunning castle with almost 100 rooms decorated from the medieval period.
Visit the Famous Markets
Markets are special venues in almost any city, and Toronto has several markets famous across the world. The
St. Lawrence Market
was built in 1850 and restored in 1967. Here you'll find a wide selection of food products, flowers, and other items. If you like markets, crowds (the good kind!), a mix of shops selling various products, restaurants, bakeries and retro/military clothing shops all in a rather small neighborhood and not a market, then you should not miss the
Kensington Market
.
Go to the Toronto Zoo
If you like zoos, then you should definitely stop at the one in Toronto. Kids will love it (and not only them!). Currently the Toronto Zoo is the largest zoo in Canada, hosting over 5,000 animals from 450 different species. The zoo is about 40 kilometers northeast of the city center (361A Old Finch Road) and perhaps the most famous attraction is the panda exhibit – but each animal is worth paying a visit. The admission tickets are $28 for adults during the summer ($23 during the winter), $23 for seniors 65+ during the summer ($18 during the winter) and $18 for children 3-12 ($14 during the winter season). There are different areas from across the globe, some of the most famous areas being those dedicated to the Great Barrier Reef, African Savanna and, of course, North America. Also, there are various programs for children worth checking out, including the overnight experiences available during the summer.
Enjoy Nature
You cannot visit Toronto and not see Niagara Falls or the island, but don't assume that those are the only places to enjoy some fresh air!
Niagara Falls
Seeing Niagara Falls is something that you don't want to miss if you are in Toronto. You'll definitely appreciate the grandeur of the world famous falls whether you like waterfalls or not. The walkway will take you from above the falls all the way along the edge of the gorge. You'll be simply mesmerized by the view (keep in mind that at night the falls are lit up in different colors). Stop by the
Table Rock Welcome Centre
to do some shopping, pick a tour from the available excursions or eat something.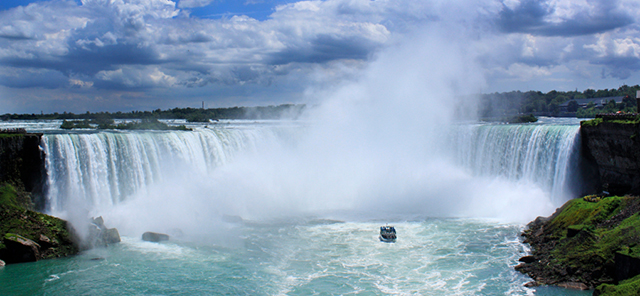 Photo Credit: © iStock/AriImages
If you want to have a truly amazing experience – and have the budget for it (prices start at about $90) – then you could opt for a helicopter ride to soar over the waterfalls and admire from above the longest international border in the world, the Canadian–United States border.
The Niagara Falls are not the only amazing nature attractions in (or near) Toronto. 161 hectares of relaxation await you at
High Park Toronto
. Hiking trails, playgrounds for children, a zoo, a lake, fresh air and wonderful landscapes can all be found here. How can you miss this?
With a ferry trip from Queen's Quay Terminal you'll get to the
Toronto Island
. Here you will find various attractions, from an amusement park to open space and fun games available at Hanlan's Point, from Ward's Island to picnic and barbecues places.
Other Famous Places to See
There are many more special places in Toronto and, in the end, it's just a matter of what you like and fancy doing while visiting a city. For instance, if you want to go on a shopping spree, you should choose the huge
Eaton Center
. This is a several block-wide shopping center with shops, restaurants, a cafeteria and department stores. Another famous attraction is the Distillery District, a restored historic area now transformed in a touristy area with many shops. As Canadians love hockey, Toronto is home to the
Hockey Hall of Fame and Museum
exhibiting an impressive number of hockey related items. If you are not a fan of hockey, this museum should still be on your list since the sport is so famous among Canadians.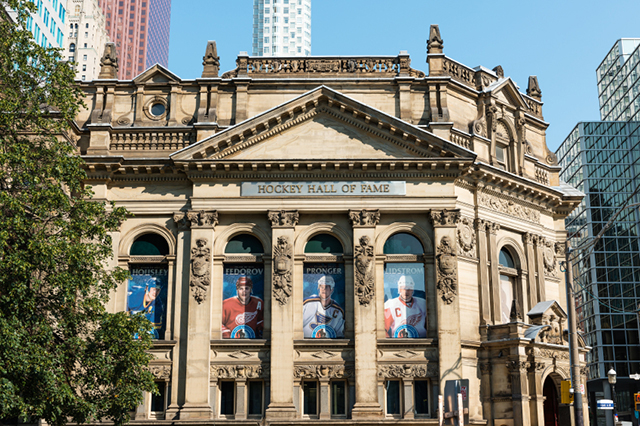 Photo Credit: © iStock/Andres Garcia Martin
There are so many places to visit in Toronto, what will you choose to do on your visit to the city?
About the Author: Violeta-Loredana Pascal is a public relations and marketing specialist who also loves to travel. She shares her travelling experiences and tips at http://travel.prwave.ro/. You can also find her on Facebook (/TravelMomentsInTime), Twitter (@TravelMoments) or Instagram (@violeta.loredana).
Featured Vendor

Get Hertz Discounts
Subscribe to Our Blog!
Like Us On Facebook