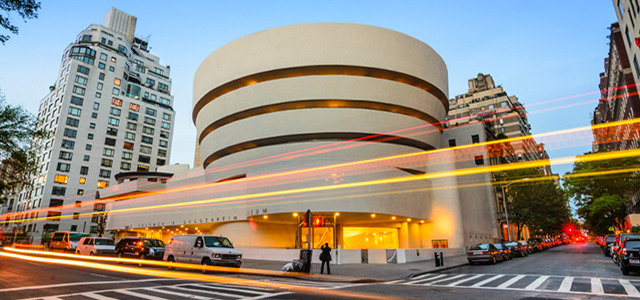 The 5 Best New York City Museums After Dark
Manhattan is home to some of the most renowned museums in the world. They're not just famous for ancient artifacts and dinosaur bones; they transform into exciting spots to socialize when the sun goes down. Unlike movies that portray galleries as creepy traps to get yourself in trouble, the real life art houses are great places to mingle with like-minded people and make unforgettable memories. Here we present you five fabulous museums you can visit after hours for a uniquely New York experience.
1. The Metropolitan Museum of Art (The Met)
Walk the famed halls of the Met on Friday and Saturday evenings until 8:15 p.m. to catch the classics of the American Wing, the artifacts in the Egyptian Middle Kingdom, and art from far corners of the world. The Temple of Dendur takes on a different ambience at night, as the great wall of windows turns opaque, shifting the focus on the enchantingly lit sandstone. Enjoy cocktails and appetizers with waiter service and live music in the Great Hall Balcony Bar. For the best views of the sunset over Central Park during Spring and Summer, a visit to the romantic Roof Garden Café and Martini Bar is a must.
1000 5th Avenue (at 82nd Street)
2. Rubin Museum of Art
The Rubin Museum's Serai Restaurant morphs into the K2 lounge (named after the world's second-highest mountain), serving cocktails and pan-Asian tapas on Fridays from 6-10 p.m. Guests receive free museum admission to explore the Himalayan exhibits as the DJ spins soothing Eastern-influenced rhythms accented with soft jazz. Happy Hour runs from 6-7 p.m. with 2-for-1 specials on all beer, wine, and mixed drinks. On select nights, featured musicians serenade patrons with jazz and fusion music. Purchase tickets online for international film screenings.
150 W. 17th Street (between Seventh 7th Avenue and Avenue of the Americas)
3. Solomon R. Guggenheim Museum
Art After Dark takes place the first Friday of most months; New Yorkers and tourists alike wait in line to get inside this landmark building designed by famed architect, Frank Lloyd Wright. An entrance fee of $25 gets you in, and the drinks are on you, but it's worth every penny to wander the halls by starlight. In addition to works by Manet, Picasso, Chagall and Bourgeois, you'll find Peggy Guggenheim's treasure trove of Cubist, Surrealist and Abstract Expressionist works, along with American Minimalist and Conceptual art from the 1960s and '70s. The house DJ provides a buzzworthy soundtrack while you enjoy craft wine and beer. The party starts at 9 p.m., but get there early to avoid the long lines.
1071 5th Avenue (at East 89th Street)
4. American Museum of Natural History
Your dream of spending the night at the museum can now come true, thanks to this popular museum's Night at the Museum inspired adult sleepovers. The overnight adventure begins with a champagne reception and music provided by the 12th Night Jazz trio in the Theodore Roosevelt Memorial Hall. Enjoy a buffet with wine and beer, partake in a fossil fact-finding tour by flashlight, and sleep under the life-sized, 94-foot-long blue whale in the Milstein Hall of Ocean Life. If partying under the stars is more your speed, sign up for the One Step Beyond mailing list to receive invitations to upcoming weekend parties at the Rose Center for Earth and Space. Dance the night away as live bands and DJs present the hottest music and project dynamic visuals.
Central Park West & 79th Street
5. The Morgan Library and Museum
It's a library, a museum, and a place for amazing cultural events and live music. This elegant early 20th Century building was constructed in the classical style based upon villas of the Italian Renaissance. It's known for art by Matisse, Rembrandt, Warhol, and features Mesopotamian sculptures. Don't miss the stunning Pierpont Morgan's East Room, in which you'll discover rare printed books and handwritten manuscripts by great writers, artists, and composers from the Renaissance to the present day, in three-story inlaid walnut bookshelves under a magnificent ceiling. On Fridays, the museum stays open until 9 p.m., where you can enjoy live jazz or catch a film on Andy Warhol.
225 Madison Ave (at 36th Street)
We hope you take advantage New York City's museums' night-time offerings; eat, drink, and be merry among fine art and culture!
Main Image Photo Credit: © iStock/Sean Pavone
About the Author: Lavanya Sunkara is a writer based in New York. Her love of adventure has taken her all over the world from Australia to Zanzibar. When she's not traveling, she's hiking with her dog, and planning her next getaway. Follow her on twitter @Nature_Traveler. Read her articles at www.nature-traveler.com.
Featured Vendor

Get Hertz Discounts
Subscribe to Our Blog!
Like Us On Facebook