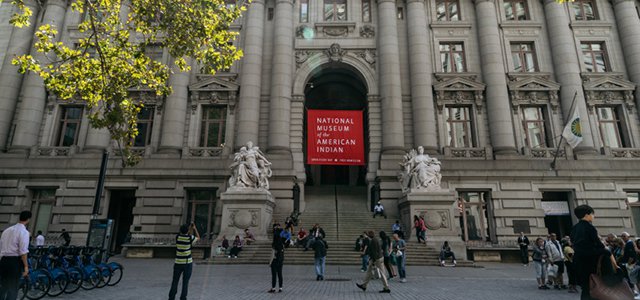 5 Lesser-Known NYC Museums Worth Visiting
Skip the long lines and avoid the acronyms. New York boasts fascinating institutions that come to life without the Manhattan price tag, educating and enlightening guests in bountiful expressions of human emotion. Check out these museums with thought-provoking subjects ranging from regional art to the paranormal.
1. National Museum of the American Indian
Under the Roman dome of the striking Alexander Hamilton U.S. Custom House near the ferry to the Statue of Liberty, this complimentary, satellite Smithsonian weaves a narrative of the indigenous tribes who once dominated the Americas. Its core exhibition, Infinity of Nations, is adorned with elaborate headdresses and focal-point objects iconic to sacred ceremonies spanning the centuries. The ongoing Circle of Dance demonstrates significant traditions of music and movement that honor ancestors and preserve the past. One Bowling Green
2. El Museo del Barrio
Discover the distinct richness of Puerto Rico, the Caribbean, and Latin America inside the vibrant halls of El Museo. With a burgeoning collection spanning artifacts of the pre-Columbian Taíno civilization to flourishing contemporary artists, current exhibitions include The Illusive Eye, a transcendent, mind-pleasing clash of perception versus reality and Joiri Minaya: Redecode – lush, evocative wallpapers urging tropical desire, designed for 1940s American luxury hotels. 1230 Fifth Avenue (between 103rd and 104th Streets)
3. Museum of Jewish Heritage
Nestled within the verdant landscape of Battery Park, this cultural center commemorates the struggles and celebrates the achievements of the Chosen People. Serving as both a Holocaust memorial to the six million innocents who perished and a retrospective of modern Judaism, the museum's intentional location and introspective spaces were crafted to foster mindfulness. Visitors will be drawn to Andy Goldsworthy's interactive Garden of Stones, a living representation of perseverance and survival. 36 Battery Place
4. National Jazz Museum in Harlem
Legends cultivated and modernized jazz during the Harlem Renaissance, bringing global awareness to its frenetic ingenuity. Trace the journey of this enticing genre in the museum's permanent VIBRATIONS exhibit. Spend an afternoon in the relaxing reading room; with exclusive access to the rare Savory Collection, enjoy performances by Count Basie, Duke Ellington, Benny Goodman, Coleman Hawkins, Fats Waller and Billie Holiday that haven't been heard since broadcast between 1935-40. 58 West 129th Street (between Malcolm X Boulevard and Fifth Avenue)
5. Morbid Anatomy Museum
Gather all ye goths! Where better than a charcoal gray warehouse with barred windows in Gowanus to delve into the occult? While the permanent collection is modest, its library could easily be Edgar Allan Poe's writing room, replete with candelabra chandelier and cabinets of curiosities. Frequent events include taxidermy classes, Victorian fashion and hair workshops, and macabre costume parties celebrating the demise of dearly departed historical figures. Freak out friends with an eerie souvenir from the gift shop. 424-A 3rd Avenue (at 7th Street), Brooklyn, NY
Save the fossils and mummies for another day (they're not going anywhere); support these cornerstones of what makes New York so eclectic and entertaining.
About the Author: Scott Josephson is a New York based writer who has visited all 50 States. His passion for music inspired him to drive to Graceland and the Rock and Roll Hall of Fame. His next goal is to visit all seven continents. When he's not on the road, Scott enjoys reading mind-bending science fiction, attending concerts, and drinking cider.
Featured Vendor

Get Hertz Discounts
Subscribe to Our Blog!
Like Us On Facebook