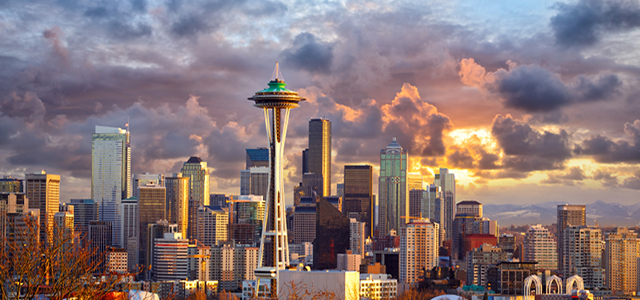 From the Great Wheel to the Aquarium: The Best of Seattle for Families
Seattle is the largest city in the state of Washington, and you just might be familiar with the city thanks to movies like "Sleepless in Seattle" and TV shows like "Grey's Anatomy." Beyond what you see on TV, this West Coast seaport has so many great things waiting to be discovered – especially if you're visiting with your family. You might even be surprised how many great family friendly things that there are to do in Seattle!
Seattle Great Wheel
Opened in 2012, the Seattle Great Wheel is one of the city's most famous attractions and a great place to enjoy breathtaking views of the Seattle skyline, Elliott Bay and the Olympic Mountains. This impressive ferris wheel stands at an impressive 175 feet tall (53.3 m), and it is the tallest one on the West Coast of the United States. You can find the Great Wheel at Pier 57 on Elliott Bay.
Don't worry about the weather, the 42 gondolas are enclosed and climate controlled. Some say that the air conditioning is too powerful and that a sweater might be useful, but that's a matter of preference.
A good tip is to purchase your ticket online – it's faster. The prices are $13 for adults and $8.50 for youth (ages 4-11). For seniors (65+), the ticket prices are available at the Ticket Booth (you have to have a valid ID with you). For children 0-3 years old you can pick up the free child ticket required for boarding at the Ticket Booth Will Call Window. The Seattle Great Wheel has a special VIP gondola with a glass floor and four leather bucket seats for a spectacular ride. But this will cost you $50.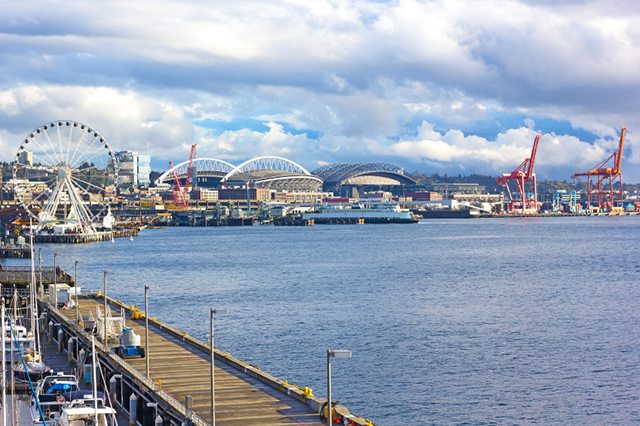 Photo Credit: © iStock/amedved
Museum of Flight
Flying is amazing. It's a dream come true. But how did it all start? And what lies beyond what meets the eye? The Museum of Flight is a wonderful experience for adults and children alike. The permanent exhibitions include almost anything from World War II biplanes to the first Air Force One and a British Airways Concorde.
Moreover, the museum's newest permanent exhibition is an amazing journey into outer space. Well, almost. As close as one can get, as the 15,000 square foot exhibit presents the basic insight as to how astronauts prepare for their big journey into space.
Ticket prices for the museum are $20 for adults, $12 for youth (5-17) and $17 for seniors (65+). If you want to join the Spaceflight Academy and participate in the
Shuttle Trainer Crew Compartment Tour
, a 30 minute tour with some special requirements, then you have to pay an additional fee starting at $25 for adults and $20 for children (10+). Kids will also be enchanted by the Kids' Flight Zone – where they can actually find out more about flying and even enter a balloon gondola basket, sit in the cockpits and operate the controls of a real Rotorway Scorpion helicopter, Thorp T-18 homebuilt aircraft and a P-47D replica. Fun all the way!
Seattle Aquarium
If you want to get an idea about Northwestern sea life and the region's ecosystem, then you should pay a visit to the Seattle Aquarium. One of the coolest parts of the aquarium is the walk-through tank. Children can touch (with a little bit of help) sea anemones, and all visitors are welcome to discover the crowd favorites, the sea otters and harbor seals. Try to catch the diving show at the Window on Washington Waters exhibit, where scuba divers talk to the public among fish and answer questions. There is also a Toddler Time program (check the official website to see the dates available), to help the entire family enjoy an afternoon (or more, why not) at the aquarium.
Ticket prices are $22.95 for adults, $15.95 for youth (ages 4-12, children must be accompanied by an adult).
Photo Credit: © iStock/Silivonchka
Seattle Center
The Seattle Center is a not-to-miss place in the city and is a perfect attraction for families. Perhaps the most famous attraction at the Seattle Center is the
Space Needle
, which offers you the chance to see the city from above. The Needle's "O" rotating observation deck rises 520 feet above the ground for views unlike any other in the city. Prices start at $22.00 for adults, $13.00 for youth (ages 4-12) and $19.00 for seniors (65+).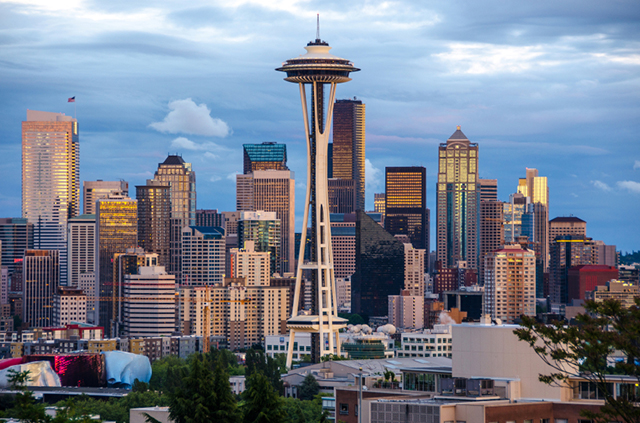 Photo Credit: © iStock/Cesar Asensio Marco
The Low-Down on Seattle's Museums and Family Attractions
Other important places to go to in the area are the
Children's Museum
, a place "where imagination comes alive." Located on the lowest floor of the Center House and featuring interactive child size exhibits, the
Pacific Science Center
, a comprehensive attraction with interactive science exhibits, two IMAX theaters, a Butterfly House, and more. The
EMP Musem
is dedicated to contemporary pop culture and features numerous exhibits, interactive activities and resources. And finally, the
International Fountain
, where children can actually play in the fountain bowl.
You should also consider using the
Seattle monorail
while you're in town. At night you'll enjoy the city's lovely lights as you ride above the city. The ride is not very long, but it's charming – children love it. The Seattle monorail goes from Seattle Center to Westlake Center and prices for one way tickets are $2.25 for adults, $1.00 for youth (ages 5-12), seniors (65+) and active military personnel.
With free entry year round, don't miss the
Olympic Sculpture Park
located in front of the
Seattle Art Museum (SAM)
. Or the
Center for Wooden Boats
, a museum dedicated to the maritime history of the Pacific Northwest area of the United States. You can also rent kayaks, rowboats, canoes, pedal boats and more here!
If you love chocolate (who doesn't), then consider taking the
Theo Chocolate Factory Tour
.
Beaches
You might not think beaches when you think of Seattle, but Seattle's beaches are a great place for a family adventure when the weather allows. Start at the
Green Lake Beach
or head to the
Madison Park Beach
. Choose a beach that's near your hotel or on your route and go there. Also keep an eye out for Seattle's not-so-secret
wading pools
.
Woodland Park Zoo
Lizards, jaguars, free flying tropical birds, snakes, African savannah animals, the new Banyan wilds exhibition, penguins and more are waiting to be seen at the Woodland Park Zoo, a place where you can go regardless of the weather. Ticket prices are $13.75 for adults and $9.25 for children (3-12 years old).
iFly Indoor Skydiving
If you'd like to fly, even for a little while and indoors, then you should definitely check out the iFly Indoor Skydiving center. They welcome people from 3 to 103 which makes this place a great attraction for families who want to try something different. After a safety training and getting properly dressed, you can indulge your flying lust inside a vertical wind tunnel. The prices for first time fliers start at $59.95 (prices go up depending on the number and duration of flights) and $49.95 for returning fliers.
If iFly is right up your adventurous family's alley, then you should also consider going to
Vertical World
to try your hand at indoor climbing.
Start Planning Your Seattle Trip
Seattle is one of those great cities with an abundance of things to do and see for families. It's just a matter of choices – and time. Start with a list of things that everyone in the family will enjoy, then add in activities one by one based on a majority vote.
Main Image Photo Credit: © iStock/dibrova
About the Author: Violeta-Loredana Pascal is a public relations and marketing specialist who also loves to travel. She shares her travelling experiences and tips at http://travel.prwave.ro. You can also find her on Facebook (/TravelMomentsInTime), Twitter (@TravelMoments) or Instagram (@violeta.loredana).
Featured Vendor

Get Hertz Discounts
Subscribe to Our Blog!
Like Us On Facebook