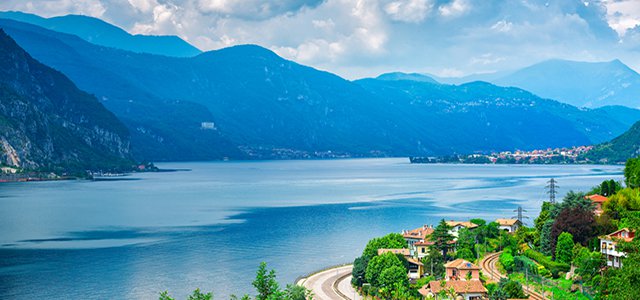 Take the Road Less Traveled to These 5 Lesser Known Italian Cities
Italy is a well-traversed country. Unlike less-trodden Croatia or Turkey, visitors from all over the world descend upon the boot in search of an authentic taste of its Renaissance art, gothic architecture, and of course, homegrown specialties.
Finding lesser-known hidden gems can, understandably, be a challenge. Rather than wait in lines for hours to see art everyone else has seen, or taste pizza that everyone else has sampled, take the road less traveled. These five places are shining examples of these gems, with the added benefit of not being very well-known, so they are not riddled with tourists. They are, however, a true representation of Italy's rich and magnificent history.
1. Genoa, Liguria
Italy has no shortage of beautiful, ancient cities, but one that often gets overlooked is Genoa. The ancient maritime city located on the hills is known for its picturesque streets, colorful buildings and waterfront location. Genoa's old port, Porto Antico, features palm tree-lined promenades, cafes and an aquarium.
Genoa is a place where history runs deep, and no more so in its extensive old city. The old city is a tightly twisting maze of narrow laneways, largely intact and a compelling, reminder of pre-modern life. The old town will immediately transport you to medieval times.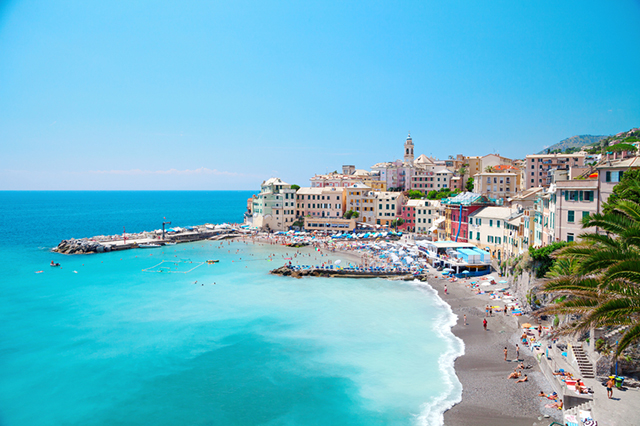 Photo Credit: © iStock/pixelliebe
2. Corniglia, Cinque Terre, Liguria
Set amid some of the most dramatic coastal scenery on the planet, the five ingeniously constructed fishing villages of Cinque Terre can bolster the most jaded of spirits. Sinuous paths traverse seemingly impregnable cliff sides, while a 19th-century railway line cut through a series of coastal tunnels ferries the footsore from village to village. Thankfully cars were banned over a decade ago.
Rooted in antiquity, Cinque Terre's five villages date from the early medieval period. Monterosso, the oldest, was founded in AD 643, when beleaguered hill dwellers moved down to the coast to escape from invading barbarians. Riomaggiore came next, purportedly established in the 8th century by Greek settlers fleeing persecution in Byzantium. The others are Vernazza, Corniglia and Manarola. Much of what remains in the villages today dates from the late High Middle Ages, including several castles and a quintet of illustrious parish churches.
Corniglia is the 'quiet' middle village that sits atop a 100m-high rocky promontory surrounded by vineyards. It is the only Cinque Terre settlement with no direct sea access, although steep steps lead down to a rocky cove. Narrow alleys and colorfully painted four-story houses characterize the ancient core, a timeless streetscape that was namechecked in Boccaccio's Decameron. To reach the village proper from the railway station you must first tackle the Lardarina, a 377-step brick stairway or jump on a shuttle bus (one-way €2.50).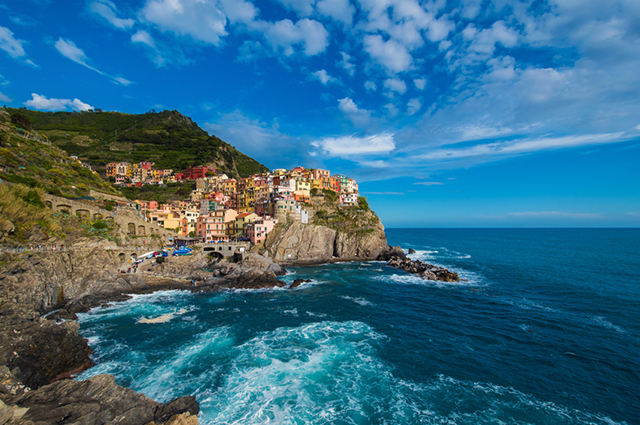 Photo Credit: © iStock/ValerioMei
3. Taggia, Liguria
From the Italian Riviera towns on the Mediterranean, such as Sanremo, to UNESCO-protected forests high up in the mountains, Liguria is a portion of Northwest Italy that offers a range of activities for all kinds of visitors. You can hunt for truffles, photograph small stone towns that pre-date the Romans and soak in thermal pools. There are castles and valleys, places to camp and even 5-star resorts. Definitely make sure to eat a meal at the Ristorante L'Olio Colto in the village of Taggia.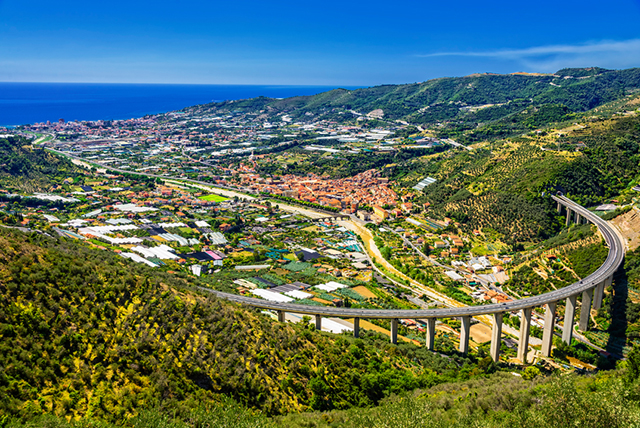 Photo Credit: © iStock/andrzej63
4. Portofino, Genua
Even the trees are handsome in Portofino, a small but perfectly coiffured coastal village that sits on its own peninsula, seemingly upping the exclusivity factor by mere geography. Portofino is an ancient and sophisticated village overlooking a sea of indescribable beauty, an Italian gem long-frequented by prominent personalities from the worlds of entertainment, culture and finance. The brightly-colored houses are stacked one by one, close to the other, as though they were the tiles in a precious mosaic. The famous "Piazzetta" nestles in a small nook along the coast: the heart of fashionable Portofino, it overlooks the picturesque harbor, populated by small fishing boats and luxurious yachts.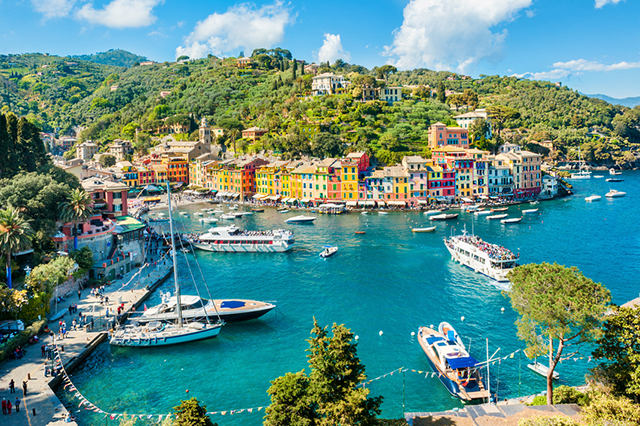 Photo Credit: © iStock/Olga_Gavrilova
5. San Remo, Liguria
San Remo is known to be Italy's own Monte Carlo, a sun-dappled Mediterranean resort with a casino, a clutch of ostentatious villas and lashings of Riviera-style grandeur. Known colloquially as the City of Flowers for its colorful summer blooms, San Remo also stages an annual music festival and the world's longest professional one-day cycling race, the 298 kilometer Milan–San Remo classic.
Beyond the manicured lawns and belle époque hotels, San Remo hides a little-visited old town, a labyrinth of twisting lanes that cascade down the Ligurian hillside. Curling around the base is a 25 kilometer bike and walking path that tracks the coast as far as Imperia, following the course of a former railway line and passing through the town's two character-filled harbors.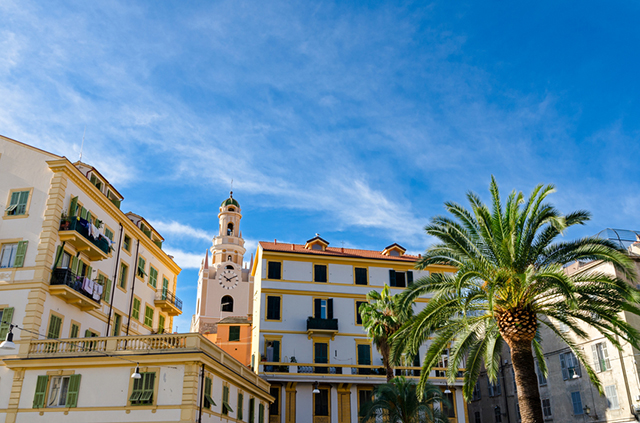 Photo Credit: © iStock/Marco Saracco
Main Image Photo Credit: © iStock/michelangeloop
About the Author: Milou van Roon runs a Digital Media Agency called Explorista Media that is dedicated to making travel brands into online rockstars. She's hardly ever home in The Netherlands, and regularly abuses the European low cost flights under the excuse of 'blogging about it' on budget travel blog http://explorista.net. Be sure to follow her adventures on Instagram (@Explorista).
Featured Vendor

Get Hertz Discounts
Subscribe to Our Blog!
Like Us On Facebook