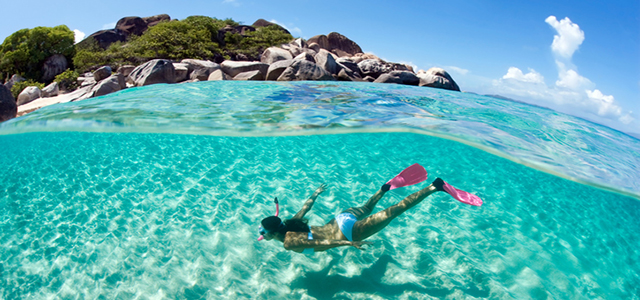 A Quick Guide to the Caribbean's Best Islands
There are more than 700 stunning islands in the Caribbean, and during wintertime, it's the go-to destination for those living in cold climate cities. The best time to visit the Caribbean is from December to April, although the islands are still welcoming year-round, but beware of hurricane season from August to October. Scattered across the Caribbean Sea, the islands are close enough to make it the world's premier holiday spot for cruising, but still so different, that it's sometimes hard to choose one over another. Here are a few pointers to help you choose between them.
The Most Beautiful Beaches
Aruba:
Eagle, Palm and Manchebo Beaches are amazing stretches of white powder sand beaches with crystal clear water.
Cayman Islands:
The Seven Mile Beach is a world-renowned beach that's in fact 5.5 mile long. And there's a lot more white sand beaches to discover.
Cuba:
Cuba's Playa Paraiso Beach is one of the top 25 beaches in the world according to Trip Advisor. There's also the splendid Playa Sirena Beach, with its glistening fine white sand bordering the clear Caribbean Sea.
Grenada:
Beside the divine Grand Anse Beach, Sandy Island is totally irresistible with its snow-white sand beach and its turquoise water.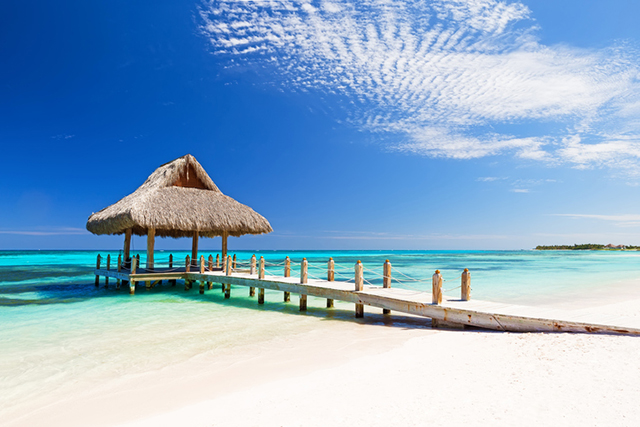 Photo Credit: © iStock/Preto_perola
Martinique:
The beauty and the incredible diversity of the Martinique beaches are simply amazing: they come in a range of colors from the luminous white sand to the deep black of the volcanic beaches.
St Lucia:
Reduit Beach is charming with its fine golden sand and its stunning views across the bay to double humped Pigeon Island. There's also Pigeon Island, an extremely picturesque little strips of golden sand.
The Best Snorkeling
Cayman Islands:
The Cayman Islands has some of the best snorkeling in the world thanks to the calm seas, clear water and beautiful coral reefs close to shore.
Grenadines:
Its clear turquoise water is perfect for snorkeling and you will see many different species of fish, corals and sponges.
St Lucia:
When it comes to Caribbean snorkeling, St. Lucia is one of the region's often overlooked gems: it offers pristine coral reefs teeming with sea life, and many of these are right off the coastline.
Turks and Caicos:
The Turks and Caicos islands have lots to offer if you're up for checking out the undersea life in some of the world's most crystal clear turquoise waters.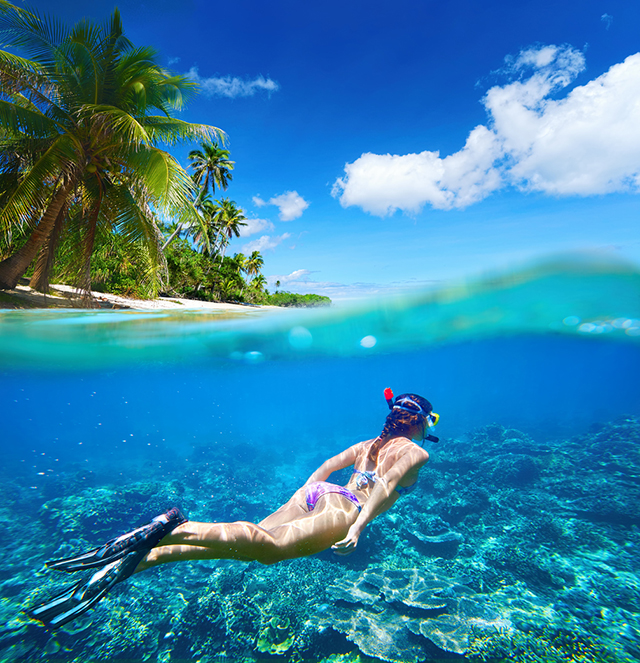 Photo Credit: © iStock/Soft_Light
Virgin Islands (British):
Snorkeling in the BVI is one of the most stunning pleasures that residents and visitors have to enjoy. The sights of the world beneath the water transport snorkelers to a seemingly unexplored universe full of wonder and mystery with strange and exotic creatures.
Virgin Islands (US):
St John is one of the top Caribbean destinations for snorkeling. With arguably the best shallow water snorkeling in all of the Virgin Islands – you're sure to have an awesome experience.
The Most Relaxing Islands
Anguilla:
On Anguilla, the sounds of the gentle turquoise sea and the soft winds through the palms provide natural relaxation and reprieve. The island is a breath of fresh air and a place to feel natural, beautiful and relaxed.
Barbados:
The natural environment of white sandy beaches, clear blue seas, cool breezes and swaying palm trees forces you to unwind and relax.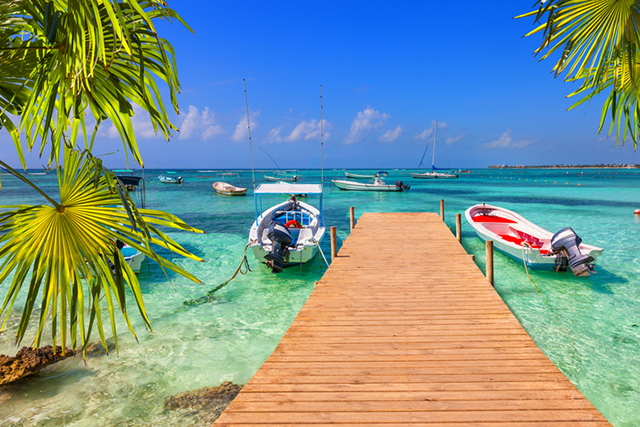 Photo Credit: © iStock/JoseIgnacioSoto
Grenada:
Quieter than many of its island neighbors, Grenada takes this approach one step further and is even regarded as having a relaxed pace of life by the residents of neighboring Caribbean countries.
Guadeloupe:
The Guadeloupe beaches are many, so finding one to suit your taste and preference won't be hard. Some of the beaches in Guadeloupe feature little more than sand and palm trees and are perfect for relaxing.
Turks & Caicos:
The Turks & Caicos Islands offer a variety of great resorts where relaxation is the primary focus.
Main Image Photo Credit: © iStock/sweetlifephotos
About the Author: David Duran is a Brooklyn-based luxury, hospitality, culinary, and overall freelance travel writer who contributes to such publications as Fodor's, Travel + Leisure, Destinations Weddings & Honeymoon, and Caribbean Travel + Life, among others. When not traveling 20-25 days a month for his work, he spends his free time planning more travel! To read some of his work, check out his online portfolio, and follow him on Instagram and Twitter at @mrdavidduran.
Featured Vendor

Get Hertz Discounts
Subscribe to Our Blog!
Like Us On Facebook