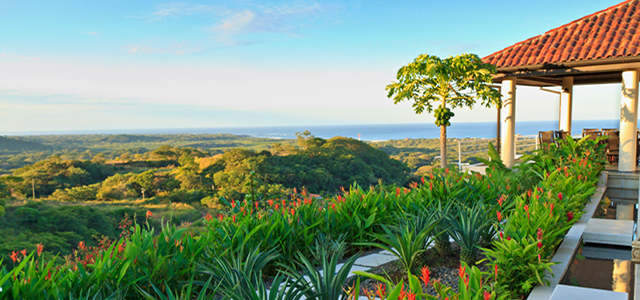 Sea Turtles, Surf and Sand: 7 Unbelievable Things to do in Tamarindo, Costa Rica
The mantra
pura vida
is most evident in the beach town of Tamarindo located in Guanacaste on Costa Rica's Pacific Coast. It's a surfer town where you'll find surf shops, or someone on their bike with one hand holding their board and another on the handlebar. Walk to the shore and you'll notice a row of seaside restaurants catering to these athletes and the people who come to watch. But that's not all Tamarindo is about. While it's drought-ridden right now, that doesn't stop sea turtles from crawling across the secluded beaches to lay their eggs, crocodiles from finding shade in the marshes, iguanas from sunbathing and monkeys from hanging from the trees. Animal and adventure lovers are sure to have a blast. Below are a few ideas to get you excited about a visit to Tamarindo.
1. CR Paradise Palo Verde Riverboat Tour
Leave the sand and surf behind and hit the open road to the tropical, dry forest that is Palo Verde National Park. With the help of a private tour guide from
CR Paradise
, you're bound to have a fantastic voyage spotting wildlife. Floating down the Tempisque River on a boat that flows through the Park, you'll witness a variety of birds including egrets, storks, and spoonbills. The real highlight is watching the giant crocodiles that call the river home. If you look closely at the trees, you'll notice iguanas hugging the branches in search of mates and howler monkeys lounging among the leaves. The curious capuchin monkeys sometimes come onboard, hoping for food scraps, but mostly to investigate their human cousins, offering plenty of opportunities to take some amazing snaps that come with bragging rights.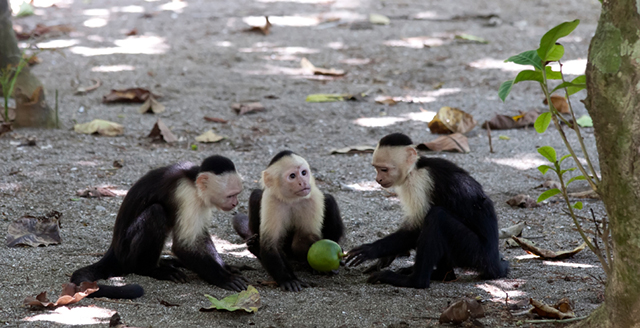 Photo Credit: © iStock/FosteringPhotos
2. Night Sea Turtle Beach Tour
If there's an experience that proves nature is simply amazing, it's witnessing a giant Pacific Green sea turtle wandering onto the beach seeking the perfect spot to lay her eggs. An expert guide from CR Paradise Tours knows exactly where this will happen. A long drive on unpaved roads brings you to Pirates Beach, but the action is truly off the beaten path – down a hill, into sandy trenches, and through a forest, if you want to see the mothers in action. While you patiently wait, your guide scans the area for flipper tracks using only red light (as white light is distracting to the reptiles), and alerts you when one is spotted. Seeing these majestic mommas come onto the shore and dig the ideal spots for their babies is a once-in-a-lifetime experience not to be missed!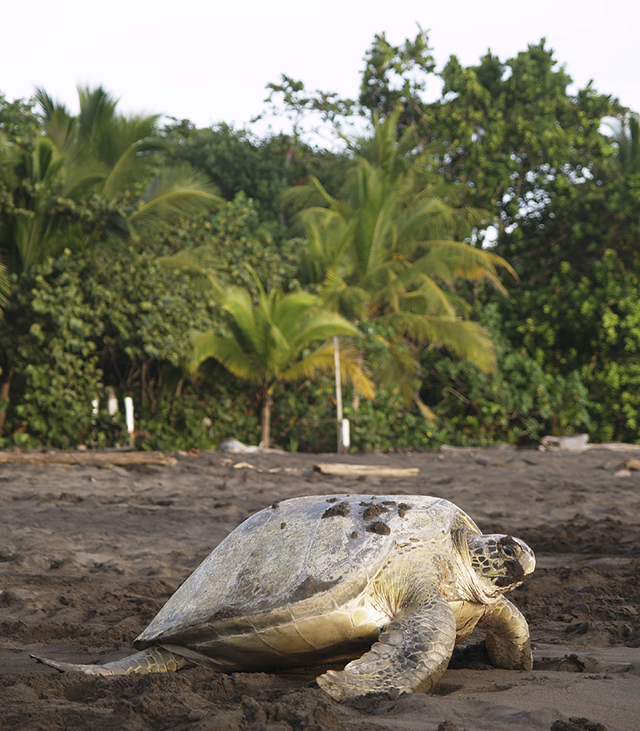 Photo Credit: © iStock/Jarno Gonzalez Zarraonandia
3. Monkey Jungle Canopy Tour
If you don't go ziplining in Costa Rica, you are missing out. The exhilarating feeling you get swinging from treetops can be experienced with a canopy tour that brings you closer to wildlife and gives you memories that last a lifetime. The
Monkey Jungle Canopy Tour
has seven cables you can zipline with safety as the highest priority. From the tree platforms, you can see the ocean, neighboring mountains, local vegetation and many animals, including the monkeys that give the tour its name.
4. Catamaran Sunset Cruise
Just because you're in a beach town doesn't mean you have to rough it. Get a taste of luxury aboard a sailboat for an excursion on the high seas through CR Paradise Tours. Day trips include whale and dolphin watching, snorkeling, exploring pristine, remote beaches and dinner with drinks while watching the sunset. Some of the exotic beaches visited on the cruise include Honeymoon Bay and Pirate's Cove, with the Catalina Islands in the distance.
5. Witch's Rock Surf Camp
Whether you're a novice or a seasoned surfer, Tamarindo Beach is the ultimate rush, with steady waves and warm, welcoming waters. High season is from December to May, so expect crowds and surf teachers offerings lessons. But at the famous
Witch's Rock Surf Resort
, located beachside, you can learn how to surf, or further your surfing skills, in the best waves Costa Rica has to offer. Classes begin early in the morning and are taught by lifelong surfers who take good care of you and ensure your safety while instructing you on the specifics of the sport. Witch's Rock offers several options, including a special package designed for females taught by adventurous women.
Photo Credit: © iStock/lilly3
6. Monkey Park
On the road between Liberia Airport and Tamarindo lies the privately owned Monkey Park wildlife refuge. It's not a zoo or a typical wildlife center. It operates on a small budget, to save as many wild animals as possible from injury and the illegal pet trade, and has been doing so for a decade. Injured animals are rehabilitated for eventual release into their natural habitat. Whether or not you spot monkeys in the wild, you are sure to see them here along with other indigenous wildlife. If you are looking to volunteer your time or money, Monkey Park is a worthy cause to support.
7. Nightlife
Being out in the sun all day is tiring, but don't let that stop you from enjoying Tamarindo's happening nightlife. Go souvenir shopping, drink at some of the best beachside bars, and catch live music at one of the restaurants. Dining in Tamarindo is an international experience with restaurants featuring everything from traditional Costa Rican and Italian to Japanese Fusion. Try your luck at Casino Diria, or dance the night away at the Le Beach Club. If you seek solitude and serenity, make a reservation at Jardin del Eden resort's poolside restaurant, La Plumeria, for an amazing gourmet meal paired with signature tropical cocktails.
We hope you get to meet capuchins, swing from treetops, hit some waves, spot a few turtles, and have the best sun-filled adventure on your trip to Tamarindo, Costa Rica!
Main Image Photo Credit: © iStock/Colin Young
About the Author: Lavanya Sunkara is a writer based in New York. Her love of adventure has taken her all over the world from Australia to Zanzibar. When she's not traveling, she's hiking with her dog, and planning her next getaway. Follow her on twitter @Nature_Traveler. Read her articles at www.nature-traveler.com.
Featured Vendor

Get Hertz Discounts
Subscribe to Our Blog!
Like Us On Facebook