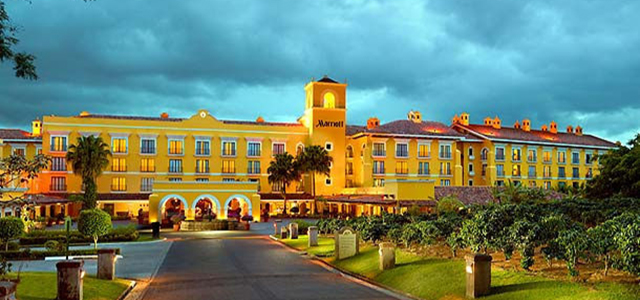 Hotel Review: San Jose Marriott, Costa Rica
On a recent trip to San Jose, Costa Rica, travel writer Lavanya Sunkara stayed at the Costa Rica Marriott Hotel San Jose. Here's her take on the experience.
When visiting the wildlife paradise of Costa Rica, one inevitably has to go through San Jose. Make your stay in the country's capital memorable with a relaxing stay at the charming
San Jose Marriott
, just ten minutes from Juan Santamaria International Airport, before jetting off to the coast or the cloud forests.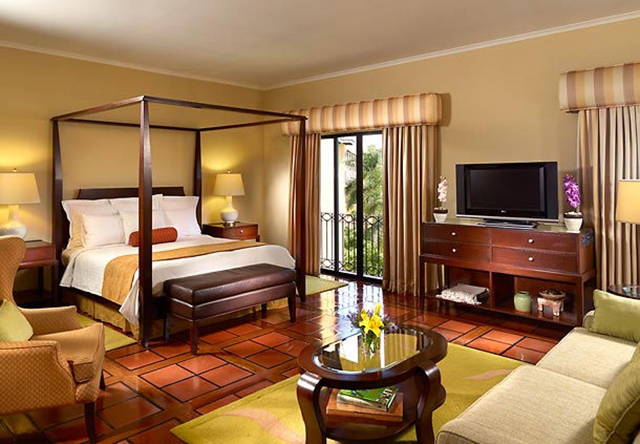 Located on a 30-acre active coffee plantation, this elegant hotel features hacienda-style architecture, terracotta roofs, luxurious suites with balconies overlooking luscious gardens, a java-inspired spa, and a central courtyard with a bubbling water fountain. When you first step into the open air reception area and gaze on the yellow hued courtyard, and the twinkling city beyond, you'll instantly understand why this was voted one of the top ten hotels in Mexico and Central America.
Whether you're visiting for business or pleasure, make time to enjoy the San Jose Marriott's three distinct cuisines in unique settings, all of which will please your palate. At the Antigua restaurant, enjoy tempting Latin American cuisine with both indoor and outdoor seating. La Isabela specializes in Peruvian delicacies while La Castilla offers fresh sushi made in front of your eyes. Sip exotic cocktails while seated comfortably on plush couches overlooking the lovely surroundings. If you are a sports buff, head to Bar No. 10 for beer and banter with fellow fans. The Casa Del Cafe is open 24/7, featuring gourmet Costa Rican coffee along with a variety of light fare. As a Marriott Rewards member, enjoy delicious food and drinks, along with a filling traditional and continental breakfast, in the executive lounge.
San Jose may be a bustling city, but the Marriott's environs provide tranquility at your beck and call. Unwind at one of two swimming pools or get a taste of the Pura Vida lifestyle at the giant circular Jacuzzi in the garden.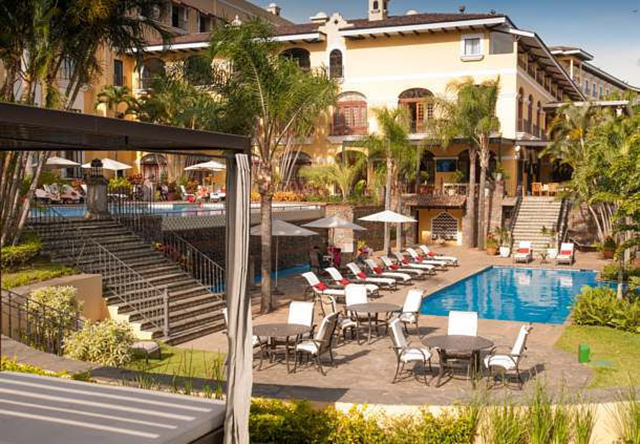 Visit the full-service Kuö Spa to pamper yourself with eclectic treatments that use coffee, volcanic ash, and other natural ingredients found in the lush forests of Costa Rica. The hotel also features saunas, a fitness center, three tennis courts, and jogging and nature trails.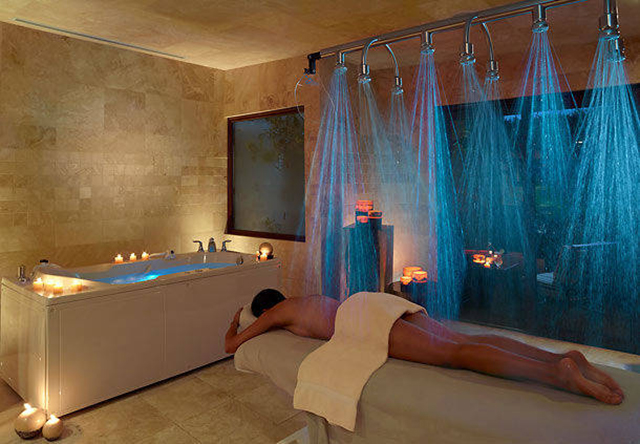 For business travelers, this setting couldn't be more ideal. The hotel offers 15 meeting rooms, a staffed business center, and Wi-Fi. Complimentary shuttle service is provided to and from the airport. The resort is also perfectly suited for weddings, replete with large banquet rooms decorated with lavish furnishings. Weddings take place in the outside terrace and inside the chapel on the hacienda grounds. A dedicated onsite wedding consultant helps with all of the details in planning the big day.
If you don't have time to explore the far corners of Costa Rica, day trips to volcanoes, and canopy zip-lining are available directly from the hotel. Visits to La Paz Waterfall Gardens Nature Park and Poás Volcano National Park can be easily arranged. Coffee and chocolate lovers will find plenty of opportunities to visit local plantations to savor the best the country has to offer.
Whether you're staying for a night or a week, rest assured that your visit to the magical wonderland of Costa Rica will be made all the more enchanting with a stay at the San Jose Marriott.
About the Author: Lavanya Sunkara is a writer based in New York. Her love of adventure has taken her all over the world from Australia to Zanzibar. When she's not traveling, she's hiking with her dog, and planning her next getaway. Follow her on twitter @Nature_Traveler. Read her articles at www.nature-traveler.com.
This post contains references to products from one or more of our partners. We may receive compensation when you click on links to those products. For an explanation of how ABN works, visit this page.
Featured Vendor

Get Hertz Discounts
Subscribe to Our Blog!
Like Us On Facebook