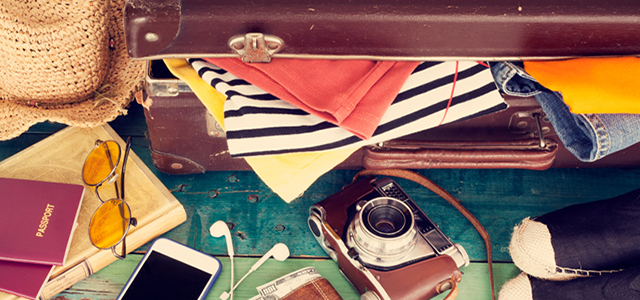 Save Money By Traveling With Just A Carry-On, Here's How
If you've forever been envious of the people that just float through security, and off the airplane right past the luggage belts onto their destination with nothing more than a little backpack on their shoulder, read on, my dear over-packing friend. This article is for you. We'll teach you all the tricks to traveling with a carry-on only: whether it is for a weekend, or a two-week trip.
Why you should enter the realm of carry-on only travelers:
1. No more waiting for check-ins:
if you can check in online, that is. But still, it's a joy to walk past the line of people that all have to check their massive suitcase for a 45 minute flight.
2. Showing up later to the airport:
if you check in online and have your boarding pass you technically can arrive a little bit later, and save yourself some time. Follow airport regulations though, I'm not going to be responsible for you missing your flight.
3. No more waiting at luggage belts:
every minute you're standing there waiting is one less minute by the pool, sipping on a Piña Colada.
4. It saves you money:
since you don't have to pay to check-in suitcases, which is common on European budget airlines, that means more money to buy Piña Colada's!
Convinced? Of course. Here are our best tips for traveling with a carry-on only successfully.
1. Travel-Sized Toiletries
When flying with a carry-on as your only suitcase, your only downfall will be: liquids. Choose wisely. Why bring a massive shampoo bottle if you're only staying for two nights? Bring a hat if you have to. Also, try bringing multipurpose items so you can save extra space. And don't forget that you can buy empty travel-sized bottles that you can fill up with your favorite products so you don't have to buy new products every trip.
2. Pack Smart
Sure that dress and those heels go amazing together, but when are you going to wear your heels on a trip? Think smart while packing. Flats can look great with your dress too and be comfortable when walking a lot. They also don't take a lot of space in your carry-on. Wear your bulkiest outfit on the airplane, even if you'll melt (it's only a few hours). Another way to save space is by tightly rolling your clothes instead of folding. Pack your heaviest things first and then pack the lighter things on top.
3. Make Lists and Prepare
Start by researching your destination. You probably don't need to pack for every season, and if you do: layering is the answer. Make a list of outfits you're planning to wear (see point 2). Also, create a list of the essentials such as your passport and credit card. Keep in mind that in most places you can buy anything clothing-related that you might forget.
4. Choose the Right Airline
Every airline comes with its own rules. When traveling with a carry-on only, it might be a good idea to choose a somewhat more expensive airline that allows you to bring more hand luggage. Many airlines allow the option of a carry-on and a personal item. In a lot of cases this means that you can bring a small suitcase AND a handbag or small backpack. Sure, the ticket may be more expensive, but you might save big on unnecessary luggage fees.
5. Invest in a Good Carry-on
Investing in a carry-on suitcase will save you a lot of money over time. Make sure the suitcase meets the carry-on requirements for your most used airlines, and that the empty suitcase is very light. Also, figure out if it has enough pockets for you, and that the zippers are in convenient places for you.
Hopefully these tips will make traveling with a carry-on only easier for your next trip. Traveling this way can save you massive amounts of time, money and energy if done right!
Main Image Photo Credit: © iStock/seb_ra
About the Author: Milou van Roon runs a Digital Media Agency called Explorista Media that is dedicated to making travel brands into online rockstars. She's hardly ever home in The Netherlands, and regularly abuses the European low cost flights under the excuse of 'blogging about it' on budget travel blog http://explorista.net. Be sure to follow her adventures on Instagram (@Explorista).
Featured Vendor

Get Hertz Discounts
Subscribe to Our Blog!
Like Us On Facebook