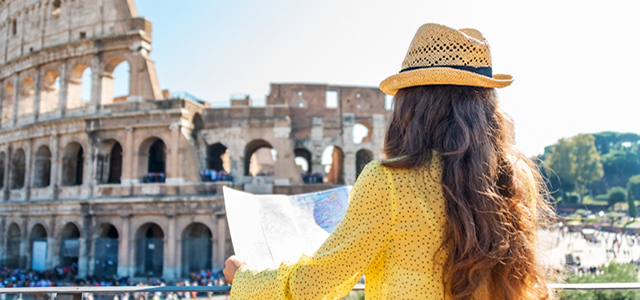 11 Ways to Save Money on a City Trip
The experience of travel is priceless, but that doesn't mean you should go broke while doing it. Wouldn't you rather take an extra trip or have an extra fancy dinner, than spending it on silly things like luggage or credit card fees? Us too. Below we have gathered 11 ways to save money on a city trip, before, during and after your trip!
Transportation
1. Flying may not always be the cheapest way to get to your destination, especially in Europe.
A bus, train or car may take you to your destination for less. There are specific search engines like
Rome2Rio
and
GoEuro
designed to tell you which mode of transportation is cheapest on your desired route.
2. The prices of flights may vary depending on what time of day you are traveling.
Flying on a weekday is generally cheaper than flying during the weekend, just like flying in the early morning is cheaper than flying in the evening.
Skyscanner's Everywhere option
is able to tell you exactly which day of the month you are able to fly cheapest to your destination.
3. Plan your transportation in your destination up front.
Will you be able to walk everywhere? Is it more economical to get a multi-day pass OR pay for each subway ride separately? Maybe you could even
rent a cheap car
or a bike? Plan your itinerary of activities based on proximity to each other!
Destination
4. Are you set on a certain destination, or do you just want to get away?
If it is the latter, keep an eye out for any sudden deals. If you're after sunshine and relaxation does it really matter if you're going to Florida or San Diego?
5. See if the city you are visiting offers any city passes.
It might get you discounts on the most popular attractions and public transportation. Don't forget to check coupon websites, they can have amazing deals on activities such as amusement parks or whale watching.
Activities
6. Google is your friend.
A simple search for 'free things to do in (destination)' will bring up so many options you will have to overstay by weeks to complete them all.
7. Look for free visitation days.
A lot of European and stateside destinations have free days to visit museums, and in some cities they are free altogether (looking at you, London).
8. Take a free walking tour!
Just be sure to give your tour guide a tip afterwards. A tour like this will provide you with great insight into the destination you are visiting, as well as give you any tips for the locals favorite hotpots.
Be flexible!
9. The best way to save money during your city trip is to be flexible.
Be flexible with the times your bus of flight leaves. Be flexible with the activities you are planning and be flexible if it turns out if something is not an option. Travel is like life: it happens while you're busy making other plans.
10. Do not be scared to ask others for tips on your destination.
Employees in your hotel are there to help you and give you tips. Also, locals usually love to give you recommendations on their city, so don't be scared to stop someone in the streets.
11. Use travel blogs!
You are not the first person to visit a destination, so be sure to read blogs (like these) to be informed on any smart ways to save money in your destination!
One last bonus tip: enjoy your trip and activities, instead of focusing on how to save money! That way, your cheaper city trip will bring you a lot more joy than when you are just thinking about the money.
Now go and enjoy your city trip!
About the author: Milou van Roon runs a Digital Media Agency called Explorista Media, that is dedicated to making travel brands into online rockstars. She's hardly ever home in The Netherlands, and regularly abuses the European low cost flights under the excuse of 'blogging about it' on budget travel blog http://explorista.nl/en/. Be sure to follow her adventures on Instagram (@Explorista).
Featured Vendor

Get Hertz Discounts
Subscribe to Our Blog!
Like Us On Facebook