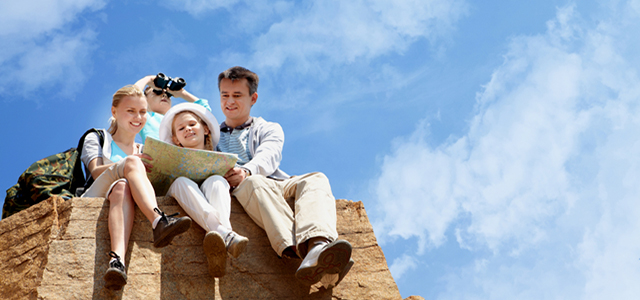 Road Trips with Kids: Tried and Tested Tips
Do we all love road trips? Yes, we do! Long drives are one of the best travel adventures of all time, yet they can be a little bit different if you have kids in tow facing boredom, tantrums, and that classic are-we-there-yet line.
After packing essential things like identifications and first-aid kits to checking your car and other safety measures, here are tested and effective methods to achieve peaceful and enjoyable road trips.
Planning is Everything!
Spend time preparing for your road trip especially if it will be your first drive. Here are some things you have to do before your hit the road with your little travelers.
Mind-Conditioning
Parents can avoid meltdowns in every situation when children have an idea of what is going to happen. Weeks before your trip, tell your kids about your trip like visiting grandma for Christmas or Thanksgiving and how much fun it will be.
"We are going to visit Grandpa and Grandma and it's going to be a long ride. I'm excited!"
"We'll leave early and we will stay in a hotel for daddy to rest. I heard the hotel has a nice pool with slides!"
"We will drive for a seven hours and we will have a picnic along the way!"
Let Your Kids Contribute
If you have kids over the age of three engage them in your preparation. Ask them what they want to bring, give them a small bag or Ziploc where they can put their snacks or favorite toys to bring for the trip.
For older kids, ask them what they want to do while you are driving. We spend so much time looking for ways to entertain our kids during long trips when they can help out. You will be amazed on what your kids really want to do during long drives.
Map Out Rest Stops
Rest stops are must-things during road trips. Look for the best places for your stopovers – great food for everybody, best coffee for mom and dad, and open space for kids.
Find places where there are playgrounds or at least space for the little ones to burn their energy. Pick a scenic spot to have a picnic. Quickly visit a local attraction along the way like a museum to entertain the kids while letting the designated driver rest.
Keep Food, Toys, and Clothes in Reach
Packing snacks and small meals along with toys are essential things to do for long drives. When on road trips, pack them separately (snacks and light lunches) and within your reach so it will be easier to get them when someone yells for a bite. Put them in places that your kids can easily reach.
For those with little babies and toddlers, bring a toy they haven't played with for a long time so when they start getting cranky, seeing their toy will turn their mood around. If you don't mind spending a little, buying a new toy helps. Your child will spend hours focused on their new toy.
Fashionably Comfy
Sitting inside the car for a long period of time means you have to wear the most comfortable clothes. Let them wear clothes and shoes that they can easily put on and take off. For those traveling with two or more kids, choose clothes of the same color scheme to easily identify them especially during rest stops.
Skip the Pajamas for Early Trips
Leaving early for your road trip? Instead of putting on your kids' pajamas after their bedtime showers, let them wear the clothes they are supposed to wear for your trip.
So when it's time for you to leave at 3 a.m., you don't have to change their clothes and disturb their sleep. You can scoop them out of bed, put them in their seats and you are all set!
Put it in One Bag
Do you need to spend a night or two in a hotel along the way? Instead of packing individually, pack all of your family's needs in one overnight bag. No need to unpack everyone's suitcases for a short stay. It's more convenient to carry into the hotel and unpack and repack just one suitcase smartly placed in the trunk.
Keep the Fun Along the Ride
Today's parents resort to technology to keep their kids occupied like DVD players and mobile games. However, there are unplugged entertainment options for your kids.
Bring a Map
Older kids have learned to paraphrase the travel pet peeve quote, "are we there yet?" into "how many more miles?" Sometimes, they are genuinely asking the distance. To keep calm and feed your child the right information, print maps.
This will not only let them anticipate the distance but you can turn this into a craft. Let the kids color the towns, cities and states you passed. If you are traveling on the interstate, print out a map of the entire state, let them color or do free drawing.
Interact with Your Kids
We are so obsessed with having a peaceful time during long drives that we forget how important it is to make use of the time to bond as a family. Long drives are opportunities to get to know your kids.
Let them talk. Point at things you see along the road and ask open-ended questions. You will be surprised at how your child can relate to these things. Play the popular Slug-a-Bug VW Beetle sighting game or have a mini trivia game about your family (for bigger kids).
A family set on a long drive should only look forward to wonderful road trips instead of hellish scenarios and back seat fighting. Keep calm; embrace imperfections from spills to minor motion sickness. Learn to adapt to these minor road glitches and you will have the best travel memories that your children will remember for the rest of their lives.
About the Author: Valerie Caulin loves the beach and anything historical. She regularly contributes to print travel magazines while featuring stories on her blog, http://www.valcaulin.com. Follow her on Twitter, Instagram, and Facebook.
Featured Vendor

Get Hertz Discounts
Subscribe to Our Blog!
Like Us On Facebook