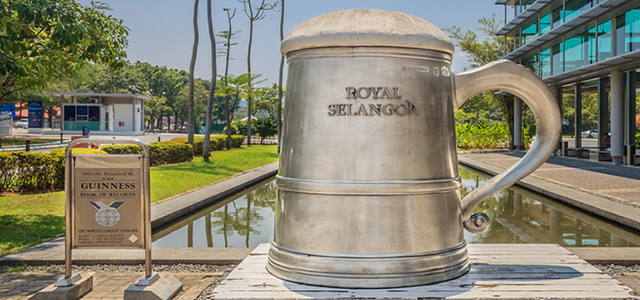 One Big Bucket List: 10 "World's Largest" Sights to See in the U.S.
The U.S. might be one of the world's largest economies, or have some of the world's largest cities, or even be one of the world's largest countries, but you probably didn't know that it was also home to a lot of the world's largest random things. That's right, from the list below, please take the time to read about and enjoy these prestigious world titles currently held by the United States.
1. World's Largest Office Building - The Pentagon, Arlington, Virginia
This may come as a surprise to some because there are some enormous buildings out there, but The Pentagon still takes top prize. Following behind it is the Burj Khalifa in Dubai, the Taipei 101 in Taipei and the Petronas Tower 1 in Kuala Lumpur.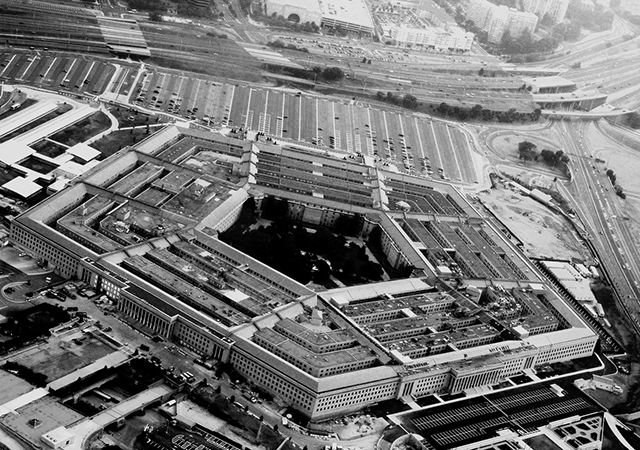 Photo Credit: © iStock/Mlucas
2. World's Largest Drug Store – Wall, South Dakota
Wall Drug Store is a famous tourist attraction located in the town of Wall. It's a shopping mall consisting of a drug store, gift shop, restaurants and various other stores. The famous stop's history began with free ice water for drivers passing by and has now grown into a mega business, and must stop for anyone driving by.
3. World's Largest Clothespin, Philadelphia, Pennsylvania
Located directly in front of Philadelphia's City Hall, artist Claes Oldenburg's 45-foot steel Clothespin, is a sleek and modern sculpture that many believe resemble two lovers entwining.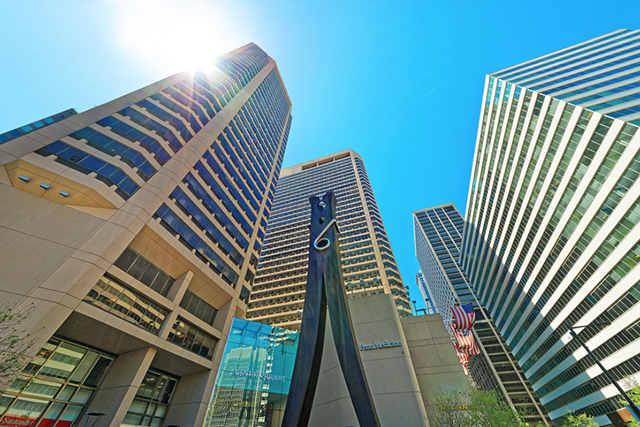 Photo Credit: © iStock/Roman Babakin
4. World's Largest Apple Basket, Frazeysburg, Ohio
Randomly, there is a 20-foot tall basket filled with overflowing fake apples, because…why not? It is located on the Longaberger Homestead in Ohio.
5. World's Largest Kaleidoscope, Mount Tremper, New York
Don't worry; you don't have to hold it all by yourself. Actually, it's a massive kaleidoscope that one can pay to enter to see from the inside of building. Shows change seasonally.
6. World's Largest Dinosaurs, Cabazon, California
Also known as Claude Bell's Dinosaurs, these giant sculptures are located roadside in Cabazon, California and are visible to the immediate north of Interstate 10. The site features a 150-ton building shaped like a larger-than-life-sized Brontosaurus and a 100-ton Tyrannosaurus rex. It should be noted that their official title is "world's biggest."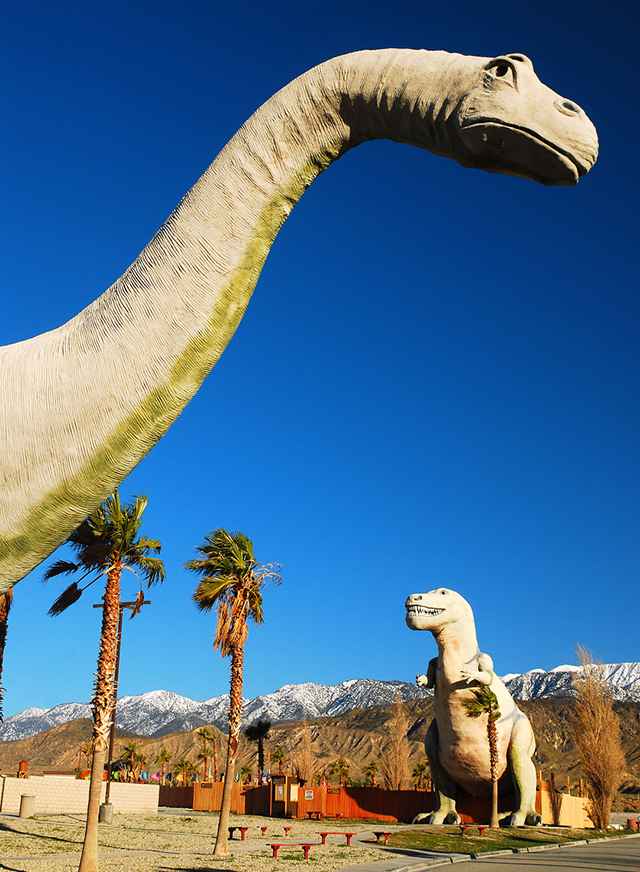 Photo Credit: © iStock/Kirkikis
7. World's Largest Thermometer, Baker, California
The world's tallest thermometer is a landmark located in Baker, California. It's an electric sign that commemorates the record 134 degrees Fahrenheit recorded in nearby Death Valley on July 10, 1913.
8. World's Largest Mailbox, Casey, Illinois
Either someone is anticipating a lot of mail, or a town is trying out some new marketing gimmick. Casey's campaign to be a destination for lovers of giant things comes with a towering residential mailbox, which visitors can climb inside.
9. World's Largest Hairball, Garden City, Kansas
Found in the stomach of a cow that was slaughtered at a nearby meatpacking plant, this hairball weighed in at 55 pounds due to it being wet. It's currently a lot lighter now and comes in at 38 inches around…and is also on display at Finney County Historical Museum.
10. World's Largest Baseball Bat, Louisville, Kentucky
A carbon steel baseball bat leans against and towers over a five-story building on West Main Street in downtown Louisville. The enlarged replica of a bat used by Babe Ruth in the 1920's marks the site of the Louisville Slugger Museum and Factory.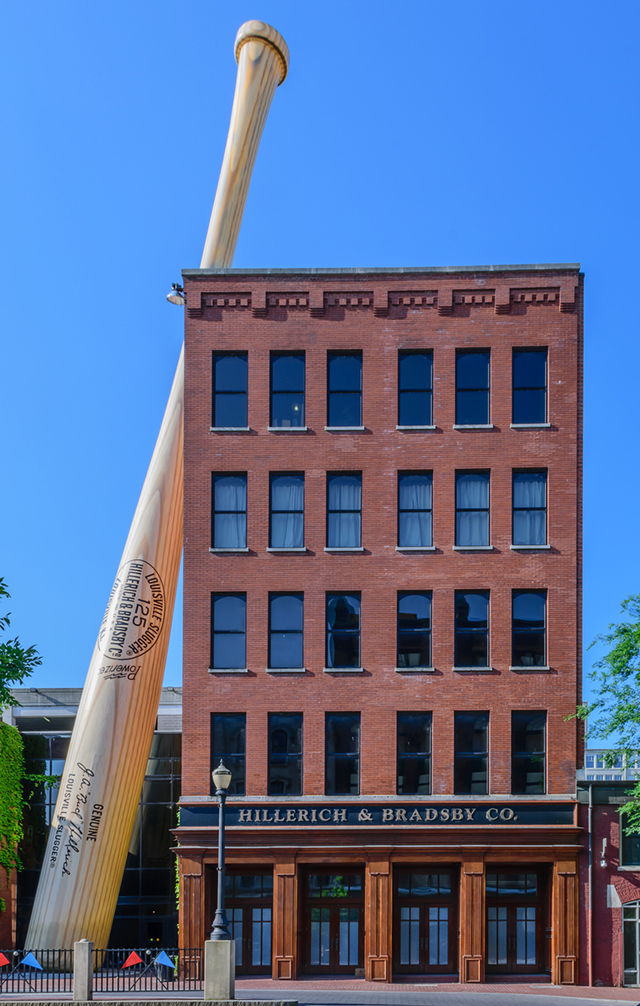 Photo Credit: © iStock/Thomas Kelley
Bonus: World's Smallest Park, Portland, Oregon
Mill Ends Park is a tiny urban park located in the median strip of SW Naito Parkway near SW Taylor Street in downtown Portland. The park is a small circle 2 feet across with a total area of 452 square inches and was first granted recognition in 1971 by the Guinness Book of Records.
Main Image Photo Credit: © iStock/SvetlanaSF
About the Author: David Duran is a Brooklyn-based luxury, hospitality, culinary, and overall freelance travel writer who contributes to such publications as Fodor's, Travel + Leisure, Destinations Weddings & Honeymoon, and Caribbean Travel + Life, among others. When not traveling 20-25 days a month for his work, he spends his free time planning more travel! To read some of his work, check out his online portfolio, and follow him on Instagram and Twitter at @mrdavidduran.
Featured Vendor

Get Hertz Discounts
Subscribe to Our Blog!
Like Us On Facebook