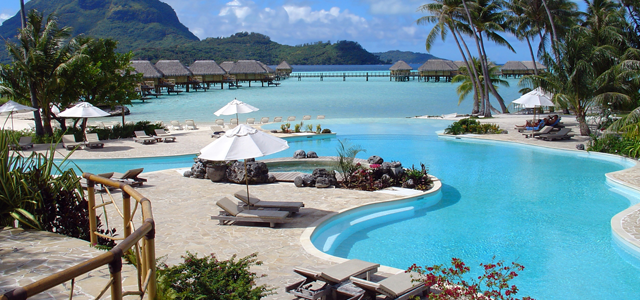 Plan Your Dream Tropical Vacation
  Vacation tips are abundant this time of year since summer is quickly approaching, err, actually here (what day is today?!?). Everyone needs a vacation. We are working non-stop it seems, all day, every day, with no breaks or a second to think about ourselves. A vacation is always a much deserved reward at the end of the tunnel. Most people don't reward themselves the way they should with their dream vacation because they don't know how to make it happen within their budgets and their limits. Planning a vacation doesn't need to be hard. We know you already have ever detail planned out in your head. Don't stop there – make it BETTER than the one in your imagination. Yes, you heard me, better! Let me teach you how to vacation.
Vacation Advice Just for You
There's something about going on a tropical vacation that makes us feel closer to nature. We are humans and nothing can instantly refresh us more than being close to the sand, the water, the earth – and a strawberry daiquiri within arm's reach doesn't hurt. Planning a trip with friends is a different experience than you would expect when vacationing with your family or just your spouse/significant other. No matter who you're vacationing with, as long as everyone has an open mind and a sense of adventure you'll be able to relax the way you need to. To get everyone on board and excited for the trip, involve them in the planning and booking process. To make this as painless as possible, plan early and make a list of all the costs. Fly together, and if you're in a large group know that airlines offer discounts on large group purchases. Find out when busy season is – can you go in the off season? Room rates are much lower, but know what you're trading off. Will the weather still be nice? Are all of the local attractions still open? Do your research! When booking your accommodations see which space options best fit your needs. If you're traveling in a group look into suite and house or condo rentals versus regular hotel rooms. These options offer more space for less cost. If you're a part of a savings group like ABN Save or AAA find out which hotels offer discounted rates to members. Wyndham Hotels and Resorts are a favorite choice of ABN Save members. Hotel discounts are always available; you just need to know where to look. For romantic getaways, be sure to leave the things that will distract you from each other at home. Work related items, kid things, etc – just don't do it! Remember, this is your time to be together – we all know how hard that can be sometimes. Don't allow yourself an opportunity to stray from this opportunity. Bring multiple swimsuits since it's likely you'll be in the water a lot during your tropical vacation. Double check with the hotel to see if they offer couples discounts – not just for the stay, but for other attractions that they offer such as boat tours, snorkeling, horse riding tours, jet ski rentals, parasailing and more. If you're lucky enough to stay at a resort that is all-inclusive, plan which nights you'll go to the special restaurants the resort offers – you'll more than likely need a reservation. For special dinner adventures, make your dinner reservations before you leave on your trip. Make sure that the restaurants are easily accessible. Does your resort offer complimentary shuttles or car service? Make sure your restaurant of choice is on their route or within their car service's offered service area. Read Yelp and TripAdvisor reviews of the restaurants to make sure no other out-of-towners felt ill as a result of their restaurant choice! Nothing can ruin a trip faster than Montezuma's revenge! Family vacations can be fun, but make sure you include everyone in your plans. If you are traveling with kids, you obviously need to keep an eye on them so be sure that there are kid friendly activities nearby and be willing to sacrifice romantic nights for them. Whatever you plan on doing, be sure it is going to be fun for EVERYONE. The beach is usually a great place to satisfy everyone's needs. This is the time where bonding will flourish. Take advantage of the time you have together and do as much family activities as you can. Don't forget your underwater camera so that you don't miss any of the action.
Travel Everywhere!
My favorite getaway spots include places like Hawaii, Florida, the Bahamas, Jamaica, and the Virgin Islands. Not only are these locations perfect for friends, family, and romantic getaways, but they will give you a new appreciation for the beautiful world we live in. All of these spots are affordable if you plan ahead and know your options. Breanna Wilson is the Director of Marketing at Allied Business Network, a business membership group that offers businesses travel discounts on hotels, car rentals and more from the leading travel companies in the US. Breanna is a travel thought leader who offers a unique perspective on the best ways to travel. She welcomes anyone to reach out to her on Google+ or Twitter.
Featured Vendor

Get Hertz Discounts
Subscribe to Our Blog!
Like Us On Facebook