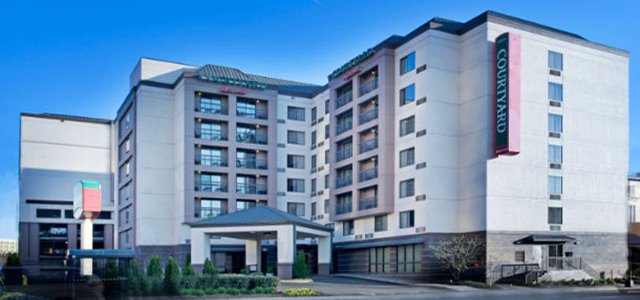 Hotel Review: Courtyard Nashville Vanderbilt/West End, Tennessee
During a recent trip to Nashville, travel writer Cheryl Rodewig stayed at the Courtyard Nashville Vanderbilt/West End. Here's her take on the experience.
When visiting Nashville, you want to stay close to the action, near the honky-tonks and fun attractions, but not so close that it keeps you awake when you're finally ready to call it a night. That's exactly what a stay at the
Courtyard Nashville Vanderbilt/West End
provides, complete with all the trappings of luxury and comfort.
So where is Vanderbilt/West End? A little Nashville geography might be helpful. The heart of Music City stretches from the riverfront downtown to Centennial Park on the West End. It's a charmingly walkable stretch, about 2.5 miles, and the hotel is situated right along the way, close to Vanderbilt University, hence its two-part name.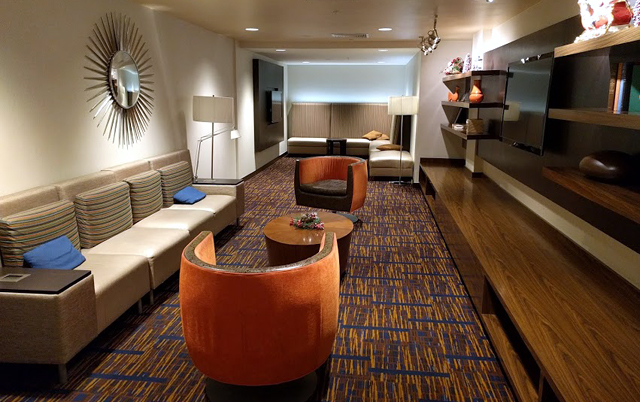 Accommodations
The Courtyard has a warm, contemporary vibe, with plenty of nods to its musical heritage. Even the rooms have touches of local art.
Of course, you won't spend much time in your hotel room, especially if it's your first visit to Nashville as it was mine, but you do want a good night's sleep. I slept blissfully in the cloudlike king bed. They provide ear plugs, with a cute rhyme to explain why, but I never heard a peep from outside.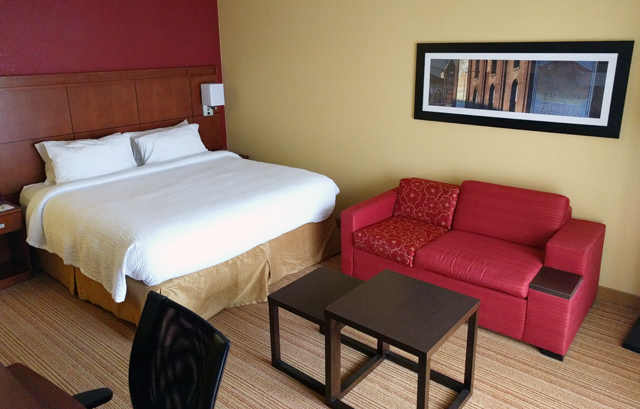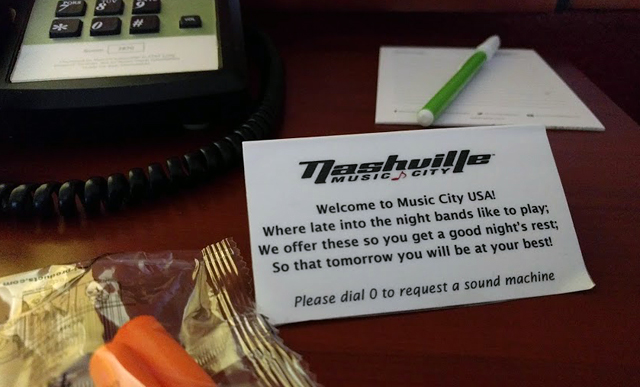 In any case, the room was perfectly adequate: clean, spacious, relaxing. The desk and free high-speed Wi-Fi were great for getting some work done. The bathroom was roomy, too, and stocked with Paul Mitchell products.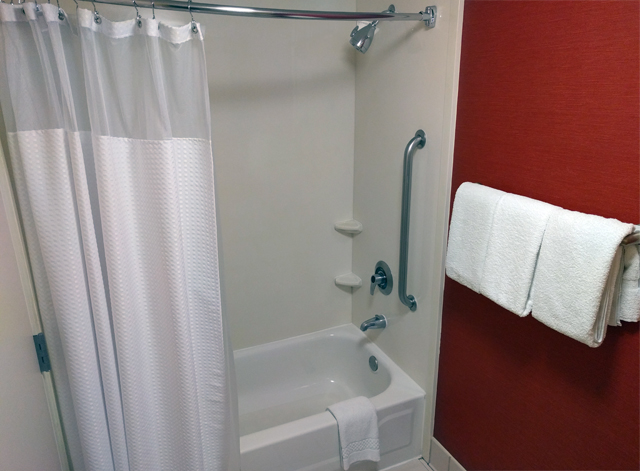 Amenities
The Courtyard wants to make you feel at home. On the main floor, they have a lounge with books and magazines, a business center where you can surf the web or print your boarding pass and their Market shop where you can pick up any small items you might need.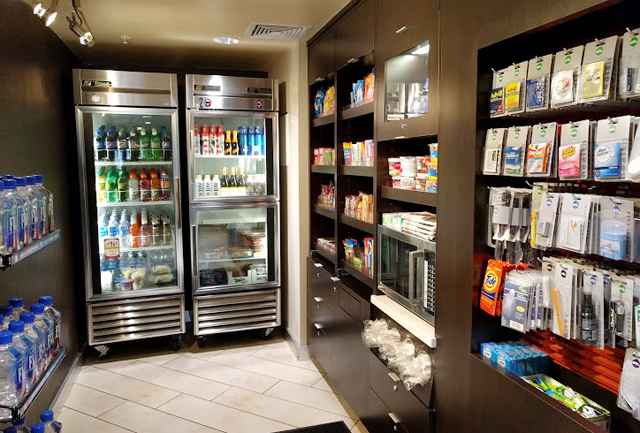 Speaking of convenience, the hotel offers a complimentary shuttle to nearby attractions. If you're visiting during decent weather, you'll probably want to walk. Even in the daytime, there is music spilling out of restaurants and bars along the way as well as beautiful architecture making the stroll pleasant. However, it was uncharacteristically chilly when I visited, so the shuttle was a blessing.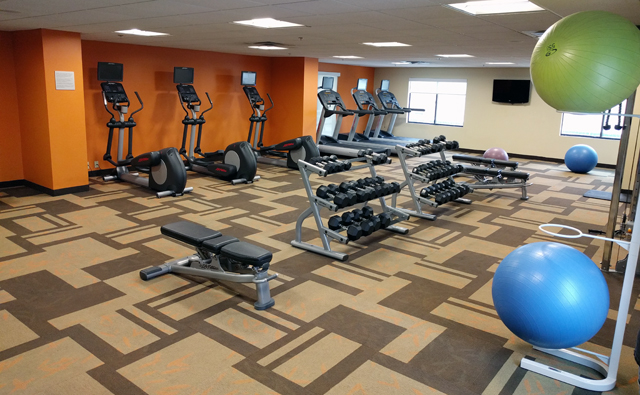 I also loved the fitness center. It's a good size and I happened to have it to myself every time I stopped by. The complimentary ear buds are an extra perk, handy if you forget to bring your own. The pool wasn't open during my wintertime trip, though I had a lovely view of it from my balcony.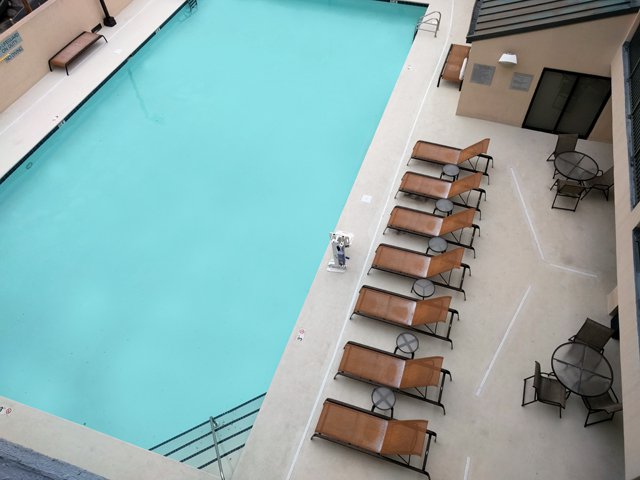 Breakfast
But all of this is really leading up to breakfast. I'd never dined at a Courtyard by Marriott restaurant before, but apparently the Bistro is a staple of the brand, serving up breakfast, sharable snacks, drinks and dinner whenever you might feel peckish (or thirsty).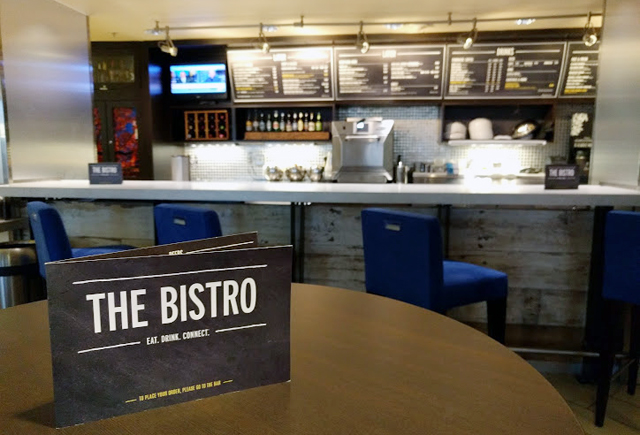 I relied on their breakfast each morning to start my day right. Now don't get me wrong. Nashville is a true foodie city. You could eat three meals a day out on the town and not taste the breadth of all the city offers, but for me, a fresh, hearty breakfast lets me enjoy a more indulgent lunch and dinner. And the Bistro has plenty of healthy options for the first and most important meal: granola, fresh cut fruit, egg white frittata, maple pear yogurt.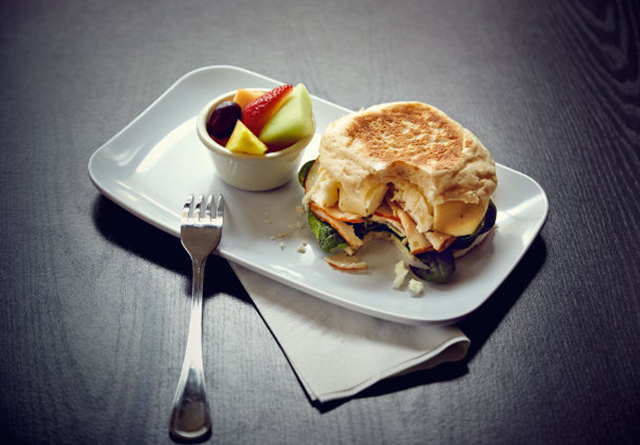 If you pick just one, try the "Healthy Start," an English muffin filled with egg whites, turkey, spinach and Havarti. I ate a lot of fabulous food on my trip, but this simple sandwich was one of the best things I had in Nashville.
All told, my stay at the Courtyard by Marriott on the West End was great. And now that I've fallen in love with Tennessee's capital and am sure to be back, I'm glad to know where to stay.
About the Author: Cheryl Rodewig is a storyteller and creator — for brands (content marketing) and her life (travel). See more of her travel stories on Twitter at @cherylrodewig or online at cherylrodewig.com.
This post contains references to products from one or more of our partners. We may receive compensation when you click on links to those products. For an explanation of how ABN works, visit this page.
Featured Vendor

Get Hertz Discounts
Subscribe to Our Blog!
Like Us On Facebook