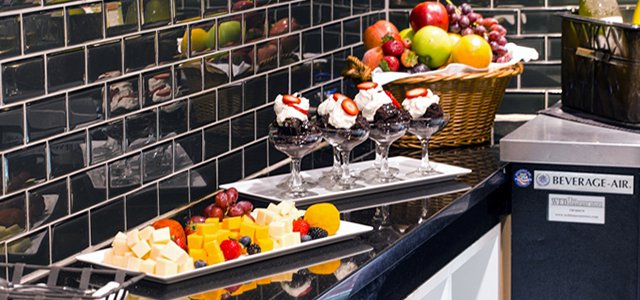 Hotel Review: DoubleTree by Hilton Hotel Portland, Maine
On a recent trip to Portland, Maine, travel writer Scott Josephson stayed at the DoubleTree by Hilton Hotel. Here's his take on the experience.
License plates for the state of Maine provide a not-so-subtle suggestion in a single word: Vacationland. Home to Stephen King, Acadia National Park, and the blueberry capital of America, New England's northernmost reaches are a natural nirvana for lovers of fresh seafood and crisp air. There is no better spot than the charming city of Portland to experience the seas of summer and the slopes of winter.
Avoid overpriced accommodations in the city center by staying just outside in the conveniently located
Doubletree by Hilton Hotel in South Portland
. Just two miles from the nearby International Jetport, you'll feel at home the moment you arrive. How many hotels hand you a freshly baked chocolate chip cookie with your keycard? Guestrooms are ample and suites spacious, featuring luxurious bedding and comfortable furniture offering respite from the road. With a lobby that feels more like a living room and extremely friendly staff, you'll honestly believe you are staying at a friend's mansion.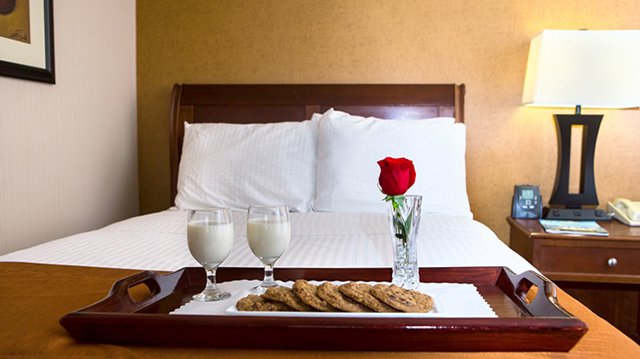 Located across the street from The Maine Mall, a quick stroll delivers you to major retail outlets and eateries. If you don't feel like toting your bags back, the hotel's complimentary shuttle provides transportation to destinations within a 1-mile radius or to and from the Jetport. If you arrived by car, complimentary self-parking is available in a spacious, safe lot.
When you're ready to venture out, the Old Port is a short, 5-mile drive. Acclaimed dining establishments, including DiMillo's on the Water (a former ferry now moored), and popular attractions such as the Portland Head Light Lighthouse are mere minutes away. Willard Beach allows dogs to grace its sands between 7 to 9 p.m. in the summer months, while Old Orchard Beach proffers the full beach town experience from which so many memories are made.
The on premises restaurant, Blue Wave Grille, crafts a lobster roll that rivals those found in the Old Port. Its modern decor, full bar, and continental cuisine with a seafood slant and emphasis on local ingredients, are easily accessible for three meals a day, just steps from the lobby.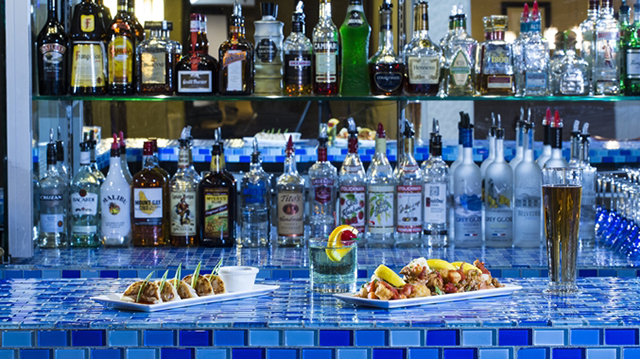 If you feel the need to burn those calories (they don't count on vacation, right?), the fitness center is open 24 hours and features a heated, indoor pool.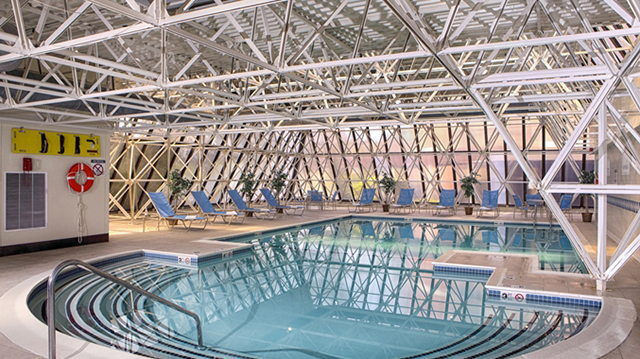 For frequent travelers with Hilton HHonors Gold or Diamond status, the property boasts a new, exclusive Executive Lounge serving evening snacks and a hot breakfast. Selections include fresh tortellini just before dinner and clever egg creations in the morning. Dedicated staff are generous in their pours of wine and ensure that your every need is met in this sanctuary of serenity.
Most hotels don't allow pets, but this DoubleTree is a major exception to the rule. Not only are up to two pets (maximum weight of 75 pounds each) welcome, there is no additional fee or deposit. Ideal for those individuals and families who prefer to bring their four-legged best friend along for the ride to visit the most dog-friendly state in the country, your pooch is not only encouraged to stay, but appreciated for doing so.
If Portland is one of those cities you always said you'd visit, now is the time. With DoubleTree, you'll establish a home base designed specifically to cater to your creature comforts. Bring your pooch, your love of all things nautical, and depart with a refreshing redefinition of what it truly means to be on vacation.
About the Author: Scott Josephson is a New York based writer who has lived in Massachusetts and visited all 50 States. His passion for music inspired him to drive to Graceland and the Rock and Roll Hall of Fame. His next goal is to visit all seven continents. When he's not traveling, Scott enjoys reading science fiction, attending concerts, and drinking cider.
This post contains references to products from one or more of our partners. We may receive compensation when you click on links to those products. For an explanation of how ABN works, visit this page.
Featured Vendor

Get Hertz Discounts
Subscribe to Our Blog!
Like Us On Facebook