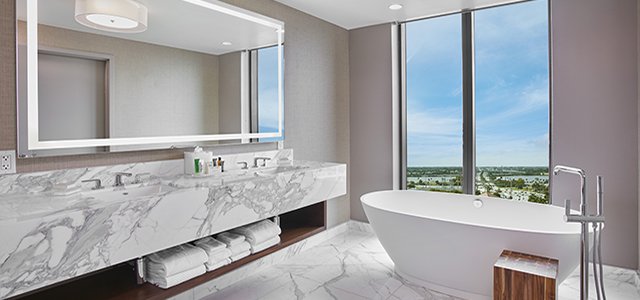 Hotel Review: Hilton West Palm Beach, Florida
During a recent trip to the Palm Beaches, travel writer David Duran stayed at the Hilton West Palm Beach. Here's his take on the experience.
When I heard there was a new Hilton in town, I made sure to make some time to stop by and have a look for myself. Being somewhat of a hotel aficionado, especially with anything and everything related to Hilton, I was excited to have a look at this new property. All I knew about the hotel before arriving was that it was conveniently located just two miles from the famous Palm Beach, and that immediately elevated my standards for the property…
First Impressions
The
Hilton West Palm Beach
is big and beautiful from the outside. It's next to the Palm Beach County Convention Center, which can be accessed via an enclosed walkway. So in my mind, this was more of a convention type hotel, which indeed it eneded up being. Within walking distance was CityPlace with all its popular shops and restaurants, which provided some additional dining options as well as some great shopping.
At first impression, the lobby was grand and extremely up to date in subtle modern décor. The divided check-in counters and concierge desk each with their fascinating art backdrop really made for a wonderful first impression.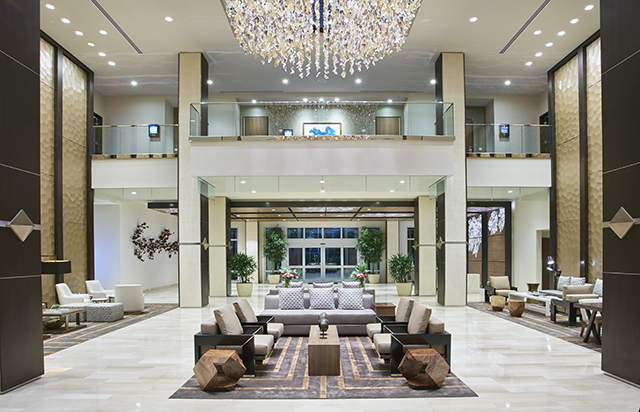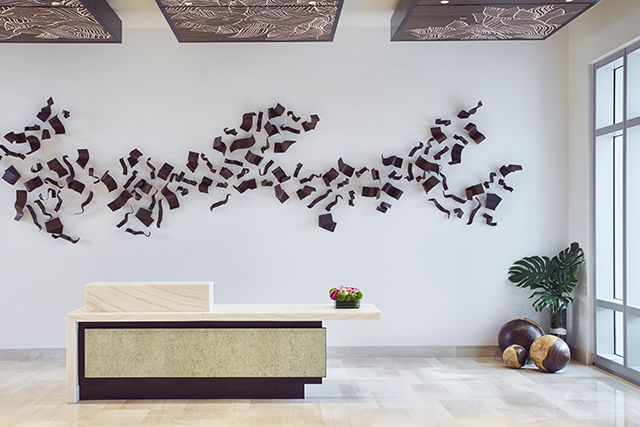 The Rooms
The hotel features over 400 guest rooms, each standard with a 55-inch HDTV, mini-fridge and the standard amenities one would come to expect from a hotel. For business travelers, the ergonomic work desk and large closets come in handy. Executive rooms are available and come with extra amenities and Executive Lounge access. Additionally there are also larger suite options available. The rooms either have a city view or a view of the hotel's pool. The décor is clean, bright and modern – making it very clear that this is a fresh new hotel.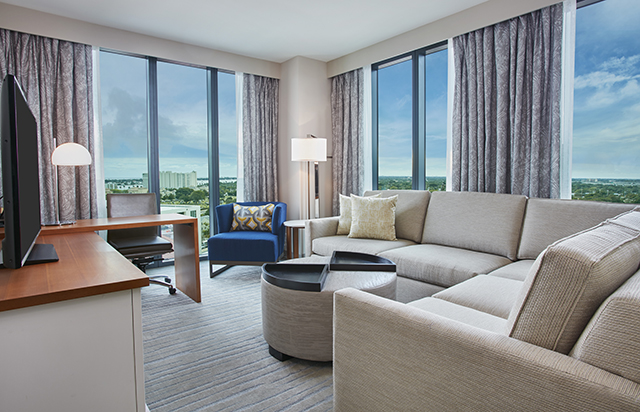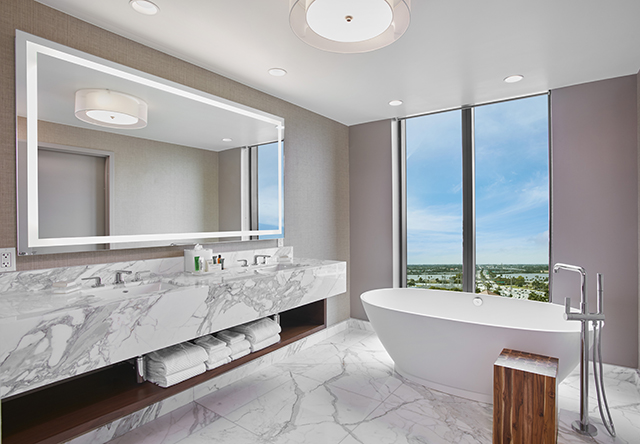 Time To Eat
There's nothing I appreciate more than a grab-and-go marketplace in a hotel for those times when you don't want to go to a restaurant but instead prefer to just speed up the eating process by simply grabbing something ready to eat. Provisions, the property's marketplace offers gourmet sandwiches and salads as well as fresh fruit and pastries. What truly won me over were the pressed juices, because that's become so trendy these days and lots of travelers expect to find fresh pressed juices everywhere they go now. The signature restaurant, Manor, serves all three meals and focuses on authentic fare with global influences.
The lobby bar, Galley, where I spent most of my time, is a prohibition inspired craft cocktail bar that had some really fun options to indulge in. From hooch to bathtub gin, the menu was beyond impressive. Guests can also enjoy their cocktails alfresco by their fire pit.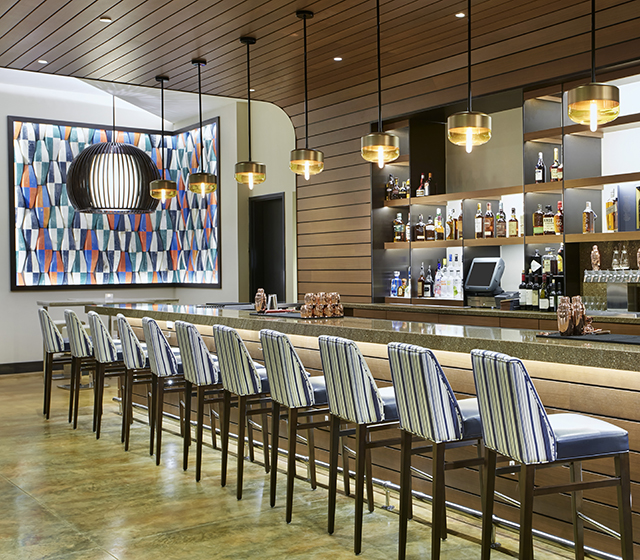 The Pool Scene
For a convention hotel, the pool is very much a resort pool. It's grand, it's inviting and it's a central focus point of the property. It's very easy to get swept up in the atmosphere and give in to ordering that second or third tropical drink while listening to the breeze sweep the palm trees, all from your private cabana. Ok, well, the cabanas aren't necessary, but they truly are nice and they are hard to resist.
About West Palm Beach
West Palm Beach has gorgeous weather and is quite the playground for water sports enthusiasts. Off the water there is world-class dining, shopping and culture. It's very much a big city feel in a smaller-town ambiance. Located right next to the country's most expensive postal code, Palm Beach, the city of West Palm Beach offers an alternative to its extremely elite neighbor, but still is close enough where one can enjoy the best of what both have to offer.
About the Author: David Duran is a Brooklyn-based luxury, hospitality, culinary, and overall freelance travel writer who contributes to such publications as Fodor's, Travel + Leisure, Destinations Weddings & Honeymoon, and Caribbean Travel + Life, among others. When not traveling 20-25 days a month for his work, he spends his free time planning more travel! To read some of his work, check out his online portfolio, and follow him on Instagram and Twitter at @mrdavidduran.
This post contains references to products from one or more of our partners. We may receive compensation when you click on links to those products. For an explanation of how ABN works, visit this page.
Featured Vendor

Get Hertz Discounts
Subscribe to Our Blog!
Like Us On Facebook