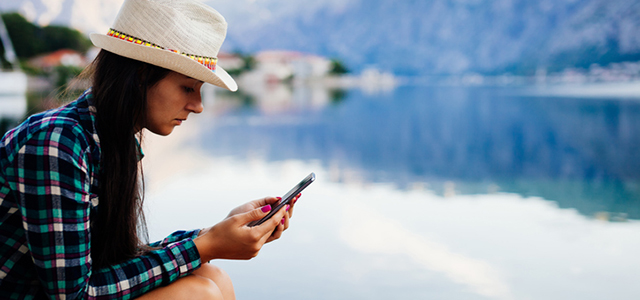 A Quick Guide to iPhotography: What A Travel Writer Uses and Recommends on the Road
With the introduction of the new iPhone recently, iPhotography has come to a whole new level, and non-professional photographers are using simple tricks to make their iPhone photos appear as if they were using professional equipment. As someone who is traveling more than 3 weeks per month, I try and avoid hauling around cameras and equipment with me and often get away with submitting iPhone photos for print, because in the daytime, they are often just as good…if done correctly. Here are some tips on how to better your iPhotography skills.
1. Keep Your Photos Simple
Don't overcomplicate your images, too many details can distract the viewer and make it hard to create a balanced composition. You only need one interesting subject in your photo so don't worry if the majority of the photo is filled with empty space as this will make your subject stand out more. Simple compositions are better for social media and if you share your photos on Instagram, people will view your photos on a tiny screen, so as a result, much of the detail you have in your photos will be lost to the viewer.
2. Shoot From A Low Angle
Most iPhone photos are shot from the chest height of those taking the pic. Although that might make the most sense at the time, there are usually more creative options to try. Look for unique angles to try – one of the best being to simply shoot from a lower perspective.
3. Show Depth In Your Photos
The majority of photos, especially landscape photos, look better if they have subjects in the foreground, middle ground or even background. By doing this, your image will automatically feel more three-dimensional.
4. Align Your Subjects Diagonally
By aligning the important subjects diagonally you can make your photos more balanced and harmonious.
5. Shoot From The Level Of Your Subject
A common mistake people make when taking photos of children and pets is shooting from standing height. When you shoot down from above, you wind up with a birds-eye view of your subject, with none of the wonder and detail that make children and pets such popular iPhone photography subjects.
6. Include Shadows In Your Composition
When the sun is low, the shadows can often be even more interesting than the actual subjects of your photos. A great iPhone photography tip is to shoot when shadows are present, and to include them in your composition whenever possible. The longest shadows are created when the sun is lowest, so try to wait for that "golden hour" when possible.
7. Take Silhouette Photos
A silhouette is the dark shape of an object taken against bright light. Silhouetting is one of the most interesting iPhone photography techniques, and it's easy to achieve.
8. Photograph Reflections
Reflections make wonderful iPhone photography subjects. While you can find reflections on many different surfaces including glass, shiny cars, and ice, water is probably the best surface for reflection photography.
9. Use Symmetry
In photography, the word symmetry describes an image in which both halves are identical. There are many ways to achieve this, for example, try this when taking reflection images.
10. Add Life With VSCO Filters
Entire books have been written about the topic of photo editing, but you don't need high-end editing skills or technology to add drama to your iPhone photos. The easiest way to apply powerful but subtle artistic effects to your photos is to use the preset filters in the VSCO app.
Main Image Photo Credit: © iStock/shevtsovy
About the Author: David Duran is a Brooklyn-based luxury, hospitality, culinary, and overall freelance travel writer who contributes to such publications as Fodor's, Travel + Leisure, Destinations Weddings & Honeymoon, and Caribbean Travel + Life, among others. When not traveling 20-25 days a month for his work, he spends his free time planning more travel! To read some of his work, check out his online portfolio, and follow him on Instagram and Twitter at @mrdavidduran.
Featured Vendor

Get Hertz Discounts
Subscribe to Our Blog!
Like Us On Facebook