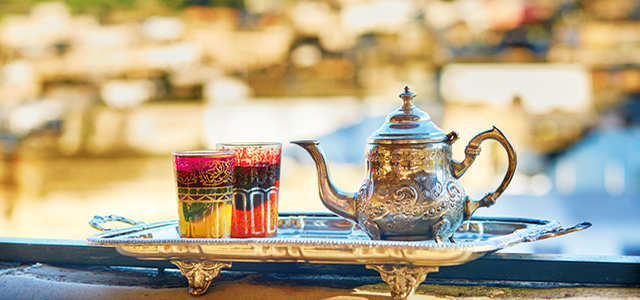 8 Things to Do in Marrakesh, Morocco That Prove That it's the Most Stunning City in the World
Mystery swirls through the streets of Morocco at every corner. From the sweeping desert plains to the vibrant harbor towns, there's a diverse and fascinating atmosphere to explore as a curious traveler. One of the more interesting spots to experience first-hand is Marrakesh – a city full of food, trade, history and beauty.
Get Lost in the Medina
Marrakesh is roughly split into two areas – the Medina, or old town, and the more modern outskirts. While the high rises and new commercial complexes have great shopping and dining, the real heart of the city lies within the ancient walls. Check out the Ben Youssef Madrasa School for some examples of Arabic architecture at its finest, then wander along narrow streets to check out the markets. A simple walk can bring you past fresh juice bars, museums and spas, plus keep a close eye out for sometimes hidden signs.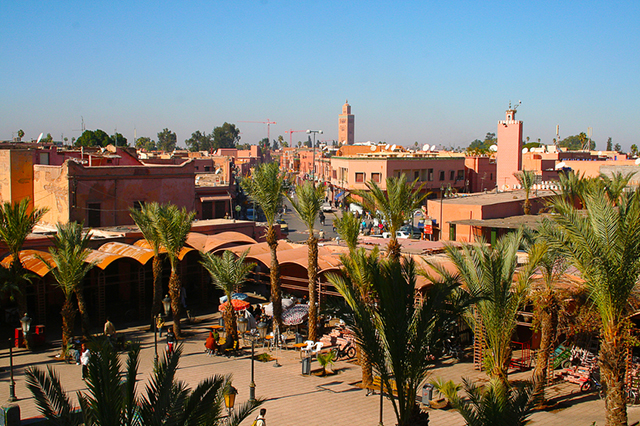 Photo Credit: © iStock/AtanasBozhikovNasko
Souk Shopping
It's an art form to come out of the Marrakesh souks, or marketplaces, with the best goods and souvenirs. This sprawling hub of vendors in the Medina covers just about any niche of item, from jewelry and leather goods to ceramics and textiles. Visitors to Morocco can score some incredible deals if they are patient and firm with the sellers. Many will quote a high price that is encouraged to be bartered down. It's a great place to practice your poker face and learn more about some of the country's classic exports and handicrafts.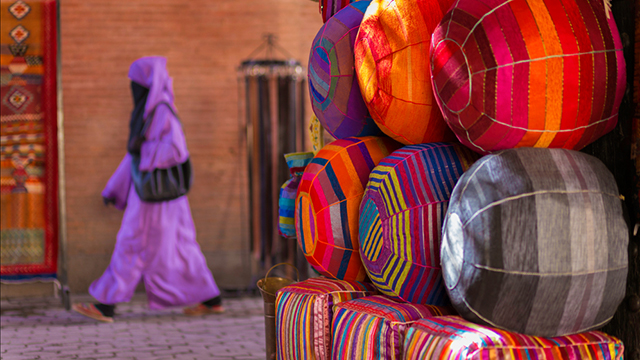 Photo Credit: © iStock/PeteSherrard
Night Market Delights
Once the sun goes down the real party starts in the center of the Medina. At night, the markets explode in the main square to offer tons of street food, music, performances and some late evening shopping. Grab a stool at any of the stands for some grilled meats and cous cous made fresh. Keep an eye out for the snake charmers and belly dancers, which are somewhat traditional but more for tourists these days.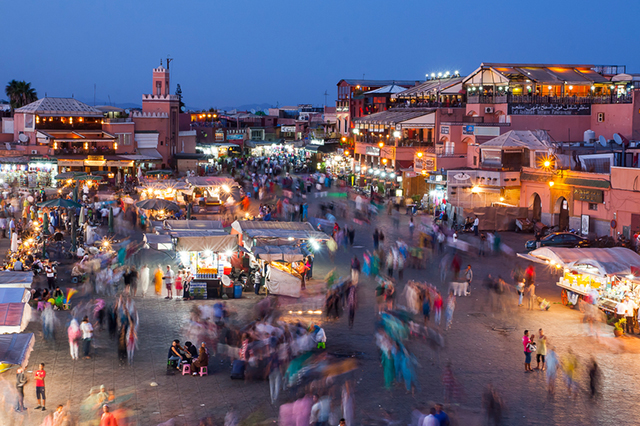 Photo Credit: © iStock/LUKASZ-NOWAK1
Indulge in Tea Time
When you book accommodations in Marrakesh, especially in the Medina, most hotels will greet you with a special treat. To help cool down and stay hydrated in the city heat, people often drink a flavorful mint tea paired with sugar, traditionally. It's served in silver teapots alongside local baked goods or cookies in the afternoon. Have a few sips in your glass cups at the riads, or special hotels for a refreshing break.
Photo Credit: © iStock/encrier
Visit Colorful Gardens
Walk along the Medina walls and down the street to reach a Moroccan tropical oasis. The Jardin Majorelle pays homage to French painter Jacques Majorelle who worked for decades to make the grounds perfect. He also had many of the buildings and surfaces splashed with an intense blue color, a signature of the gardens. Have a look at the onsite museum, which is well filled with items of Berber culture.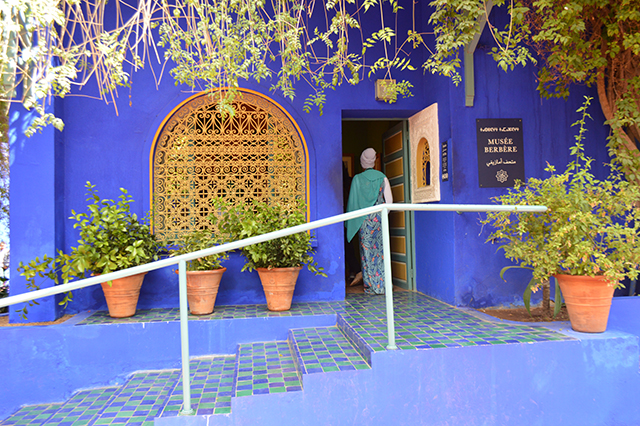 Photo Credit: Eileen Cotter Wright
Relax in a Hammam
Although Morocco is often already hot, many people love spending time in traditional steam rooms. They can rid the bod of toxins, help relax the mind and be a social meeting point for many locals. Hammams, or steam rooms, can be found in many places around the city, welcoming guests or the same sex to enjoy an array of services (especially in the hotels). Indulge in the exfoliation rituals and lather yourself with black soap to help open the pores and cleanse the skin.
Photo Credit: © iStock/JoselgnacioSoto
Desert 4x4 Rides
Just minutes from Marrakesh are long stretches of open land. Many people will head to these spots for a little action and adventure. While there are things like camel rides available, those who have a need for speed might enjoy a 4x4 ride more. These rugged vehicles can give you some wind in your hair and a look into rural life away from the city.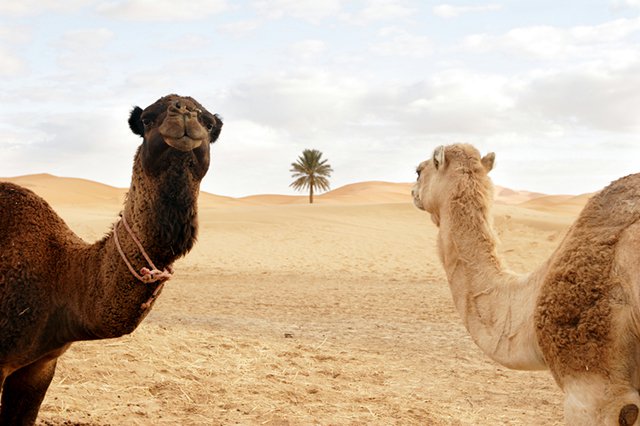 Photo Credit: © iStock/Filip Makowski
An Atlas Mountains Adventure
A couple of hours outside of the city are the looming snow-capped Atlas Mountains. Take a day or two to visit these natural beauties for a hiking adventure or to relax at one of the quaint accommodations. Venture near the top to find a hillside hammam at the Kasbah du Toukal. The fresh air and friendly locals will do you good after spending time in the city.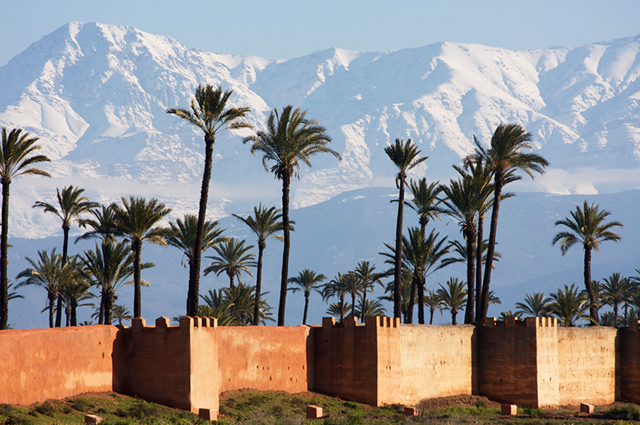 Photo Credit: © iStock/fafou
About the Author: Eileen Cotter Wright is a Boston, MA expat living in London, UK as a freelance writer and owner of group travel site PureWander.com. Despite losing her passport the first day she left her home country, she's continued to roam the earth with gusto for about a decade. You can keep up with her hot mess adventures on her personal blog CrookedFlight.com.
Featured Vendor

Get Hertz Discounts
Subscribe to Our Blog!
Like Us On Facebook