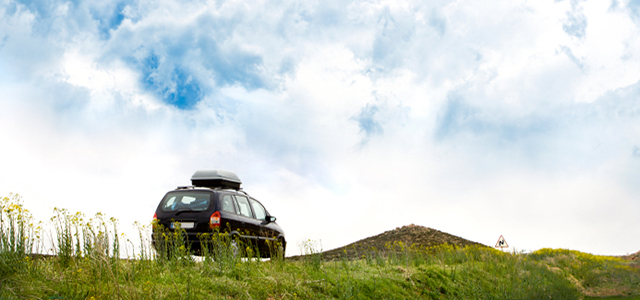 8 Family Road Trip Hacks to Make Your Next Road Trip a Breeze
Packing for a road trip can be quite the challenge. And if you're traveling with kids it's even more important to prepare. You don't want to get stranded in the middle of nowhere without bandages, your kid's favorite toy or a dead phone battery. But fear not! Below we have gathered the best packing hacks to make your next road trip a breeze.
1. Prepare yourself!
The best road trip starts with a packing list. Especially if your passengers are of diaper-age. Create a packing list (just a simple 2 socks, 2 shirts, etc. does the trick!) for each person so that everybody becomes a part of the road trip. Besides, you're saving yourself some time if everybody helps pack. It's also a great way to make sure you haven't forgotten anything.
2. Roll your clothes instead of folding.
There's no doubt that you will need to bring many things with you on your trip. A great way to save a lot of space in your suitcase is to roll your clothes. If you're packing for your little ones as well, you can even try packing the clothes in separate storage bags. Also, not folding means no wrinkles when you grab your t-shirt!
3. Reseal your bottles.
Sometimes it just so happens that the only room you have left to put some bottles of shampoo and lotions in is between your (rolled up!) clothes. Since nobody likes a major shampoo explosion we have got just the tip for you. Unscrew the cap of the bottles, place some plastic wrap over the opening and put the cap back on top. That way no fluids can come out of the bottle and everything is still nice and dry upon arrival.
4. Organize the kids' stuff.
If you are road tripping with kids you know they probably want to bring many games, toys and things to do. Kids tend to get bored easily. However, you need all the space you can get! So, take one of those soft shoe organizers and hang it on the back of the front passenger seat. Voila! You've just created an endless amount of pockets for kids to keep their stuff in.
5. Make snack time extra fun!
Since you can't road trip without a good assortment of snacks (right?), why not assemble one yourself? Remember those art supply boxes? You'll want to utilize those. Use each space to put a different kind of snack in. Fill them up with m&m's, mini marshmallows, grapes, pecan nuts, raisins, pretzels or anything else you'd like!
6. An easy DIY car trash can.
A cereal container is the perfect no-spill trash can. But remember to put a bag in it first, so if you throw away something sticky it doesn't equal cleaning out the entire thing upon arrival. If you feel like trying something else, then try putting (silicone) muffin liners in the cup holders of your car. Also an easy way to throw away small trash.
7. Staying hydrated.
Traveling on a hot day can leave you parched. Water easily warms up in a car, however we have got a real lifesaver for you! Just put about a half to 3/4 filled bottle of water in the freezer and take it out right before you leave and the ice will slowly melt during the road trip. You just made yourself an ice cold drink!
8. Take your storage system to the next level.
If you're driving a large vehicle, chances are you have enough space to place plastic storage bins with pull out drawers in your trunk. While suitcases are a necessary evil during flights, they're not during a road trip. Measure your trunk and find the perfect plastic bins in which you can store everything. It makes it a lot easier to find whatever you need without the fuss of a crammed suitcase.
Now enjoy the most relaxed and organized road trip ever!
About the Author: Milou van Roon runs a Digital Media Agency called Explorista Media that is dedicated to making travel brands into online rockstars. She's hardly ever home in The Netherlands, and regularly abuses the European low cost flights under the excuse of 'blogging about it' on budget travel blog http://explorista.nl/en/. Be sure to follow her adventures on Instagram (@Explorista).
Featured Vendor

Get Hertz Discounts
Subscribe to Our Blog!
Like Us On Facebook