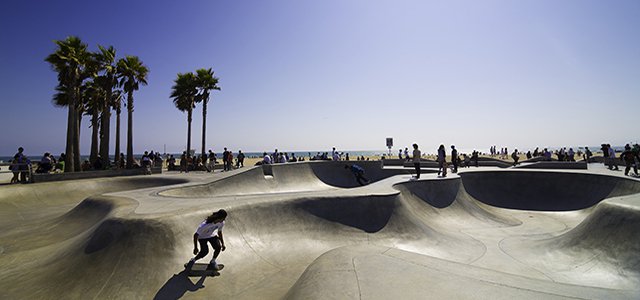 Your Go-To L.A. Beach Guide: 8 Family Friendly Beaches to Include in Your Summer Travel Plans
If Southern California and Los Angeles are on the travel radar, the options for where to stay are limitless. But if it's beach time you're craving with the family, Los Angeles has lots of perfect sandy beaches to offer. With year round warmth and endless coastlines, the beaches of Los Angeles will make for a memorable getaway. There are extremely touristy beaches that offer anything and everything under the sun, to the more local beaches that provide that extra elbowroom while trying to catch a tan. Los Angeles being a destination that requires driving, getting to and from each beach isn't hard, but can prove to be frustrating during high traffic times, but once there, the glow of the sun and the feeling of the warm sand between your toes will have made it all worth it. Los Angeles in general has so much to offer for family vacations, but the beaches are truly what make it one of the most magical and visited places in the world. Below are some of the top beaches and destinations within Los Angeles County.
Topanga County Beach
Families looking for a quiet beach with plenty of space, Topanga County Beach near Malibu is the ideal place to visit. The narrow stretch of sandy beach with rocky portions might not have all the frills of neighboring beaches, but it's a great place to be to avoid large tourist crowds and locals. The beach is perfect for sun bathing while enjoying the stunning views and surroundings. Due to the rocks, the beach is only ideal for experienced surfers, but great for watching the pros ride the waves. Swimming is not encouraged at this beach, but fishing is permitted. There are a few restaurants nearby which eliminates the need to bring one's own food, although there are picnic tables for those who prefer to do so.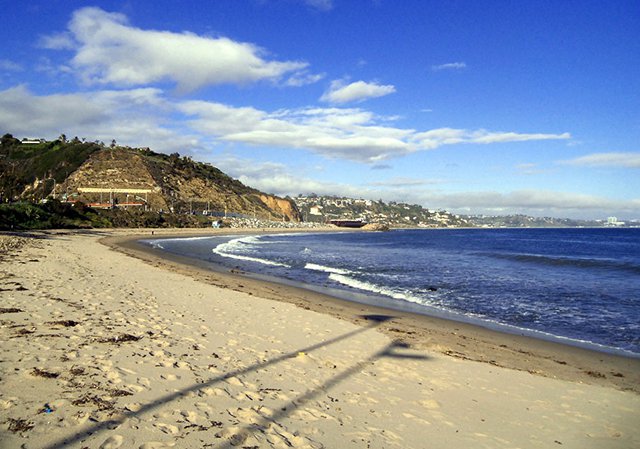 Venice Beach
Although it shares the name of an Italian city, finding similarities between the two is nearly impossible. The California beach community that is located in the Santa Monica Bay between Marina del Rey and Santa Monica does have canals and was created as the "Venice of America" in 1905, but has since embraced its Southern California roots and had developed its own uniqueness. Visitors might recognize the famous setting from films such as Speed, Breathless and the popular television series, Baywatch. Other main attractions here are Venice Pier, Muscle Beach, the skate park and the one-of-a-kind artwork and street performers.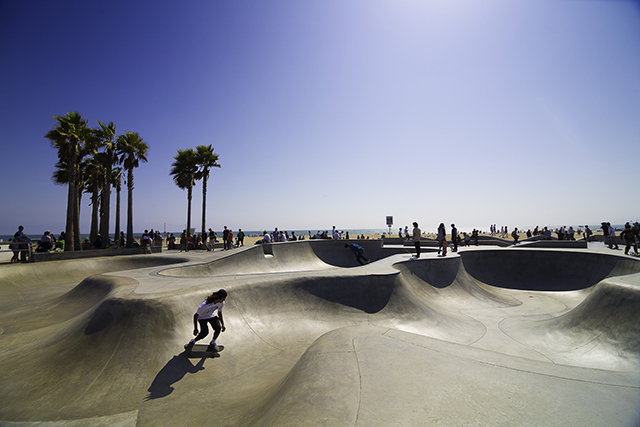 Malibu
Upon entering Malibu, a road sign announces, "27 Miles of Scenic Beauty," and it's no wonder why this Los Angeles County city framed by the Pacific Ocean is so loved by both locals and visitors. Some of the most beautiful homes in Southern California are in Malibu, with some perched up on the hillside, and others directly on the sand. Pacific Coast Highway 1 drives straight through and provides epic views of Malibu and the Pacific Ocean. Malibu Pier is a great place to catch the sunsets.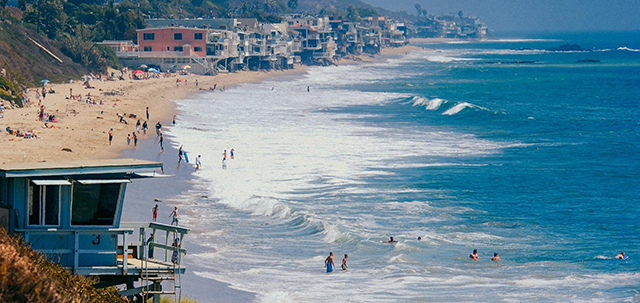 Manhattan Beach
Located just three miles south of Los Angeles International Airport and 19 miles southwest of Los Angeles, Manhattan Beach is one of three beach communities located in the Los Angeles South Bay. The 928-foot long Manhattan Beach Pier is one of over 100 piers in California and is directly located at the end of Manhattan Beach Boulevard. The pier offers year round fishing, and also has the Roundhouse Marine Studies Lab and Aquarium at the end of the pier, which is free to the public. The aquarium has a massive shark tank, interactive touch tanks and lots of animal species common to Southern California.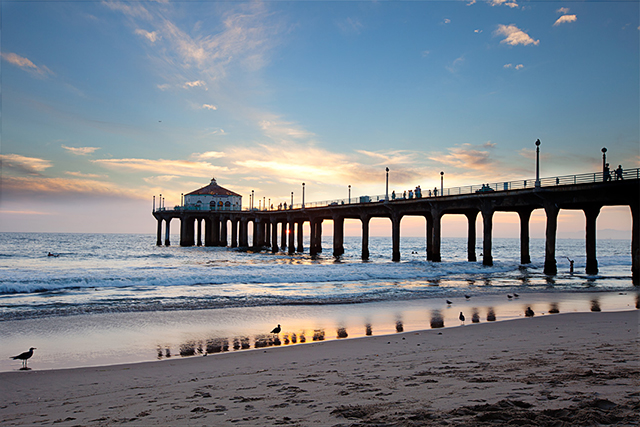 Redondo Beach
The Redondo area developed nearly at the same time as Malibu, due to its close proximity to downtown Los Angeles and is known for recreational sports such as surfing and boating. It's also a very much desired relaxation beach. With events all year round, there is always something to do in Redondo. During the summer, free concerts take place, in addition to a family-friendly list of things to do. Some of the summer activities include an international surf festival, sand castle building contests and lifeguard dory races. During the rest of the year, Redondo is known for its Fourth of July celebrations, Lobster Festival, Halloween party and King Harbor Boat Parade.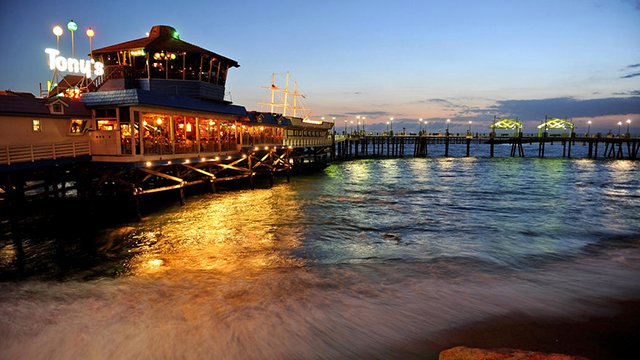 Playa Del Rey
The residential community of Playa Del Rey is built along streets that dead end into a lagoon near the ocean and run on top of towering bluffs that provide beach and ocean views. With similar beaches to Venice Beach and Marina del Rey, due to its more secluded location, parking prices tend to be less expensive, and the beaches are usually more saturated with neighborhood locals verses the big tourist crowds. Playa Del Rey is located just a few miles northeast of Los Angeles International Airport and is within a quick driving distance to downtown Los Angeles.
Hermosa Beach
Hermosa is Spanish for "beautiful" and this Southern California bay is a smaller beach city that overlooks the Santa Monica Mountains. What once was rolling hills with herds of sheep is now a bustling city buzzing with activity. The beach has wings for children, volleyball nets, surfing, swimming, bike paths, dining and shopping. The main beach plaza is always filled with excitement.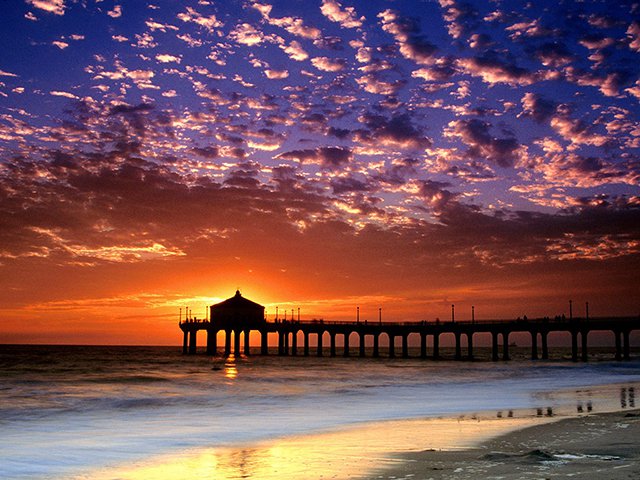 Santa Monica
By far one of the most popular spots in Southern California, Santa Monica has everything from bicycle and jogging paths, three different themed shopping areas, twenty historic buildings and of course, Pacific Park amusements at Santa Monica Pier. Due to its popularity, parking can sometimes be an issue, so arriving early is highly encouraged, but paid parking lots do exist in and around the beach area. If in the market for some unique shopping while on vacation, Santa Monica has a reputation for having some of the most unique and funky items not available in the regular malls.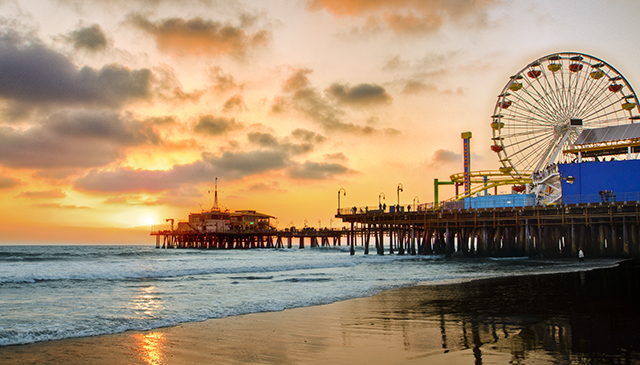 About the Author: David Duran is a Brooklyn-based luxury, hospitality, culinary, and overall freelance travel writer who contributes to such publications as Fodor's, Travel + Leisure, Destinations Weddings & Honeymoon, and Caribbean Travel + Life, among others. When not traveling 20-25 days a month for his work, he spends his free time planning more travel! To read some of his work, check out his online portfolio, and follow him on Instagram and Twitter at @mrdavidduran.
Featured Vendor

Get Hertz Discounts
Subscribe to Our Blog!
Like Us On Facebook