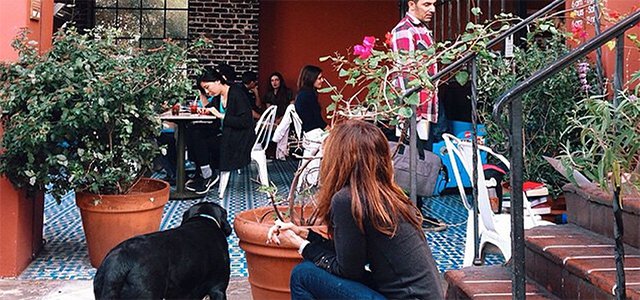 8 Places to Find Free Wi-Fi in Los Angeles
You need to be connected. We get it. Whether you're working in Los Angeles or you're just visiting the city for a relaxing vacation, these are the spots that provide free and reliable Wi-Fi across the city.
1.
The Line Hotel Lobby, Koreatown
. This sleek hotel with comfortable booth seats has everything that you just need to spend a few minutes checking your email or an entire afternoon to knock out some work.
2.
Alfred Coffee + Kitchen, Melrose Place
. This place gets packed, and is a happening coffee spot with locals. Don't get intimidated if you don't immediately find a seat, just hang out for a second and something will open up for you. Also make sure you check out the coffee sleeves while you're there.
3.
Bricks and Scones, Larchmont Village
. With an upstairs, downstairs and patio area, Bricks and Scones has a setting for every mood. Need peace and quiet? Head upstairs. Looking for an area with a little more action, but still need to be able to focus? Stick to the downstairs. Want to enjoy LA's perfect weather? Head out to the patio.
4.
W Hotel, Hollywood
. Looking for Wi-Fi and a cool Hollywood hangout? Look no further. Food, drinks and great people watching, the W has it all.
5.
Intelligentsia Coffee, Silver Lake
. Looking for a coffee spot that locals swear by? Intelligentsia in Silver Lake has some of the city's best coffee and you never know which celebrity or musician will pop in while you're there.
6.
Urth Caffe, Santa Monica
. A great place to spend hours at, Urth Caffe is a place where you can set up for hours at, take coffee meetings in between emails, and just generally enjoy everything that Santa Monica has to offer.
7.
The Wallace, Culver City
. The Wallace is great if you want to grab a bite and a beer and get some work done at the same time. Sit at the bar, order the cauliflower and short rib ravioli and you'll be set.
8.
Stir Crazy, Melrose Avenue
. Unlimited cups of coffee are a rarity in Los Angeles. This is the laidback locals-only coffee shop that also happens to sell the best chocolate chip cookies you'll ever find.
About the author: Breanna Wilson is a freelance travel writer who documents her adventures on her Instagram and Twitter under the handle @breannajwilson and on her blog BreannaJWilson.com. Follow her for more travel tips and advice.>/em>
Featured Vendor

Get Hertz Discounts
Subscribe to Our Blog!
Like Us On Facebook