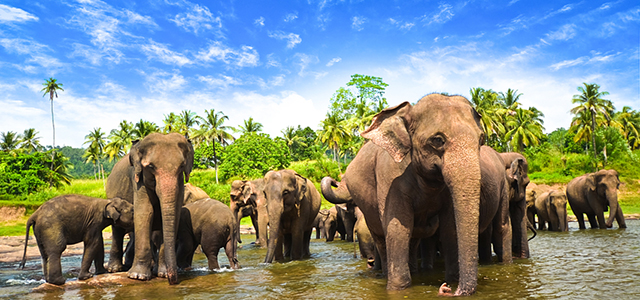 8 Adventures for Curious Travelers Making Their Way Through Sri Lanka
The sunny, tropical country of Sri Lanka is a paradise for adrenaline-junkies who love to try new things. The island is full of opportunities to be one with nature, attempt extreme sports and get some new perspective on the sea and the sky.
Hot Air Balloon Ride in Dambulla
Soar high above the mountain peaks of inland Sri Lanka at sunrise. The pros will organize all the heavy lifting, so you simply arrive at dawn and get ready for a once-in-a-lifetime experience. The quiet, gentle ride lifts you over villages with waving children, tropical birds greet you in the air and giant lakes offer a place for you to reflect. Cheers to a safe journey upon landing with a glass of bubbly in the forest.
Tuk Tuk Safari in Colombo
To get a speedy lay of the land, hop into one of these three-wheeled contraptions and see as much of the city as you can. The guys at Tuk Tuk Safari put on a fantastic day of hitting up all the main attractions (like Independence Park) as well as hidden gems only locals know. Visit urban temples, sample fresh street food and end your evening by the ocean as the sun goes down. Clink together a couple cold ones with the tuk tuk top down!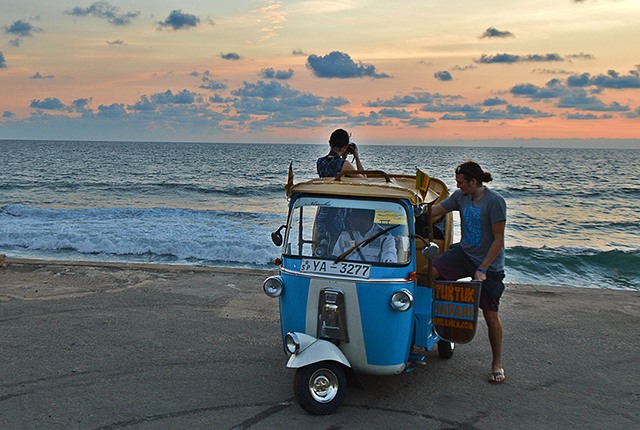 Photo Credit: Eileen Cotter Wright
Chili Ice Cream in Habarana
Cinnamon Hotels in Sri Lanka are well known for offering incredible dishes with plenty of local ingredients. For instance, Cinnamon Habarana Lodge offers a wide assortment of ice cream flavors such as cardamom, jack fruit and jagger nut. If feeling brave, give their chili ice cream a whirl, as it's a cold and spicy treat to sample on hot days for those who like a big kick.
Hiking Sigiriya Rock
A bird's eye view can be seen via hot air balloon, but if you want to sweat your way to the top give Sigiriya a try. This is a sacred, ancient fortress where Sri Lankan royalty once lived, with evident but intricate lion stone carvings and detailed frescoes near the base. It takes under an hour to reach the summit where you'll be rewarded with sweeping views of Dambulla and the gardens below.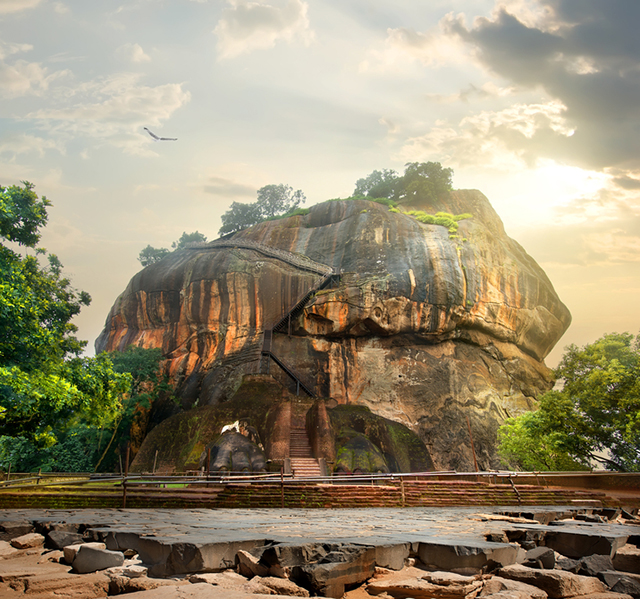 Photo Credit: © iStock/Givaga
Monsoon Safari in Udawalawe
Udawalawe National Park in Sri Lanka is one of the best areas to see wild elephants up close. Jump into a 4x4 jeep and be guided through this massive reserve, full of not only elephants but water buffalo, crocodiles and tons of water-loving birds. Because Sri Lankan weather can be unpredictable, bring some good gear to combat serious weather – you might get stuck in a downpour during the safari at any time!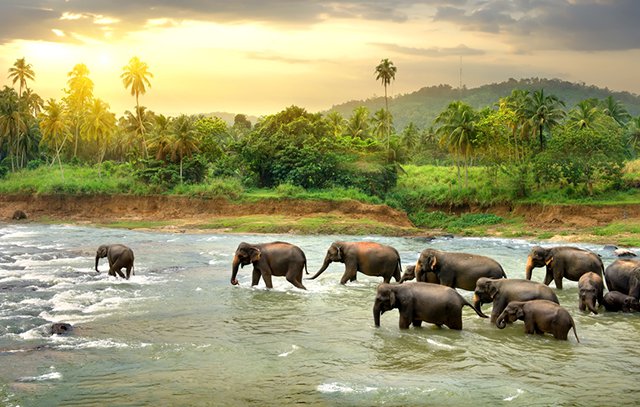 Photo Credit: © iStock/Givaga
Night-time Wildlife Safari in Nuwara Eliya
When you venture out into the night with the naturalists form the Jetwing St Andrew's Hotel, it's not the Sri Lankan elephants you're after. Instead, this area is home to at least 10 species of funky frogs and toads that are best viewed after the sun goes down. Be guided along the hotel property and beyond while learning how these hopping creatures play an integral role in the ecosystem.
Freeing Turtles at Kosgoda
Sri Lankan wildlife organizations do everything they can to help save the wild turtle population with often very little budget. You can assist in the efforts by paying a small donation to help free newly hatched sea turtles into the ocean. Learn about conservation efforts at the center as well, where there might be a few fully grown turtle in for rehabilitation.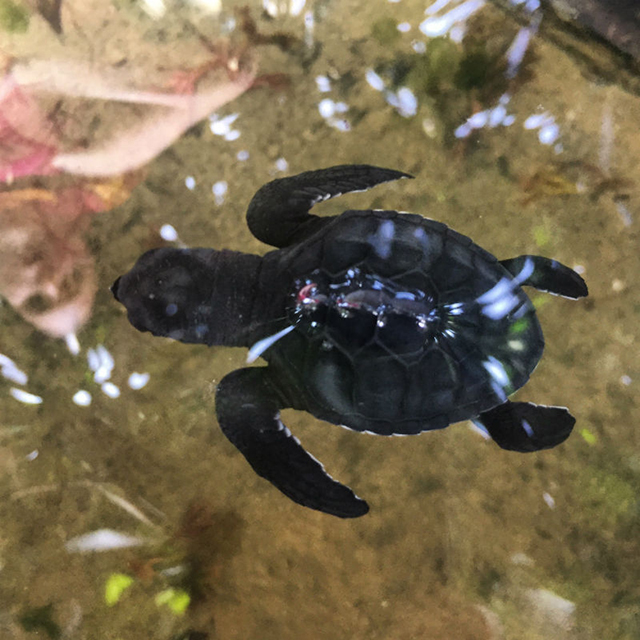 Photo Credit: Eileen Cotter Wright
Sri Lanka's Tallest Mountain Near Nuwara Eliya
At a height of more than 8,200 feet, this peak is as high as you can go in Sri Lanka. The summit is home to a military base and several broadcasting stations for national television. Guests can sometimes gain clearance via guards near the top, so bring proper ID upon visiting and have a local guide handy. You'll be rewarded with sweeping views of tea plantations on rolling green landscapes in inner hill country.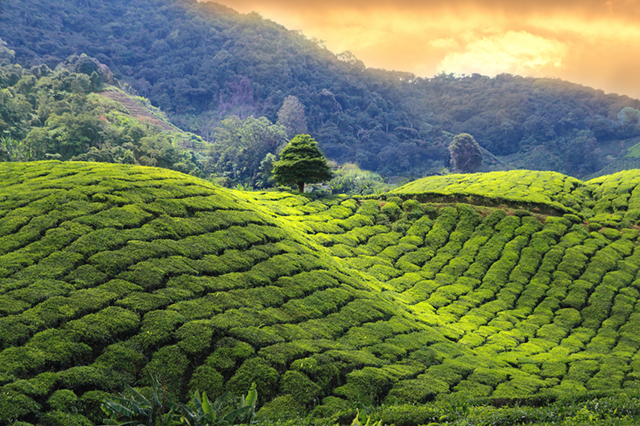 Photo Credit: © iStock/nevarpp
Main Image Photo Credit: © iStock/surangaw
About the Author: Eileen Cotter Wright is a Boston, MA expat living in London, UK as a freelance writer and owner of group travel site PureWander.com. Despite losing her passport the first day she left her home country, she's continued to roam the earth with gusto for about a decade. You can keep up with her hot mess adventures on her personal blog CrookedFlight.com.
Featured Vendor

Get Hertz Discounts
Subscribe to Our Blog!
Like Us On Facebook