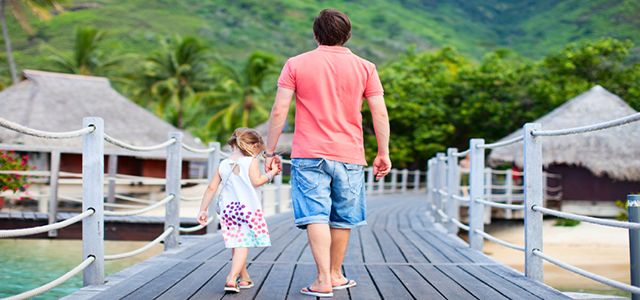 7 Ways to Find the Right Hotel for Your Family
When you are a parent planning a family trip, you are definitely looking for the best hotel for your family. Having kids – whether babies to teens – means that you'll want to stay somewhere comfortable for everyone in the family. Your chosen hotel should cater to your needs, not just individually, but as a whole.
So, how do you find the best hotel for your family every time you are on a trip? Here are some travel-expert tested tips:
Check the Location
Pick hotels that are accessible to nearby shops and attractions. Attractions should be accessible from your hotel to avoid draining your kids' energy, which could result in meltdowns.
The same goes for dining venues, even if your hotel has a few on-site options. Pick hotels that are located in the city center, yet away from the nightlife hub (for obvious reasons).
Hotels close to train stations (if you are not renting a car), parks, landmarks and malls are also going to save you time and energy.
A Hotel with a Pool is Everything
If there is one amenity that every parent should look for in a hotel, it would be a hotel pool. It doesn't have to be a big pool, but be sure to look for a hotel with a kiddie pool if you are traveling with small children.
A fun activity for the whole family, swimming helps burn energy, so when it's time to retreat to your hotel rooms, your kids are more mellowed out. Now that everyone is drained from the day, you can really enjoy the coziness of your hotel room as a family.
Ask for Space
Even the best-behaved child needs some space to roam or at least walk around. Walking around the hotel prevents boredom and crankiness. A resort with a spacious garden or an outdoor space is perfect for traveling families.
Children can feel tense in crowded spaces; therefore look for rooms or family suites with an open layout. Having an open kitchen and living room layout can make all the difference when it comes to being comfortable in an unfamiliar place. Just remember, bigger space = less stress.
Scout for Family-Friendly Rooms
More and more hotels have designated family rooms and suites. If you cannot find one, look for hotels with family-friendly public areas. Look for hotels with big-sized beds. Check reviews where past guests commented on how small the beds are – skip these hotels.
Also look for hotels that offer full-size refrigerators if you're looking to save some money by eating at the hotel. A kitchenette or microwave is a bonus. Hotels with bathtubs are also great since smaller children can enjoy swimming without going to the hotel pool.
Childproof Hotel Rooms
You don't have to childproof the whole property as most hotels are designed and fitted with non-risky décor pieces. If you still find that there are delicate pieces of art or décor in your room, like an all glass vase, don't hesitate to call housekeeping and ask it to be removed during your stay.
To avoid kids going onto balconies unattended, always keep those doors locked. Keep other breakables like glasses and dishware out of reach.
Family Fun
Traveling with children means enjoying special amenities and facilities. Look for hotels with extra activities for kids like those with a kid's club, babysitting services or at least a playground.
When traveling during special holidays like Easter or summer, look for activities that hotels will be hosting for kids to participate in, giving you more time with your significant other.
Some hotels also offer kid's menus while others offer complimentary meals for children below 12. Look for these deals when possible and spend less of your family travel funds!
Ask and You Shall Receive
Be a savvy family planner! Do not hesitate to ask some friendly requests from your hotels. Even before your arrival, you can inquire if it is possible for your family to be booked in the biggest room available (at your room's price level).
If you are traveling to celebrate your child's birthday, inform the hotel. Most hotels will be kind enough to extend a little something special (a plate of chocolate chip cookies or a birthday cake perhaps!) to make the occasion even more memorable. This is also their way to get loyal guests. Be nice and don't be demanding.
Lastly, ask your friends for recommendations or feedback. Real, authentic and first-hand experience from family and friends goes a long way!
Your choice for your "home away from home" plays a crucial role in your overall family trip experience. With these tips, you're ready to find the best hotel for your next family vacation.
Main Image Photo Credit: © iStock/shalamov
About the Author: Valerie Caulin loves the beach and anything historical. She regularly contributes to print travel magazines while featuring stories on her blog, www.valcaulin.com. Follow her on Twitter, Instagram, and Facebook.
Featured Vendor

Get Hertz Discounts
Subscribe to Our Blog!
Like Us On Facebook