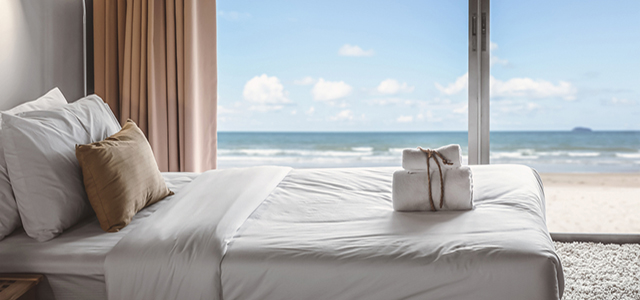 6 Places That You Didn't Know Days Inn Has Hotels
The American hotel chain
Days Inn
has hotels in many surprising places, not just in the United States. Their destinations are fascinating, have great locations, stunning surroundings or are surrounded by unique sights in the area. Did you know about these six places where Days Inn has hotels?
Days Inn Hershey
Days Inn Hershey is located in, you guessed it, Hershey, PA. The town is famous for Hershey chocolate and has a number of attractions, such as museums and amusement parks. Days Inn Hershey is close to Hershey Park, as well as Hershey's Chocolate World and the Hershey Story Museum.
The rooms at Days Inn Hershey come with amenities such as free Wi-Fi and refrigerators. The hotel also offers a complimentary hot breakfast and a free shuttle to Hershey Park. Other perks of the hotel include the indoor pool and hot tub, a fitness center and an arcade. In the surroundings of the hotel, you will find shopping, dining and as mentioned, plenty of amusement options.
Days Hotel Aqaba
Aqaba is the only coastal city in the country of Jordan. The Jordanian government wants Aqaba to become a touristic attraction, which is why there are no taxes. The city has a lot of historical and cultural sights, like forts, castles and religious buildings. The city is known as home to some fictional characters. It has been said that Sinbad the Sailor left from the port of Aqaba. Also Aladdin's city of Agrabah may or may not be based on Aqaba... we'll let you decide.
Days Hotel Aqaba is located in walking distance from the sea, and surrounded by many restaurants and shops. Important facilities the hotel has to offer include a rooftop pool, free deluxe breakfast, fitness center and high-speed internet.
Days Inn Hurricane/Zion Area
Days Inn Hurricane/Zion Area has the ideal location for people wanting to visit Zion National Park. Active travelers who want to walk, hike, run or bike through nature will love this. The hotel is surrounded by other national and state parks as well; visit Sand Hollow State Park to boat, fish, swim or cruise the sand dunes. Quail Creek State Park and Coral Pink Sand Dunes State Park are also close by.
The hotel is located right off Highway 9, at the gateway to Zion National Park. While staying at the Days Inn Hurricane/Zion Area, you will be able to use the free Wi-Fi, onsite parking, indoor pool and take advantage of a free breakfast.
Days Inn Patong Beach Phuket
One of the most loved destinations amongst backpackers and travelers looking to relax and party is Phuket in Thailand. Of course Days Inn has a hotel here too, and the best thing is that it is only a few hundred steps from the beach! The hotel is located right in the center of Patong, the most popular destination with tourists in Phuket. This means that restaurants, bars, shops, nightlife and more are always within reach.
Days Inn Patong Beach Phuket offers Wi-Fi, room service, a roof top pool and has its own restaurant and bar. The rooms at the hotel are provided with air conditioning, television, king size beds and a shower, among other things.
Days Hotel Riga VEF
Riga, the capital of Latvia and the biggest city in the Baltic States, is an up and coming destination in Eastern Europe. The city has history, culture and a blooming night life. Life is quite cheap compared to Western Europe, which makes Riga a great budget destination.
Days Hotel Riga VEF is close to public transportation, which will take you to the old city center in no time (which is registered as a UNESCO World Heritage site!). Important sights include the central market, the castle and the freedom monument.
Notable amenities at the Days Hotel Riga VEF are Wi-Fi, a hot tub and multilingual staff.
Days Inn Casa del Sol Colonia
One of only a handful of Days Inn hotels in Latin America, Days Inn Casa del Sol Colonia is thought of highly, according to other travelers and their reviews. The hotel is situated in Colonia del Sacramento, or just Colonia; the oldest city in the country of Uruguay. The historical part of the city, Barrio Histórico, is a UNESCO World Heritage site and definitely worth a visit. A ferry will take you from Colonia to Buenos Aires in only 50 minutes, a must do.
Besides seeing the city, there is also a lot to do at Days Inn Casa del Sol Colonia. The hotel boasts a spa, in- and outdoor pool, several sports facilities, bar, lounge, restaurant, and barbecue area. The rooms feature a balcony or terrace, fireplace, free Wi-Fi, mini refrigerator and TV.
Main Image Photo Credit: © iStock/winnond
About the Author: Milou van Roon runs a Digital Media Agency called Explorista Media that is dedicated to making travel brands into online rockstars. She's hardly ever home in The Netherlands, and regularly abuses the European low cost flights under the excuse of 'blogging about it' on budget travel blog http://explorista.net. Be sure to follow her adventures on Instagram (@Explorista).
This post contains references to products from one or more of our partners. We may receive compensation when you click on links to those products. For an explanation of how ABN works, visit this page.
Featured Vendor

Get Hertz Discounts
Subscribe to Our Blog!
Like Us On Facebook