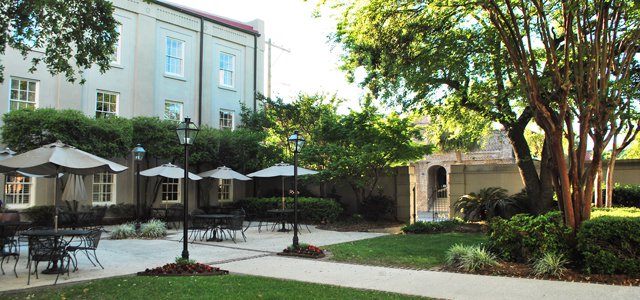 Hotel Review: Hampton Inn Charleston-Historic District, South Carolina
On a recent trip to Charleston, South Carolina, travel writer Cheryl Rodewig stayed at the Hampton Inn Charleston-Historic District hotel. Here's her take on the experience.
One thing you notice walking around Charleston is the number of secret gardens and green spaces hidden behind elaborate wrought iron gates. You can't go inside, but you peek in with your tourist's eye, maybe snap a photo, and think how beautiful it would be to live there.
That's a little bit how I felt when I took up residence for a few days at the
Hampton Inn Charleston-Historic District
. I loved the pretty brick-wall enclosed courtyard. I also loved the premium location, one of the best in the city, right in the heart of downtown.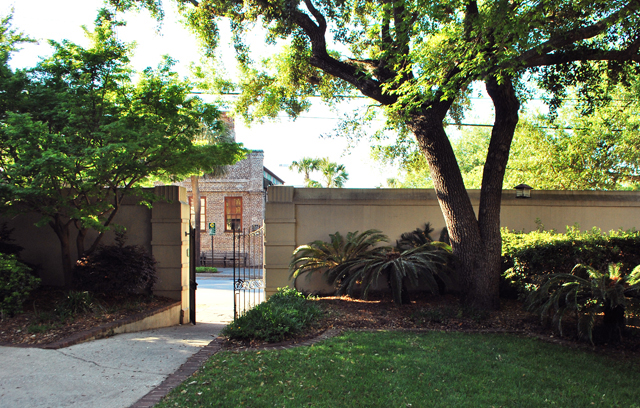 The visitor's center is right across the street, so I was able to stop in for maps and brochures before setting out to explore. Popular attractions like the Charleston Museum, the South Carolina Aquarium and Waterfront Park are just a walk away. More importantly, the best shopping in the city — King Street — is only two blocks down.
Historic But Modern
The building is the only antebellum hotel in the city. It used to be a railroad warehouse back in the mid-1800s. Now, it's completely restored with a nod to its former days, like the glossy pine floors and large mahogany furniture, and all the modern comforts you could want.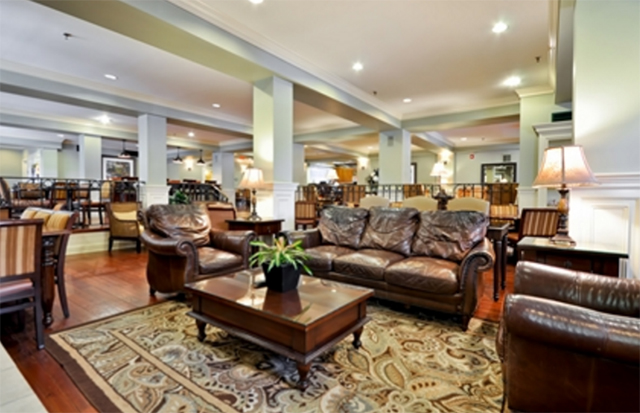 The three-star hotel is elegantly decorated. I liked the spacious lobby where you can lounge in the evening if you don't want to be upstairs. In the morning, it becomes a stylish if crowded dining room for breakfast. In the afternoon, they set out a plate of cookies for guests to enjoy ¬— though, fair warning, you have to be fast to snag one.
Accommodations
When I checked into the room, I was pleasantly surprised to find it was a nice size. A lot of downtown hotels are tight on space and the rooms can be small, but even with two queen beds, this one had plenty of room.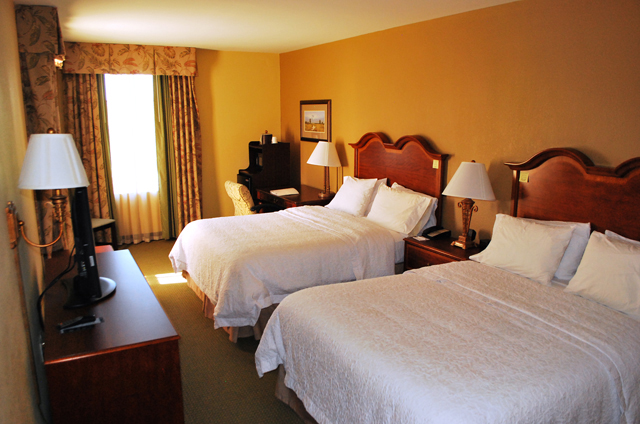 I haven't stayed at a Hampton Inn in a while, so I hadn't heard about their "clean and fresh" beds with a newly washed duvet for every guest. It's something the hotel chain started doing about four years ago. The housekeepers leave a sticky note to let you know.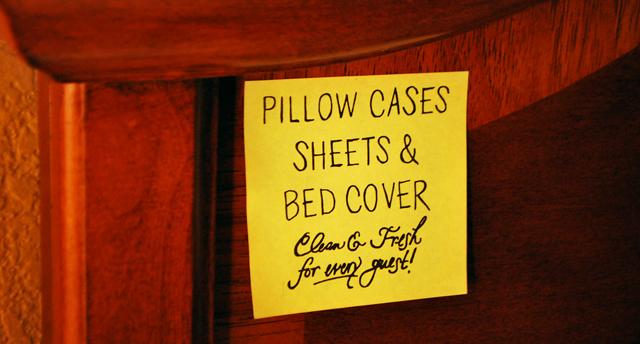 Which I appreciated. Cleanliness is probably the single most important thing to me in a hotel.
I also liked the general décor and style of the room. While historic, it wasn't dated. I had plenty of plugs for my phone, laptop and other electronics. I even liked their "thought pad" for taking notes.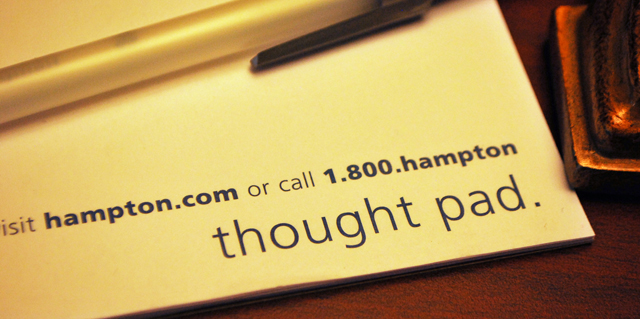 The bathroom was stocked with Neutrogena products and plenty of fresh towels. The shower was spotlessly clean. It also had that curved bar I like, which gives you a little extra elbow room.
Amenities
The hotel has a two-computer business center outfitted with everything you need for a working vacation, but I depended on the free Wi-Fi during my stay, and it worked great.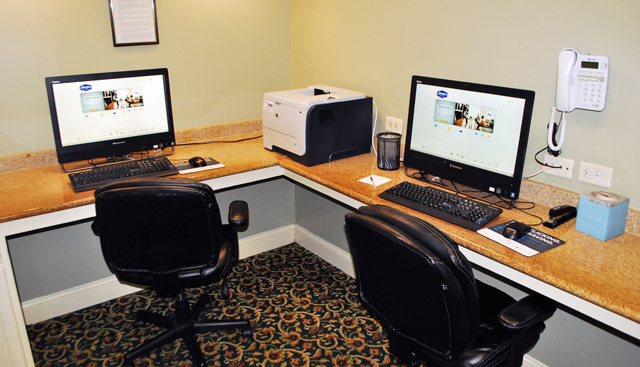 For recreation, they also have a fitness center. And remember that quiet courtyard? Along with umbrella-shaded tables, it has a beautiful outdoor pool.
Their breakfast is a cut above the standard fare. They have the full spread of hot items, such as scrambled eggs, sausage, potatoes and freshly made oatmeal, along with yogurt, cereal, pastries, hard-boiled eggs and the like.
The best part is definitely the waffles. Don't try to split one because you'll just go back to get your own anyway, like I did; they're that good. They have the best toppings I've ever had at a hotel, including a berry sauce that — get this — tastes like real, lightly sweetened berries.
If you're in a rush, grab one of their breakfast to-go bags at the front desk so you don't miss out.
Parking is in a nearby city deck, which costs $17 per day. That's per calendar day, even if you leave early in the morning. There's also a public rate based on the number of hours you're parked, so you may not want to volunteer the information that you're a hotel guest unless asked. I did, and it turns out, that's the more expensive rate.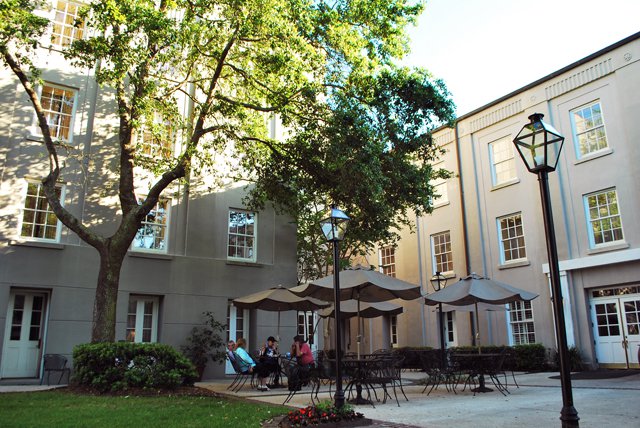 Saying farewell
Check out was at noon, but since I had something that morning, they kindly extended my check-out time by an hour. In fact, the customer service was exceptional throughout my stay, matching what I usually experience at a high-end hotel.
It wasn't easy to leave, but if I ever head back to Charleston, I would definitely consider staying here again. It feels luxurious but won't break the bank, and you can't ask for a better location for your Charleston exploration.
About the Author: Cheryl Rodewig is a storyteller and creator — for brands (content marketing) and her life (travel). See more of her travel stories on Twitter at @cherylrodewig or online at cherylrodewig.com.
This post contains references to products from one or more of our partners. We may receive compensation when you click on links to those products. For an explanation of how ABN works, visit this page.
Featured Vendor

Get Hertz Discounts
Subscribe to Our Blog!
Like Us On Facebook