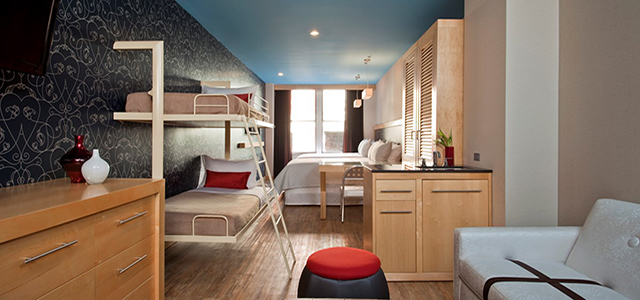 5 Hotels for Any Budget in NYC
From the bright lights of Broadway and the bars of the Meatpacking District, to the iconic Statue of Liberty and world-renowned museums, New York City is the only place in the world where you get a true taste of culture. And that includes first-class hotels, offering top notch accommodations, in proximity to the action of the city that never sleeps. We have put together five hotels so you can experience the Big Apple no matter your budget.
1. DoubleTree by Hilton Hotel Metropolitan
This recently renovated Midtown hotel is an easy walk from Central Park, St. Patrick's Cathedral, Rockefeller Center, and Radio City Music Hall. Fancy a Broadway show or an afternoon at The Museum of Modern Art? All you have to do is hop on the subway and you're there in minutes. With the amount you'll save on lodging, you can splurge on sightseeing and shopping. If you're a HHonors member, you can check in from your phone and enjoy access to lush, upscale amenities.
From $139 per night. 569 Lexington Avenue, New York, New York, 10022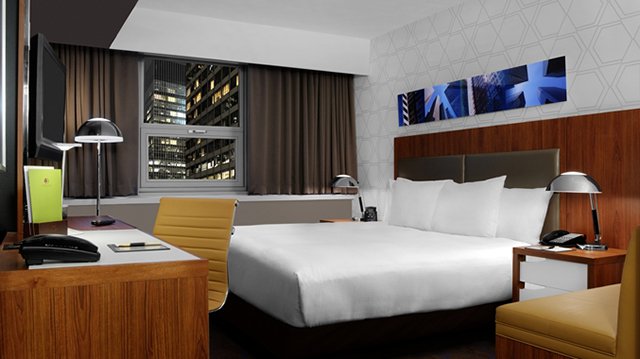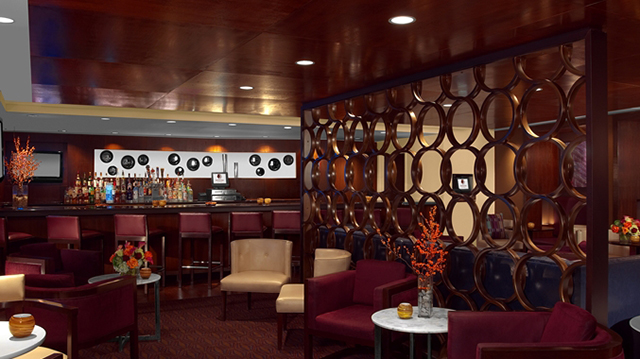 2. The Lexington New York City, Autograph Collection
As part of Marriott's Autograph Collection, The Lexington New York City is a vintage, chic hotel on the East Side, close to the sophistication of Fifth Avenue, Grand Central Station, and the United Nations. Onsite dining options include an authentic diner, a Chinese restaurant, and a lobby bar. With recently revitalized guest rooms and a two-story marble lobby with jazz and romance infused decor, The Lexington is ideal for lovers and those seeking the ultimate in cosmopolitan shopping.
From $293 per night. 511 Lexington Ave, New York, NY 10017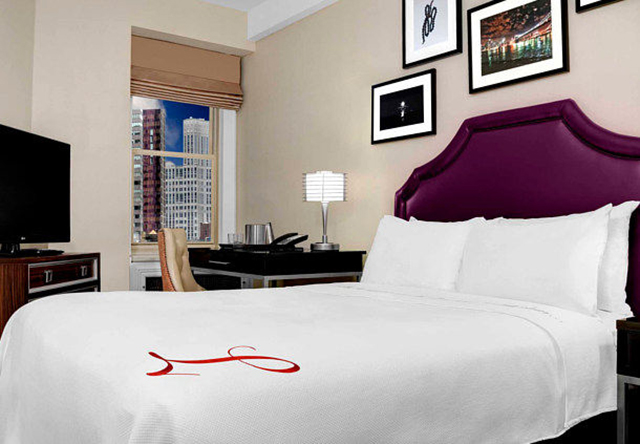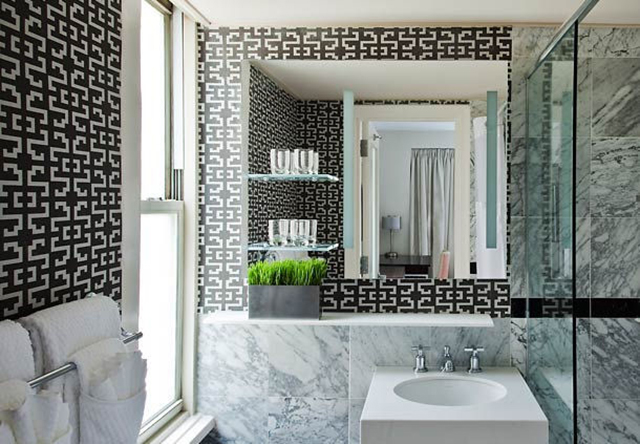 3. Tryp by Wyndham Times Square South
New York may not be the greenest city, but this Spanish boutique hotel brand is working hard to save the planet. It has achieved the prestigious Platinum Level Green Leader award for sustainability on TripAdvisor. Tryp by Wyndham, located in the heart of Midtown Manhattan, features whimsical Mediterranean decor and some of the largest rooms in the city: with up to 455 square feet, rooms include high ceilings and large windows, come equipped with TVs and game systems, and can accommodate up to 8 people. Plaza Central, the hotel's social hub, connects to the trendy Gastro Bar, specializing in clever tapas creations, tantalizing Spanish wine, and designer cocktails.
From $344 per night. 345 West 35th Street New York, NY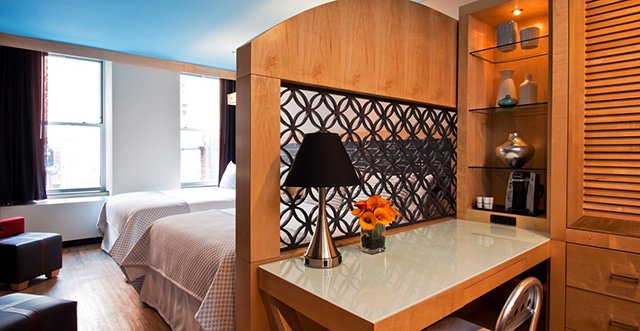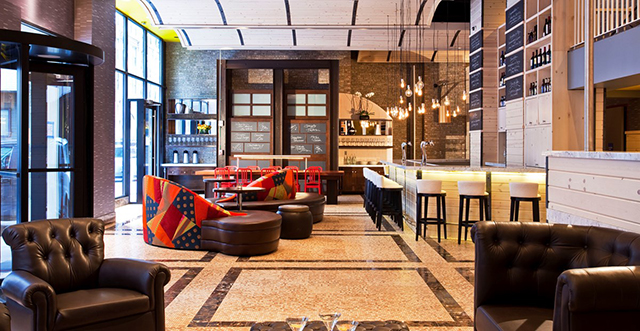 4. Conrad New York
This luxurious Battery Park City property provides an indelible first impression with its beautiful atrium lobby overlooking the Hudson River. Conrad is located within walking distance to the 9/11 Memorial, One World Trade Center, SoHo and TriBeca. It features 2,000 pieces of stunning artwork, providing a respite from the bustling world outside the front doors. The suites have a two room layout with separate living and sleeping areas to make you feel at home. Guests can enjoy delicious Mediterranean cuisine at the restaurant on premises and specialty drinks at the wine bar. A seasonal rooftop lounge provides a captivating backdrop of downtown Manhattan.
From $484 per night. 102 North End Ave, New York, NY 10282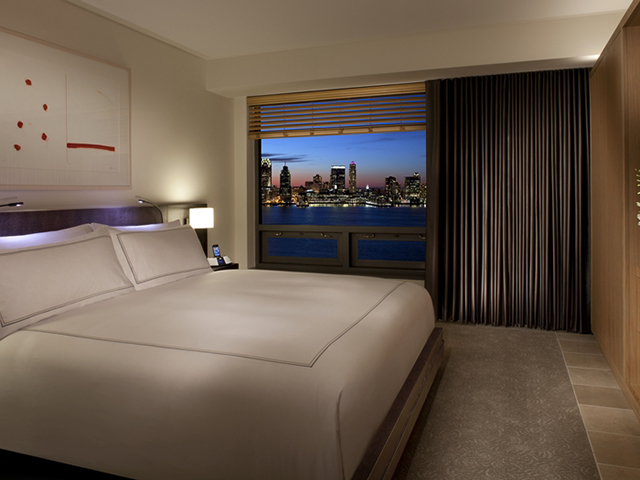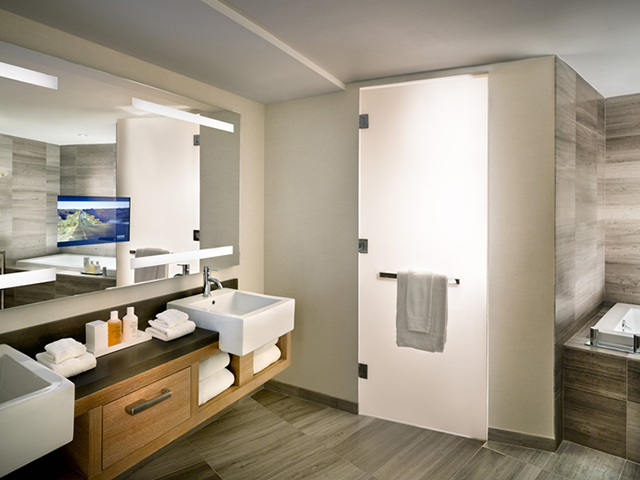 5. Park Hyatt New York
Located across the street from the world famous Carnegie Hall, and just a block from Central Park, the ultra-modern Park Hyatt was designed by renowned Pritzker Prize winning architect, Christian de Portzamparc. This spacious hotel features state-of-the art rooms and suites showcasing museum quality artwork and spectacular views of the New York skyline. Dine on delectable cuisine at The Back Room, receive a soothing body treatment at Spa Nalai, or simply sink into your in-room soaking tub after a day of exploring the city.
From $795 per night. 153 West 57th Street, New York, NY 10019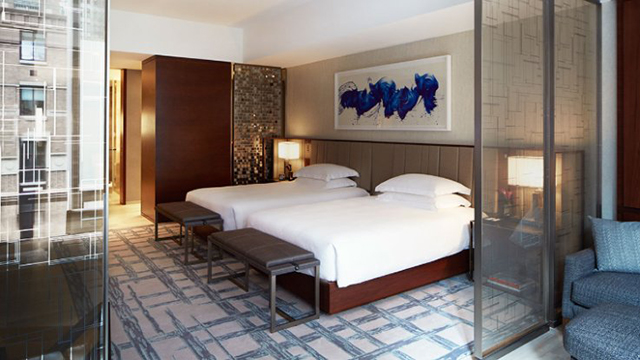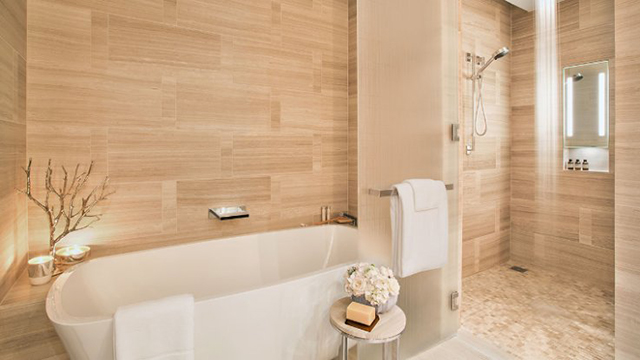 No matter where you stay, we are sure you'll have the time of your life in the greatest city on the planet.
About the Author: Lavanya Sunkara is a writer based in New York. Her love of adventure has taken her all over the world from Australia to Zanzibar. When she's not traveling, she's hiking with her dog, and planning her next getaway. Follow her on twitter @Nature_Traveler. Read her articles at www.nature-traveler.com.
This post contains references to products from one or more of our partners. We may receive compensation when you click on links to those products. For an explanation of how ABN works, visit this page.
Featured Vendor

Get Hertz Discounts
Subscribe to Our Blog!
Like Us On Facebook