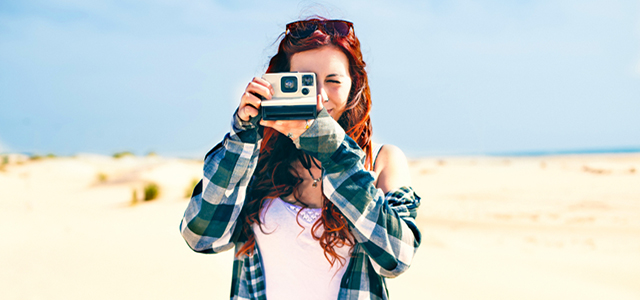 12 Travelers to Follow on Instagram
A picture speaks a thousand words, and so much is true for Instagram. Instagram offers just enough day dream juice to transport you from any boring cubicle to a snowy mountain peak or tropical beach. These 12 Instagrammers will inspire your next adventure, so follow them ASAP.
1. @landlopers
Matt Long is an award winning travel blogger, writer and photographer specializing in adventure luxury travel. He has an incredible account showcasing his travels from all across the world. His beautifully-written long paragraph descriptions really add to the photo experience, adding context you otherwise would've lacked.
2. @natgeotravel
Looking for something to transport you right into the action? National Geographic's Instagram offers an eclectic mix of pictures from some of the best Instagram photographers featuring exotic animals, monuments, landscapes, cultural events and day-to-day life around the world.
3. @alexstrohl
For the more adventurous Instagrammers, Alex creates a world straight out of The Wild with his incredible landscapes. Based out of beautiful Vancouver, Alex's photos are crisp, inspiring and will make you want to wander the wild instantly.
4. @explorista
I had to throw myself in here, right ;-)? Milou mostly travels Europe, and escapes on a weekend trip any time she has the chance. She recently moved to London and offers you UK and European inspiration. Follow Milou as she travels the world – on a budget – and be inspired to do the same.
5. @chrisburkard
Self-taught professional photographer Chris Burkard takes surfing photos in a cool new direction – literally cool. These pictures leave you feeling still and serene. His breathtaking ice-surfing images explore the vast isolation of the frozen domains of Alaska, Iceland and more.
6. @fleurjoesten
Fleur Joesten is a Dutch lifestyle, food and travel blogger currently living in Canterbury, England. Her clean and stylish photos make you wish your life was as pretty as hers. Following her on Instagram is the next best thing.
7. @breannajwilson
Breanna is always on the move and traveling the globe. From Europe to Asia, the Caribbean, Africa and more you will find Breanna documenting her travels through photos on Instagram. Follow along to see where she goes next.
8. @erubes1
Eric Rubens is a photographer who "lives in the golden hour." Not only are many of his photos taken in the South Californian sunset, but each picture feels golden. There's no cliché sepia filter to be found, but under his lens beaches, streets, and cityscapes achieve a peaceful glow of nostalgia even as you look at them.
9. @everchanginghorizon
Though landscapes are included, it's Quin's adventure photos featuring people (or dogs) that are truly incredible. Whether the picture's subjects are caught mid-laugh around the campfire or are looking wistfully down the road toward the horizon, they stir your own memories of the road and make you feel right there with them.
10. @lovedeathtravel
His instagram name comes from a Jim Morrison quote that says, "All of our songs are about love, death, and travel", but, just to be clear, he only photographs love and travel. You will love this Instagrammer for everything from his song lyric-infused descriptions to his amazing photos all over the map.
11. @seandshoots
If you've ever dreamed of traveling to the Big Apple, this is the Instagram account for you. Sean takes energy-filled shots around New York City and the other places he travels, leaving the viewer simultaneously excited and inspired to travel. Follow Sean for a peak into the five boroughs of NYC and some pointers for taking killer portraits of your friends.
12. @mrbenbrown
Whether you've dreamed of paragliding over the Alps or dog-sledding in Canada, Ben Brown has got you covered. His Instagram embodies the carpe diem attitude, as he and his friends explore the world together and have some serious fun. Follow Ben for the inspiration to challenge yourself this summer and create some lasting memories with your friends.
Who is your favorite Instagrammer to follow?
Main Image Photo Credit: © iStock/kiko_jimenez
About the Author: Milou van Roon runs a Digital Media Agency called Explorista Media that is dedicated to making travel brands into online rockstars. She's hardly ever home in The Netherlands, and regularly abuses the European low cost flights under the excuse of 'blogging about it' on budget travel blog http://explorista.net. Be sure to follow her adventures on Instagram (@Explorista).
Featured Vendor

Get Hertz Discounts
Subscribe to Our Blog!
Like Us On Facebook