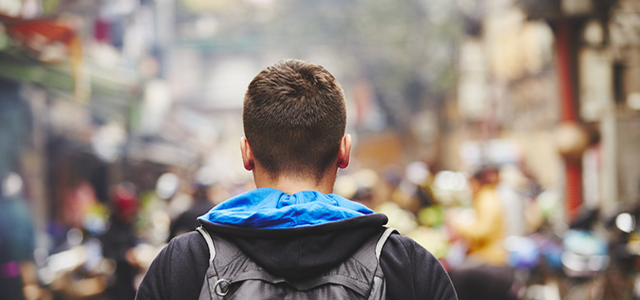 10 Awesome Expat Blogs That Will Make You A Better Traveler
People like to travel in a million different ways. Some like weekend breaks to see as many nearby cities as possible, while others prefer choosing one big adventure per year. Some adventure-seekers need nothing more than a backpack while others like to travel a bit more lavishly. One of the most exciting ways to explore a new destination is to actually pack up and move there! Here are a few stellar ex-pat focused travel blogs that can inspire everyone to take the international plunge!
Talon: 1Dad1Kid
Talon and his pre-teen Tigger are a duo to be reckoned with. From housesitting in Mexico and Morocco to visiting far-flung places such as Thailand and New Zealand, they bring to the table a slow-travel experience that has had them living in many different countries over the years. It is a unique perspective on living abroad with tons of real-time tips on housesitting, public transportation, food and fun worldwide.
Rob, Tracey and Makai: Expat Experiment
This family planned their move to a nomadic and expat life for almost four years before making the plunge. Their life has taken them to several continents through housesitting and conquering travel jobs and they maintain a curiosity for a global worldview.
Erin and Erin: Surviving Europe
As the new American expat couple on the block, these two have fully embraced their new life in Austria in the past year. They also travel all over Europe and provide great travel advice for adventures as a couple. The pair have been dabbling in video as well to round out their great blog content.
Cat: Sunshine and Siestas
Following studying abroad dreams, Cat landed in Seville, Spain about a decade ago to give living abroad a try. She then accepted a teaching position in Spain and has remained in her new favorite country. It's a mostly Spain-focused blog that provides insight to everyday life travelers can use to feel like a local on their next trip.
Eileen (aka me!): Pure Wander
Moving abroad in pieces since 2006, Eileen shares her love of London as an American expat as well as her travels across the globe. Posts range from managing a destination bachelorette party to planning a multi-generational adventure for first-timers in Europe. Eileen credits strength in numbers and building a community when it comes to moving to a new country!
Edna: Expat Edna
Always driven to try new things, Edna left home at 18 and hasn't looked back. She's embraced a career that allows for living in wonderful places such as Singapore, France, China and Italy. Her bucket list is particularly fun to follow, as is her recent trip to Rio for the Olympics.
Amanda: MarocMama
American-born Amanda met her Moroccan mate on a trip to Marrakech, and the rest is history. She now lives in her husband's hometown with their children and extended family. She paints a beautifully vivid picture of her colourful life in the medina, which has blossomed into some successful English-language foodie tours to boot.
Jenna: Life in Dusseldorf
Canadian ex-pat Jenna has called Dusseldorf, Germany, her home for several years. Alongside other pro expats, Jenna provides an English-language look into life surrounding this city and how to navigate it as a newcomer.
Inta: Curious Cat Expat
Inta didn't find expat life early on in life. Rather, she packed up in her 40's from the U.S. to find herself in Italy, and most recently the Netherlands. If you have question about visas, cultural immersion, or just basics on European living, she is a fantastic resource.
Chris: One Weird Globe
The wild and wonderful are what Chris discovers during his travels. He's an American who has lived in Korea, Thailand and other Asian countries to provide a quirky look into life abroad. He also provides great travel reviews, in-depth guides and personal narratives of his experiences.
Main Image Photo Credit: © iStock/Chalabala
About the Author: Eileen Cotter Wright is a Boston, MA expat living in London, UK as a freelance writer and owner of group travel site PureWander.com. Despite losing her passport the first day she left her home country, she's continued to roam the earth with gusto for about a decade. You can keep up with her hot mess adventures on her personal blog CrookedFlight.com.
Featured Vendor

Get Hertz Discounts
Subscribe to Our Blog!
Like Us On Facebook