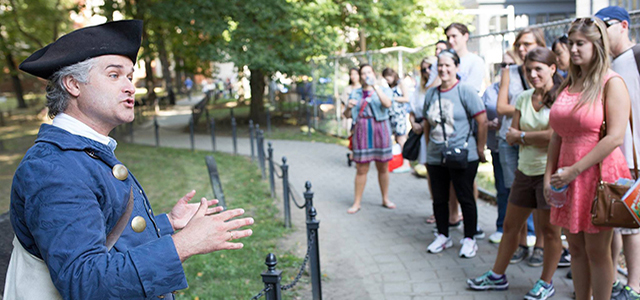 10 for Under $10: Amazing Boston Activities That Won't Break the Bank
Boston is a city drenched with history and bursting with the everlasting youth of universities. With tasty cuisine and endless opportunities to celebrate freedom, here are 10 ways to experience the best of the Hub without breaking the bank. There's more than one way to drop a Hamilton and it doesn't involve Broadway.
Grab Some Tasty Chowda
America's oldest restaurant, Union Oyster House, has been serving creamy, steaming cups of their famous clam chowder to satisfied customers for nearly two centuries. Sit in the same booth where legendary downtown patrons, including John F. Kennedy, savored this Boston classic. Go big and order a bowl ($8.50) for a hearty, unforgettable lunch to discover why New England is known the world over for its fresh seafood.
41 Union Street, Boston.
Retrace Revolutionary History
That red line running through Boston isn't construction, but a 2.5 mile thread back in time to when the British ruled the Thirteen Colonies. Begin at the Boston Common Visitor Center and trace the footsteps of our forefathers at 16 sites, including the spot where the Boston Tea Party began (Old South Meeting House). Make the worthwhile trek across the Tobin Bridge to step aboard the U.S.S. Constitution (Old Ironsides) and ascend to the top of the Bunker Hill Monument for a breathtaking panorama of Beantown. Most sites are free or under $10.
139 Tremont St, Boston.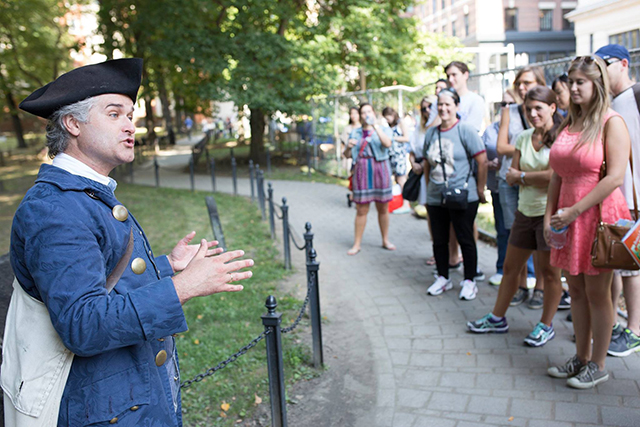 Photo Credit: Facebook.com/TheFreedomTrail
Raise a Pint at an Irish Pub
The rich contributions of Irish culture have defined Boston, resulting in some of the most epic watering holes throughout the city. There's no better spot to down a dry Irish stout (or a $3 Corona Light when it's on special) than Hennessy's, voted Best Irish Bar by the Improper Bostonian six years in a row. You just might run into (or join) a pub crawl or bachelorette party in the process.
25 Union Street, Boston.
Soak up Culture at the BSO
The symphony is a bastion of high society, but why pay through the nose when you can nab last minute empty seats at a deep discount? The Boston Symphony Orchestra hawks rush tickets ($9) on Tuesday and Thursday evenings at 5 p.m. and on Friday mornings at 10 a.m. You don't need to be a student or a senior citizen, just have an appreciation for classical music and a fistful of singles.
301 Massachusetts Avenue, Boston.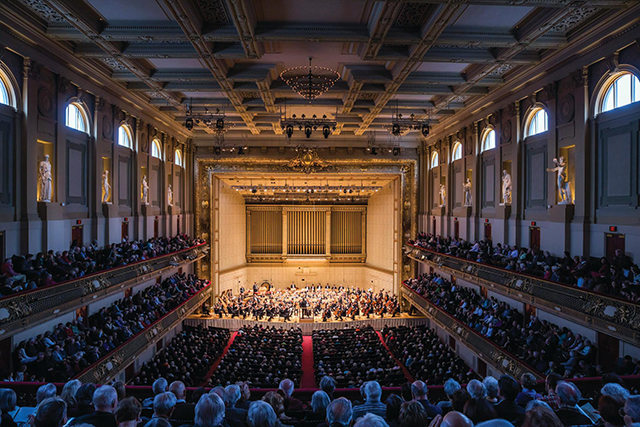 Photo Credit: Facebook.com/BostonSymphony
Talk Trash at the Movies
Some movies are so bad, they're good. Go Mystery Science Theater 3000 (MST3K) on the worst films ever made once a month at Trash Night at the Brattle Theatre ($7), where participation and chatter is more than just encouraged, it's gospel. Don't expect any Oscar winners or even recognizable actors, just cinema that somehow got made and now provides boundless entertainment set to a soundtrack of your own snarky commentary.
40 Brattle Street, Cambridge.
Sip Wine in the North End
Every Friday evening, The Wine Bottega opens its cellar for complimentary themed tastings in Boston's Little Italy. Hosted by proprietress, Kerri Platt, and her friendly staff of expert sommeliers, you're sure to sample eclectic grapes and blends from around the globe. Stop in for the wine and stay for the storytelling on how it was crafted; take advantage of discounts when purchasing bottles from the evening's handpicked selections.
341 Hanover Street, Boston. Fridays from 5-8 p.m.
Pay Tribute to JFK
Our 35th President began life in the greater Boston neighborhood of Brookline, born in the master bedroom of a modest home. Explore the house where JFK spent his first three years, before the manors of Hyannis Port and the majesty of Camelot. The John Fitzgerald Kennedy National Historic Site and its neighboring sites provide a cost-free peek into the formative years of young Jack, the boy who would serve in World War II and lead our nation through the Cuban Missile Crisis.
83 Beals Street, Brookline.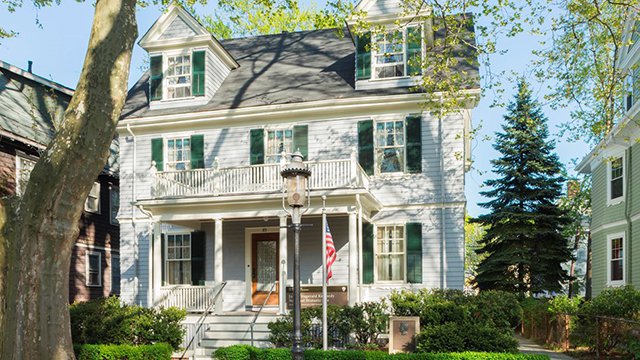 Photo Credit: NPS.gov Website
Drink Cider Under the Bridge
One of Boston's best kept secrets is hidden beneath the Tobin Bridge. The Downeast Cider House opens its industrial doors to fans of fermented apples with tours and free reign within their operational warehouse. A cozy bar offers samples, pours, growlers, and cans of their latest and seasonal offerings, ranging from Maple Blend to Project Nektar infused ciders.
200 Terminal Street, Charlestown.
Take Me Out to the Minor League Ballgame
Catch tomorrow's stars today with the Lowell Spinners, Class A Short Season Affiliate of the Red Sox. With family-friendly activities between innings and reasonably priced concessions, including mouthwatering pulled pork at Home Plate BBQ, it's a guaranteed good time for all ages. Who knows, you might even see your favorite major leaguer rehabilitating for their return to the big leagues. Tickets cost as little as $6.
450 Aiken St, Lowell.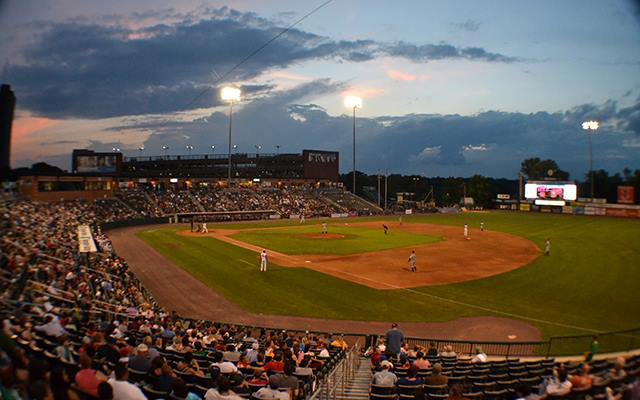 Photo Credit: Facebook.com/SpinnersBaseball
Catch a Flick Under the Stars
Have fun with the whole family on the banks of the Charles River with recent blockbuster films and fan favorites for free. Witness Star Wars: The Force Awakens with a starfield that continues past the screen; hold your significant other as you enter the gates of Jurassic World. Pack a picnic, bring a blanket, and arrive early to secure a spot for an evening reminiscent of drive-in movies from yesteryear.
Hatch Shell, 47 David G. Mugar Way, Boston. Fridays from June 24 - August 28. Films begin at sundown.
Whether you're traipsing the cobblestone streets or breaking through the foam of a Guinness, have a wicked good time in Boston!
About the Author: Scott Josephson is a New York based writer who has lived in Massachusetts and visited all 50 States. His passion for music inspired him to drive to Graceland and the Rock and Roll Hall of Fame. His next goal is to visit all seven continents. When he's not traveling, Scott enjoys reading science fiction, attending concerts, and drinking cider.
Featured Vendor

Get Hertz Discounts
Subscribe to Our Blog!
Like Us On Facebook