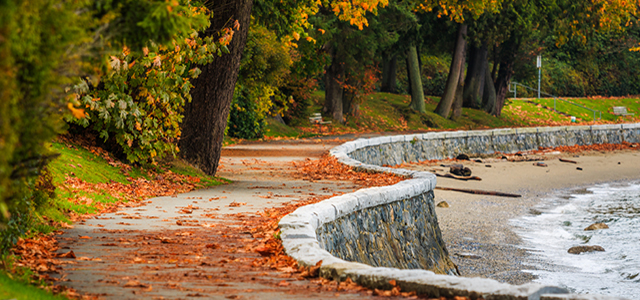 Vancouver's Best Museums, Parks and More
If you like fresh air and love outdoor activities, then a visit to Vancouver is a must. The city is considered
the most expensive city in North America
by the Economist and was included by
Forbes
and
BuzzFeed
among the most beautiful cities in the world. With others publicly recognizing Vancouver as one of the most beautiful cities in Canada and the world (it's about time!), it's time we dig into the city's impressive list of attractions, which are suitable for all preferences. Something that's especially true for those of us who love cities with plenty of green spaces. But really, Vancouver has it all.
Capilano Suspension Bridge
One of the most famous places in Vancouver is this swaying suspension bridge, which stretches 450 feet across a canyon, with the Capilano River a staggering 230 feet below. The
Capilano Suspension Bridge
was built in 1889 and it lures many visitors each year. While you're at the
Capilano Suspension Bridge Park
, you can also go for a walk from treetop to treetop (along smaller elevated bridges) or on the Cliffwalk (added in 2011) for a complete and unforgettable experience.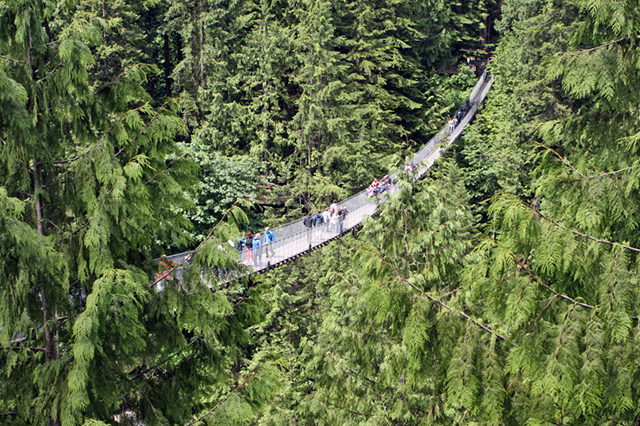 Photo Credit: © iStock/Bernhard Richter
Stanley Park
Stanley Parks is, without a doubt, a landmark for Vancouver. Its 1,001 acres surrounded by waters include many of the city's most famous attractions. You should definitely plan a multiple-days visit to this park in order to enjoy all of the wonderful places featured here. Stanley Park has an impressive number of not to miss places: from beaches to sports areas, from Canada's largest aquarium to a miniature railway, from playgrounds to tennis courts, from a cannon to the Lost Lagoon and First Nations art and totem poles and more.
As a tip, as the park is truly impressive and features many lovely places, make sure to take a map with you. You'll find several billboards spread across the park, but it is always great to have your own map to know exactly where you are and how you can most easily get to the next place you want to see in the park. Another recommendation is to plan your budget in advance – as almost all of the attractions at the park involve a fee.
If you want to take a long walk around the park, having on one side trees and land and on the other one water, then go to the
Vancouver Seawall
. The idea of the seawall appeared in 1917 and aimed to prevent the erosion of the park's foreshore. An entire loop of Stanley Park takes 2-3 hours on foot, 1 hour by bike. There is a one-way counterclockwise lane for cyclists, rollerbladers and skaters. The section closest to the water is for joggers.
You can also see the park from the comfort of a train seat. The
Stanley Park Train
is one of the city's most famous attractions – and a fun activity for families traveling with children or for those who don't or can't take a walk along the seawall or need a break in between various attractions in the park. The miniature train is a replica of a famous Canadian train - Canadian Pacific Railway #374 – and is in use during the summer and on several seasonal events (Easter, Halloween and Christmas).
Another famous attraction at the park is the
9 O'Clock Gun
, a 12 pound muzzle-loaded naval cannon from 1816 that is shot every night at 9:00 pm. The cannon has an interesting, troubled history, which proves that obstacles, of any kind, can be overcome. As a fun fact, you should know that since 2012 there has been a
fake Twitter account
that tweets "BOOM" every day precisely at 9:00 pm, the exact time when the cannon is shot.
Vancouver Aquarium
The
Vancouver Aquarium
is Canada's largest aquarium and ranked as a top aquarium in the world in Trip Advisor's 2014 Travelers' Choice Award. This is an attraction perfect for people of all ages and you'll definitely love to admire the beautiful marine creatures that you'll encounter here: approximately 300 species of fish, 56 species of amphibians and reptiles, mammals, birds, and almost 30,000 invertebrates. Ticket prices are $29 for adults, $25 for seniors 65+, $20 for youth 13-18 and $15 for children 4-12. You'll also be able to see shows with dolphins and beluga whales, and you can enjoy a unique experience at the 4D Experience Theatre – a 3D cinema with sensory effects.
Photo Credit: © iStock/Devonyu
Stanley Park also offers many water based attractions and activities. Apart from the Vancouver Aquarium, in the park you'll find a heated, outdoor pool, Second Beach Pool and the Variety Kids Water Park (open from June to the beginning of September). The Second Beach area features a playground, a picnic area, and washrooms, along with a naturally sandy beach. The Third Beach, a quieter beach than Second Beach, is the beach you'll want to check out if you don't particularly enjoy crowds.
VanDusen Botanical Garden
If you love plants, then you'll love this place. The
VanDusen Botanical Garden
features plants from all over the world and is an enchantment regardless of the season you are visiting it. Here you'll find beautiful lush green spaces, amazing small gardens, a small waterfall and even a restaurant. Ticket prices vary depending on the season, they start at $8 for adults, $5.75 for seniors and $4.24 for children. Family packages are also available.
Science World at Telus World of Science
Established in 1977, the
Science World at Telus World of Science
features many interactive and passive permanent exhibits and hands-on displays, as well as temporary ones, all aimed to teach children about science. General admission ticket prices are $22.50 for adults, $18.50 for seniors, students and youth 13-18 and $15.25 for children 3-12.
UBC Museum of Anthropology
Internationally recognized for its First Nations art, the
UBC Museum of Anthropology (MOA)
is home to 38,000 ethnographic objects and 535,000 archaeological objects. The museum, located on the campus of the University of British Columbia, was founded in 1947 and is also a research and teaching museum. Ticket prices are $16.75 for adults and $14.50 for students and seniors.
Museum of Vancouver
If you want to find out more about Vancouver, its past and its present, then include the
Museum of Vancouver (MOV)
on your list of must sees in this city. Rebranded in 2009, the museum features permanent exhibitions depicting the history of the city from the early 1900s to the late 1970s. Admission rates are $14 for adults, $11 for seniors and students and $8 for children.
North Shore Mountains
Mountains are beautiful all year round, and if you'd like a beautiful panorama view, then you should definitely include at least one of these mountains in your visit. Mount Seymour, Cypress Mountain and Grouse Mountain offer excellent hiking trails during the summer and amazing ski, skating and snowboarding opportunities during the winter.
Grouse Mountain
, also referred to as "Mother Nature's Stairmaster," is also home to rescude Grizzly Bears.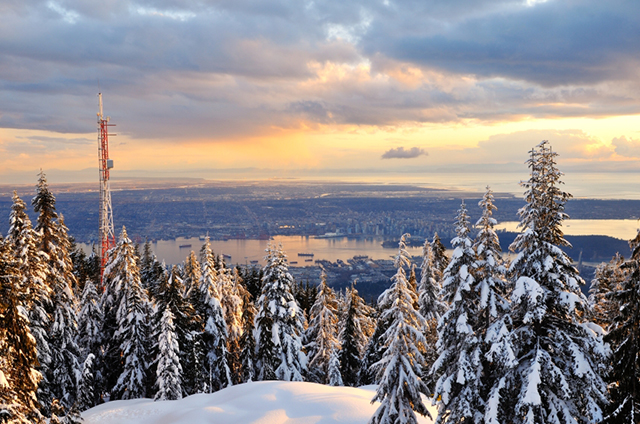 Photo Credit: © iStock/kongxinzhu
Grandville Island
After a visit to the museum, consider stopping to visit this island as well.
Grandville Island
is actually linked to the city and is home to many artistic events and the famous Grandville Island Public Market, a market where you'll find endless amounts of seafood, fruits and vegetables. The island is also full of restaurants – there are so many options you'll have a hard time picking one!
So, which Vancouver attractions will you add to your list of places to visit when you visit this wonderfully diverse city?
Main Image Photo Credit: © iStock/Poul Riishede
About the Author: Violeta-Loredana Pascal is a public relations and marketing specialist who also loves to travel. She shares her travelling experiences and tips at http://travel.prwave.ro. You can also find her on Facebook (/TravelMomentsInTime), Twitter (@TravelMoments) or Instagram (@violeta.loredana).
Featured Vendor

Get Hertz Discounts
Subscribe to Our Blog!
Like Us On Facebook