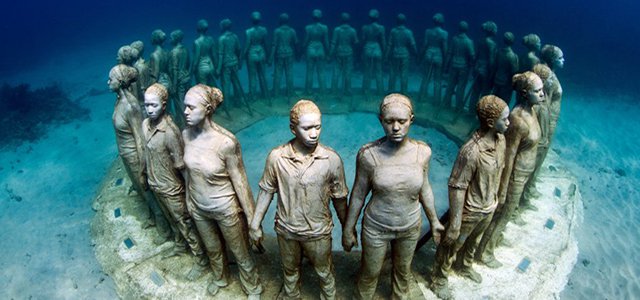 Underwater Art Worth Traveling For: A Look at Our 7 Favorite Underwater Sculptures
Eerily beautiful is probably the best way to describe underwater sculpture gardens. They are often created to protect the natural reefs from tourists and, with that, destruction. About 10 years ago, Jason deCaires Taylor created the first underwater sculpture park off the west coast of Grenada. For these parks, he created many sculptures with different stories. By now there's four underwater sculpture parks worldwide. Let's learn more about seven different underwater sculptures, their stories and where they are located!
Jason deCaires Taylor's Museo Atlantico in Lanzarote
Europe's first underwater sculpture garden was just recently created by Jason deCaires Taylor and lowered into the water near Lanzarote. It is a commentary on the current issues Europe struggles with, as the statues are a combination of desperate refugees and selfie-taking people.
"The Raft of Lampedusa"
is one of this garden's sculptures and a representation of 13 people traveling to an unknown future. Just an impressive reminder of our collective responsibility as people that we have towards one another.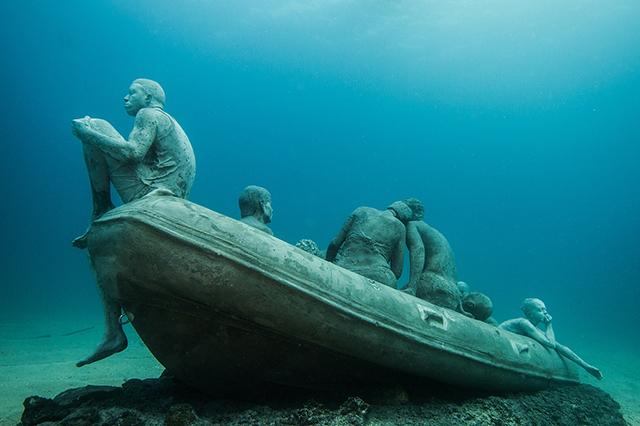 Photo Credit: UnderwaterSculpture.com
"The Rubicon"
is an installation in Museo Atlantico in which 35 people walk towards a point of no return. The idea behind this one is raising awareness of the environmental threats us humans do to the ocean.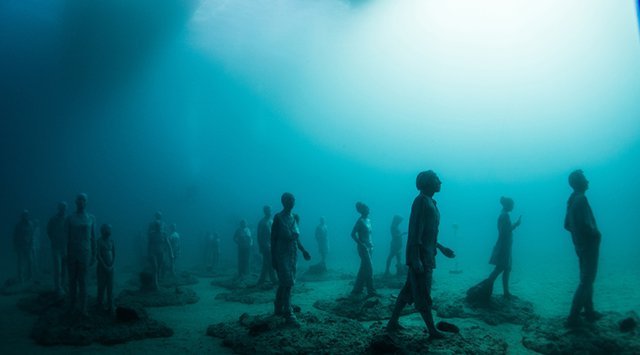 Photo Credit: UnderwaterSculpture.com
Jason deCaires Taylor's Molinere Underwater Sculpture Park in Grenada
Jason's first sculpture park is this one, located just off the west coast of Grenada. In this park, sculptures are also functioning as artificial reefs, which not only attracts marine life but also human visitors. The natural forces have added their own changes to the sculptures over the years, which results in an impressive sight.
"Vicissitudes"
is one of Taylor's Grenada sculptures and probably his most recognized work. It exists of children holding hands and represents the concept of the circle of life. There are different stories about the true meaning of this sculpture, but most people believe the "circle of life" theory.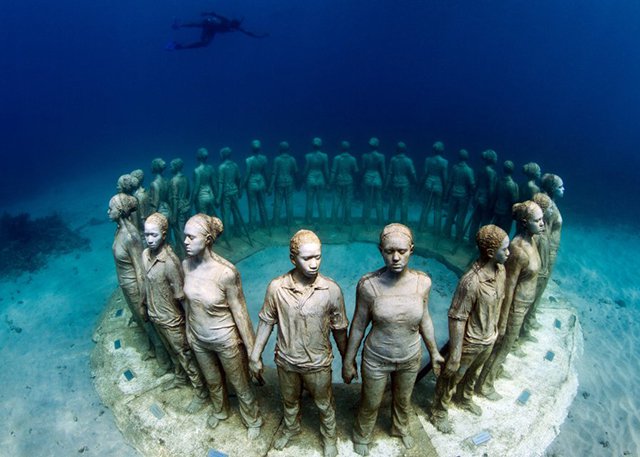 Photo Credit: UnderwaterSculpture.com
"The Lost Correspondent"
is a sculpture revolving around the way communication has changed over time and, more importantly, how fast that it is changing. It is a man sitting behind a desk writing something. The writer is lost at sea, you could say.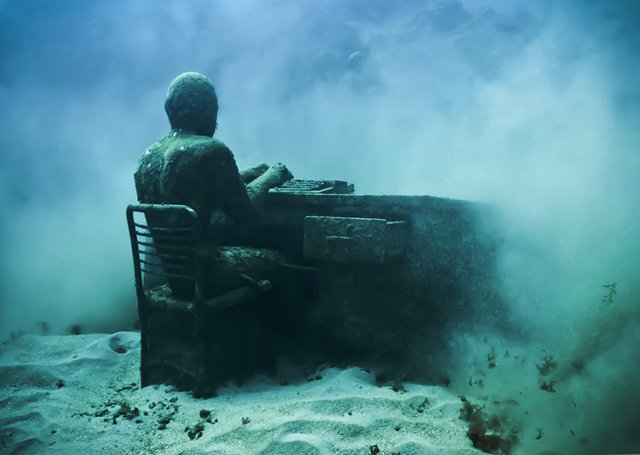 Photo Credit: UnderwaterSculpture.com
Jason deCaires Taylor's Cancun Underwater Museum in Cancun
Jason deCaires Taylor had so many sculptures laying around his studio in Cancun that he decided, together with the Mexican government, that these sculptures would become an underwater museum near Cancun. One of its goals is also to get tourists away from natural reefs to protect them.
"The Silent Evolution"
is one of the biggest sculptures there is. It has 400 life-sized sculptures of people and with the water changing the sculptures, the true meaning of The Silent Evolution becomes clear. It shows how humans live together with nature in both good and bad ways. The creation of this project took about 18 months.
Photo Credit: UnderwaterSculpture.com
"Man on Fire"
is supposed to be a burning figure that, with time, gets overrun by bright yellow coral that represents the fire. Since this sculpture has been there for a while, you can already see the so-called fire starting to burn.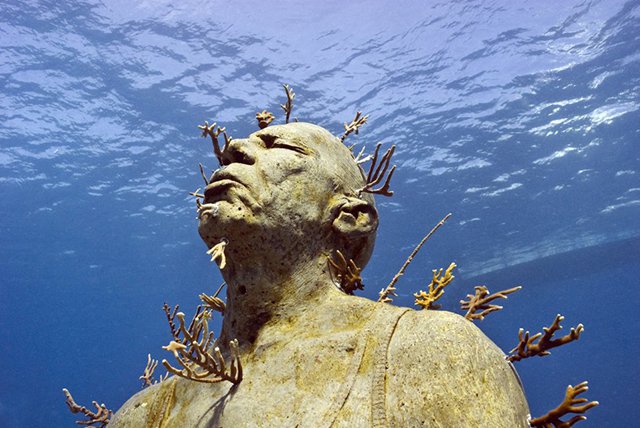 Photo Credit: UnderwaterSculpture.com
Sir Nicholas Nutatall Coral Reef Sculpture Garden in the Bahamas
The Bahamas Reef Environment Education Foundation (BREEF) created this gallery with several purposes – most of which are educational purposes and also for the protection of natural reefs. It's a collection of works by several artists. The centerpiece was created by Jason deCaires Taylor but works from Willicey Tynes and Andret John are featured here as well.
"Ocean Atlas"
is the centerpiece in this sculpture garden weighing in at about 60 thousand kilograms. It is a woman hunched over carrying the weight of the ocean much like the myth of Atlas from Ancient Greece. This sculpture is currently the largest sculpture ever deployed under water.
Underwater sculptures are such a new phenomena that chances are high the number of gardens will keep growing over the years. There are many reefs out there that need time to recover and with the sculpture gardens such as those of Jason deCaires Taylor, it still remains fun to explore the underwater world all around the globe, without doing any actual damage! To explore more of Jason deCaires Taylor's work, visit his incredible website at
UnderwaterSculpture.com
.
About the Author: Milou van Roon runs a Digital Media Agency called Explorista Media that is dedicated to making travel brands into online rockstars. She's hardly ever home in The Netherlands, and regularly abuses the European low cost flights under the excuse of 'blogging about it' on budget travel blog http://explorista.net. Be sure to follow her adventures on Instagram (@Explorista).
Featured Vendor

Get Hertz Discounts
Subscribe to Our Blog!
Like Us On Facebook