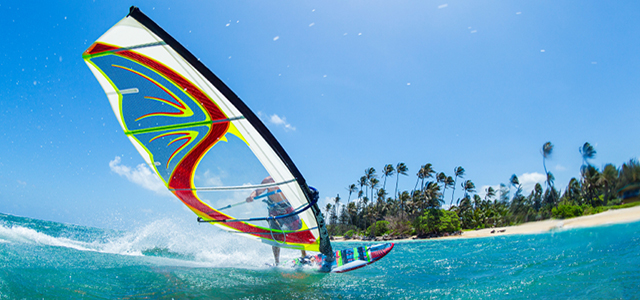 Get Your Adventure On: The Top 10 Windsurfing Destinations in the World
There are two basic things you need when it comes to windsurfing; wind and water. It's that simplistic, pretty much any destination near water can claim to be a top windsurfing spot, but it takes more than a few waves and a rental shack. The cleanliness of the water, the scenery that provides the backdrop to your adventure and the typical wind gusts should all play a factor when planning a windsurfing vacation.
Windsurfing is an inclusive sport for people of all ages and skill levels. It's also a great way for snowboarders to cross-train in the off-season. The sport has been around since the second half of the twentieth century and has been and is still a popular sport within the United States and around the world. Windsurfing can be done in rivers, lakes, and the ocean, so finding the right body of water and destination might prove to be more challenging than actually standing up on the board for the first time. Here are the latest top windsurfing vacation destinations around the globe:
1. Maui, Hawaii
Hookipa Beach in Maui is by far on of the best-undisputed windsurfing spots in the world, and it happens to be in one of the most beautiful and most visited places in the world. The island Maui provides so many options and activities to fill a vacation so there is never a fear of not having anything to do. If water activities are high on the list, the island offers them all. There are also land activities such as hiking, zip lining, and biking.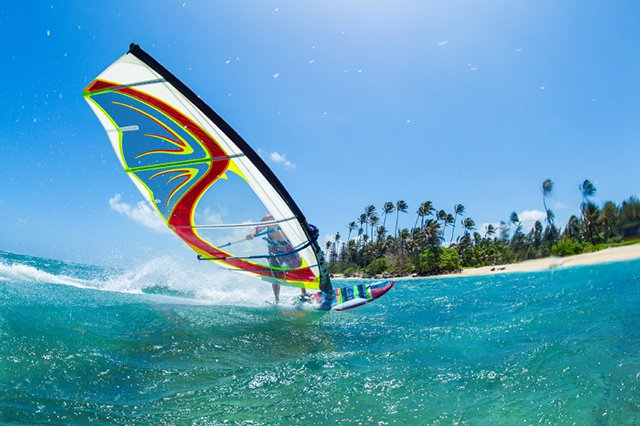 Photo Credit: © iStock/EpicStockMedia
2. Fuerteventura, Canary Islands, Spain
The Canary Islands, located off the coast of Western Sahara, have always been a hot spot for tourists because of the perfect weather. The southeastern part of the islands, Gran Canaria, is also known as a windsurfing destination, and holds many of the world's competitions throughout the year. Each year, Sotavento Beach plays host to a leg of the grand prix of windsurfing world, the Professional Windsurfing Association's World Championship. That particular competition takes place during July, but the rest of the year, the beach is open to the public; anyone from novice to expert.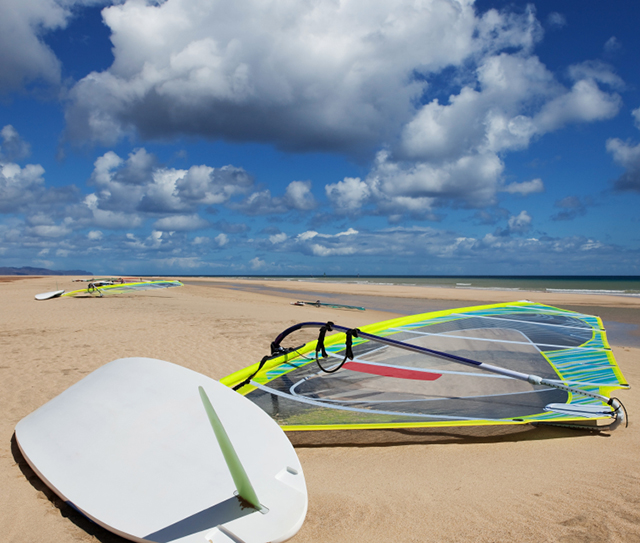 Photo Credit: © iStock/sebasebo
3. Outer Banks, North Carolina
Holding the title for the most easily accessible East Coast windsurfing destination within the United States, the Outer Banks, with its narrow strip of barrier islands stretching 200 miles long attracts many tourists and families each year for its beaches and waters. The destination makes for a perfect weekend getaway. But there is more to the Outer Banks than just its close proximity. It's located in a picturesque atmosphere. Cape Hatteras has strong winds and gentle waves, while Nags Head is more for first times surfers. There are also lots of other family-friendly activities too.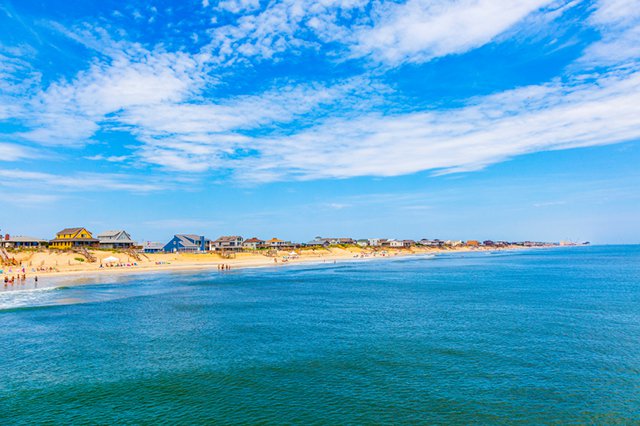 Photo Credit: © iStock/Meinzahn
4. Lake Arenal, Costa Rica
This might win for the most adventurous windsurfing spot since Lake Arenal butts up against the very much active Arenal Volcano. The 24 mile-long freshwater lake provides views of the volcano which regularly shoots ash and fire into the sky. Cool water and warm air make for extreme conditions and is best suited for expert windsurfers. Arenal is 1,300 feet above sea level and is situated between two wind-funneling mountain ranges that can set the stage for average wind speeds of 25 miles per hour and five foot high waves from December to April. For skilled surfers looking for high-speed surfing and jumping, this is the place to be.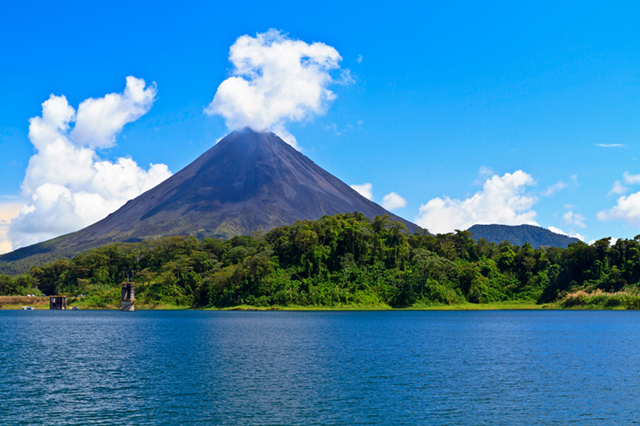 Photo Credit: © iStock/lightphoto
5. South Padres Island, Texas
Texas has a little bit of everything, even a place rated as a top windsurfing spot. Known for the warm weather and tourist-filled beaches, South Padre Island has something for everyone. And when you need a break from the board, there's also lots of kayaking, swimming and jet skiing to fill the time.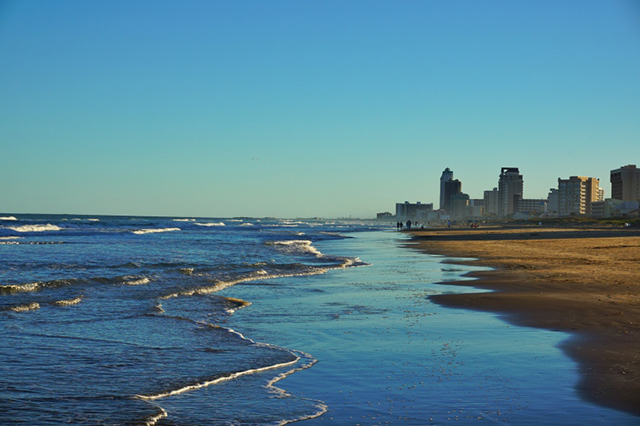 Photo Credit: © iStock/DavieJones13
6. Cabarete, Dominican Republic
Located in the axis of the Dominican Republic's windsurfing scene, Cabarete during the summer is peak season for the sport. During the rest of the year, the winds can become a little less reliable, but with weather changing so frequently, it's not unheard of to ride some waves during the off-peak. There are also lots of windsurfing schools located here and a two-day course can average about $250. Most of the sails are up and around Kite Beach and Bozo Beach.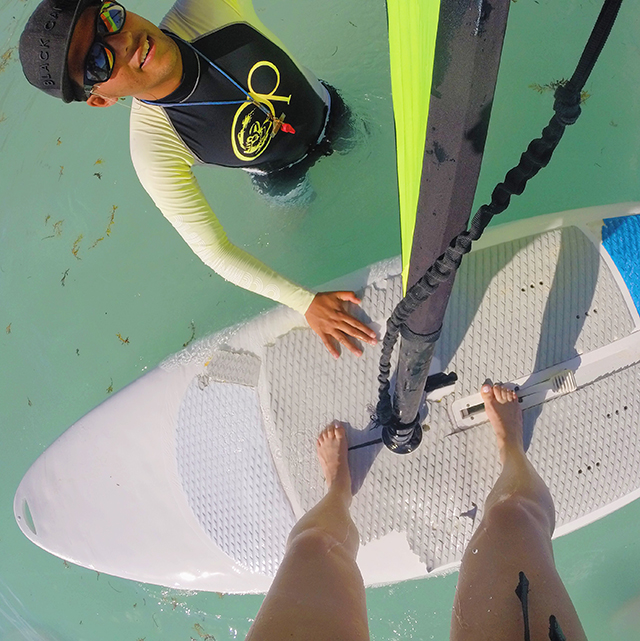 Photo Credit: Breanna Wilson
7. Columbia River Gorge, Washington/Oregon
If cold water doesn't scare you, this windsurfing mecca within the United Sates on the border of Washington and Oregon is the place to check out. The entire area caters to "board heads" and windsurfing fanatics. It's a culture that has taken over the small area and shops and stores all around cater to the sport.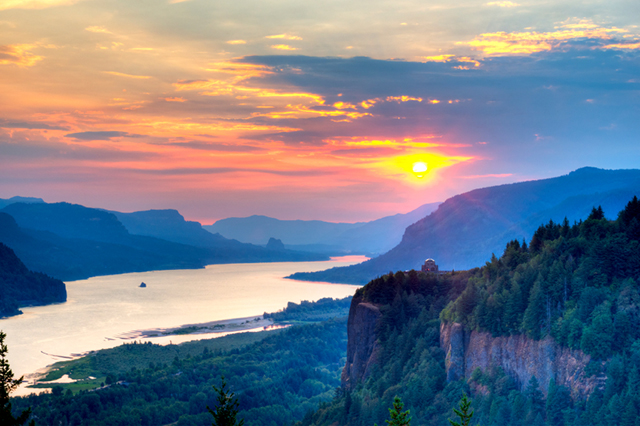 Photo Credit: © iStock/tonda
8. Aruba
If cold water isn't your thing, Aruba will not disappoint. The water temperatures in this tropical paradise rarely drop below 75˚ Fahrenheit and with reliable constant wind speeds of around 20 knots, it's no wonder many surfers come here. The southeast side of the island is the most coveted area with Boca Grandi, located 30-miles from Palm Beach, being the ideal beach. Each July, the world's windsurfing superstars head here for the High Winds Windsurfing Championship.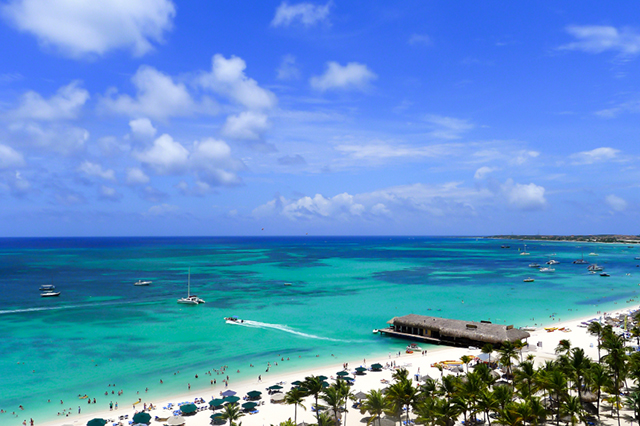 Photo Credit: © iStock/fredtamashiro
9. Baja California, U.S.A.
For a chilled-out alternative in the United States, Baja comes with crowd-free beaches and warm temperatures. The warm water and strong sun are present year-round with November to March marking the peak season for wind sports as the storm winds can stir up some big breezes. For beginners, La Ventana and Baja Sur are great options, while those with a bit more time on the waves should head over to Los Barriles.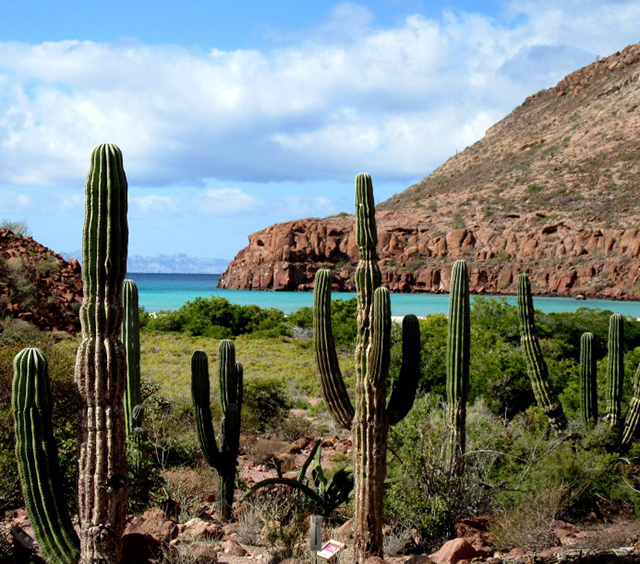 Photo Credit: © iStock/WLC_N2M
10. Lac Bay, Bonaire
Together with Aruba and Curaçao, the island of Bonaire makes up the ABC Islands in the Caribbean. With crystal waters and white sands, combined with teeming offshore reefs and steady winds, Lac Bay is a convenient water lover's paradise. Lac Bay has easy-to-access spots for beginners as well as more advanced areas for advanced windsurfers to tackle powerful swells. Bonaire is home to many world-famous windsurfing professionals, and if anyone would know a good place to windsurf, it would be them.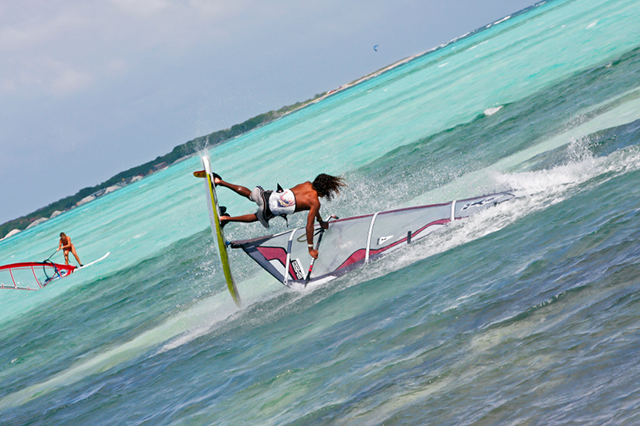 Photo Credit: © iStock/Lya_Cattel
About the Author: David Duran is a Brooklyn-based luxury, hospitality, culinary, and overall freelance travel writer who contributes to such publications as Fodor's, Travel + Leisure, Destinations Weddings & Honeymoon, and Caribbean Travel + Life, among others. When not traveling 20-25 days a month for his work, he spends his free time planning more travel! To read some of his work, check out his online portfolio, and follow him on Instagram and Twitter at @mrdavidduran.
Featured Vendor

Get Hertz Discounts
Subscribe to Our Blog!
Like Us On Facebook