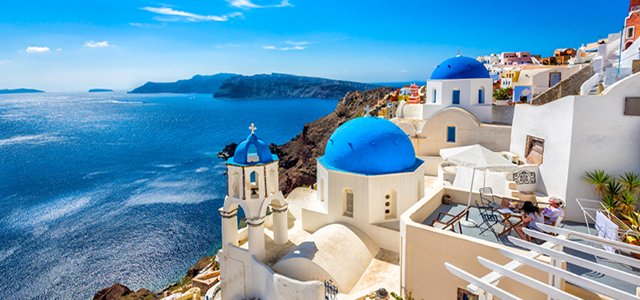 Top 10 Do's and Don'ts of Santorini
Couples everywhere dream of visiting the magical isle of Santorini, known for its white and blue cliffside architecture and dramatic sunsets. This popular Greek island is a definite must-see whether you are on a cruise or your honeymoon. But there are a few aspects to this romantic destination that are often overlooked. Here, we've put together a list of the top 10 do's and don'ts for your visit to Santorini.
1. DO
choose a non-touristy location for your home base, such as Imerovigli. Centrally located and a short five minute cab ride (or 20 minute walk) from the capital of Fira, this idyllic village offers breathtaking views, minus the hoards of tourists. Blooming bougainvillea trees hug the sides of houses, wide milky white stairs lead to brightly colored doors, and church domes overlook crystal blue seas. You can sip wine at a hillside restaurant or slip into a private infinity pool while watching the sunset, listening to nothing but the birds and the gentle waves lapping against the caldera (volcanic rockside).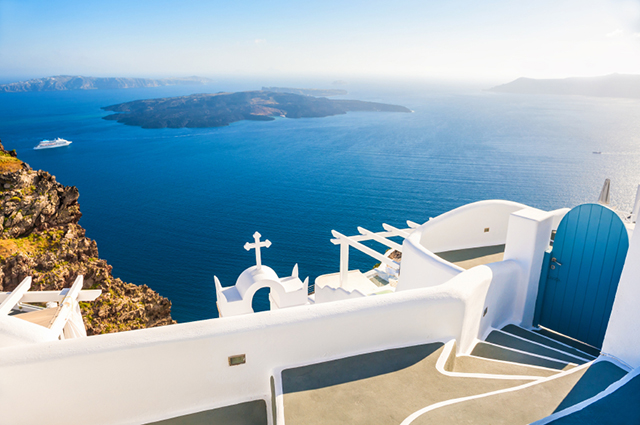 2. DON'T
stay in Oia. Despite its misleading marketing, Oia isn't a calm and peaceful place where you can find serenity. I assure you that it will be hard to find sanctuary from the gaze of the constant stream of tourists. And did I mention the prices are way more expensive?
3. DO
visit Oia. Walk its winding roads in the early mornings or post-sunset to avoid the heat and the crowds. If you are an avid reader, you'll get lost in Atlantis Books, the island's only – and quite eccentric bookseller – browsing through hardcovers and paperbacks in many languages. If you are lucky, you may get a chance to pet the resident cat and a dog named Billie Holiday.
4. DON'T
fall for the sunset hype in Oia. Tourists all over the world flock to Oia hoping for a glimpse of the famed sunset, which means there's practically no room to move. The narrow winding streets of the town center are packed and mobility is limited because you are inevitably stuck behind someone with a selfie stick. Your best bet is to find a beautiful cliffside restaurant and enjoy the sunset along with a delicious meal.
5. DO
opt for public transportation. The buses that run from one end of the island to the other are quite adept at handling the curves on the steep roads and can drop you off practically wherever you want. Don't let your hotel concierge take advantage of your wallet and convince you to use overpriced private drivers/tour guides simply because you are staying at a luxury resort.
6. DON'T
rent a smart car. It may not be the smartest choice. It's fun watching people driving these cutesy cars up and down the hills while you are standing in a bus, but the roads of Santorini aren't cut out for little engines lacking horsepower for uphill driving. You will certainly spot carefree individuals riding ATVs, but they don't seem to enjoy getting off their vehicle to push it up a hill.
7. DO
enjoy a small sailing tour to the volcano's hot springs and other surrounding islands reachable only by boat. Book a private tour with a maximum of 10 passengers; not only will you get the best chance to swim and enjoy the scenery in peace, but also share homemade food and drink with only a few on board.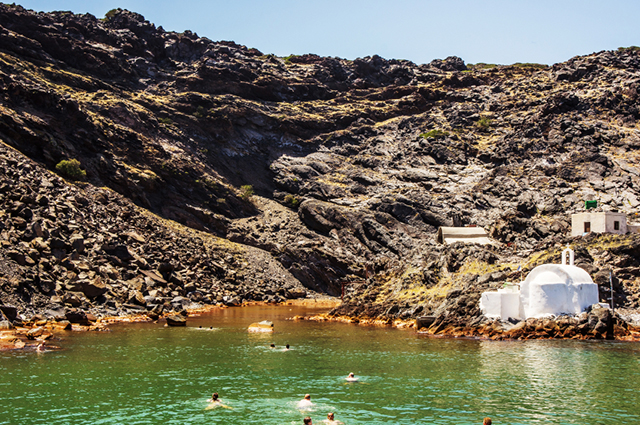 8. DON'T
sign up for a large boat cruise that promises access to the hot springs. It may be cheaper, but you will be stuck on a crowded boat for hours rubbing elbows with strangers.
9. DO
walk the path that connects the towns of Santorini. The shoreline hugging walkway has impressive views of the caldera and volcano. You may even make friends with fellow travelers as you stroll. If you decide to make the strenuous hike to Oia from a village in the center, allow up to three hours; be sure to bring sun protection and hydration. Consider taking a bus or a taxi back.
10. DON'T
ride a donkey. It's iconic and traditional, but some traditions are overrated. The poor donkeys sit in the hot sun every day, carrying tourists up and down steep hills. It's not fun for them. If you are arriving on a cruise and need to get up to Fira, opt for the cable car instead.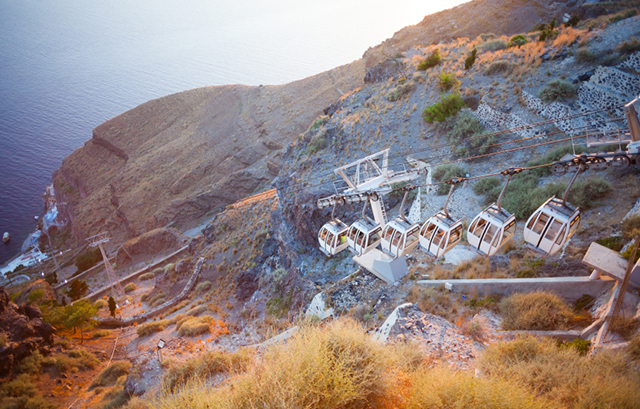 Enjoy your stay in beautiful Santorini!
About the Author: Lavanya Sunkara is a writer based in New York. Her love of adventure has taken her all over the world from Australia to Zanzibar. When she's not traveling, she's hiking with her dog, and planning her next getaway. Follow her on twitter @Nature_Traveler. Read her articles at http://nature-traveler.com/.
Featured Vendor

Get Hertz Discounts
Subscribe to Our Blog!
Like Us On Facebook