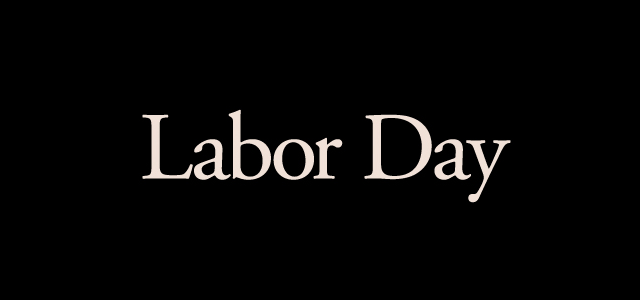 Making the Most of Your Labor Day Weekend
Labor Day weekend is one of the most popular travel weekends in the country. Whether you are staying close to home, visiting relatives far away or planning one last vacation before the fall sets in, Labor Day weekend travel can be either a breeze or a chore. As the quintessential end of summer, make sure you follow our travel tips in order to make the most of your last summer hurrah!
If Driving, Leave Earlier than Later
According to
AAA Travel
, over 34 million people will be journeying at least 50 miles away from their homes this upcoming holiday weekend, the highest number since 2008. Nearly 30 million of those travelers are expected to be driving. With much congestion expected on the roads, leave earlier rather than later on in the day to avoid timely traffic backups that may occur during the typically peak traffic hours between 4 pm and 10 pm. Be sure to stay on top of up-to-the-minute traffic alerts with real-time data from apps like Sigalert, Waze or Google Maps.
If You Don't Already Have Your Arrangements in Place, Book Quickly
If you haven't yet made the arrangements for your holiday trip, be certain to do so sooner than later as flights and hotels are quickly filling up. To save money with your holiday weekend travels, extend your trip by a day either earlier or later. Often, you can save a substantial amount with the simple addition of this extra day.
Get Creative & Consider a Staycation
For the last minute planner, look for new and exciting destinations in your own backyard. Making these shorter trips will not only help you save on gas, but can also open your eyes to new local attractions that you can easily get to any weekend of the year.
For the Hottest Deals, Go South
Many travel websites and experts are reporting that some of the hottest deals to be had are being found in the hottest cities in America. If you can stand the heat, look South for some of the best last-minute Labor Day weekend vacation deals. While others may steer clear of these destinations, you can be sure to take advantage of the smaller crowds giving you the time to experience all that a city has to offer. With both flights and hotels in high demand and rates quickly rising for this Labor Day weekend, stretching your dollar as far as possible can help you cut down costs for your final summer vacation. Booking late may prove to be costly, help combat the costs and take advantage of the various hotel, travel and entertainment discounts offered by ABN. With discounts on everything from your hotel, your
rental car
and your entertainment, joining ABN can help you save with a variety of free coupons and discount codes. Join for free and start saving with ABN today!
Featured Vendor

Get Hertz Discounts
Subscribe to Our Blog!
Like Us On Facebook