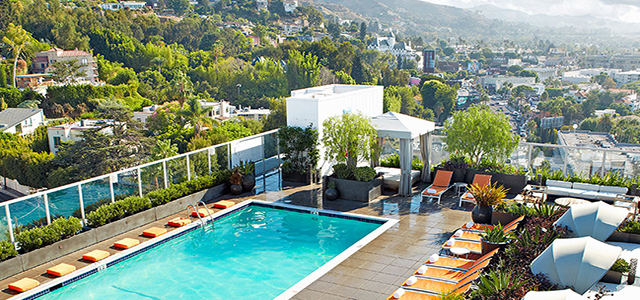 Los Angeles 101: Celeb Hot Spots Not to Miss
Ok, we all basically have some sort of fascination with celebrities, whether we openly admit it or not, and what's better than being able to brag on social media that you just had a celebrity spotting, or went to a place where one of your favorites frequents?! The good news is that celebrities are people and people basically go everywhere in LA, so if you happen to be hanging anywhere in the massive LA area, your chances of spotting someone that looks recognizable, are better than say someone visiting Appleton, Wisconsin. The greater Los Angeles area is full of places known for celebrity sightings but we've narrowed it down to a very short list of some well-known as well as some more secret spots that many don't know about, and all have had some celeb action in recent months, so the next time you are in LA, check out some of these hot spots and regardless if you see someone you recognize or not, they are all worth a visit anyways and they will all automatically up your LA game.
Larchmont Sanctuary Spa
So here's the deal. LA has more spas than one could ever imagine, but it's finding that right spa that is key. This particular spa is very intimate and private and located in a really neat area; the historic Larchmont Village. The indoor/outdoor boutique was constructed from a 100 year old home and was even blessed by Tibetan monks from the Garden Shartse Monastery, which creates a very inviting and spiritual environment. The unique factor here is that the spa focuses on being a relationship spa, whether that be a romantic relationship or a friendship, and a lot of the services are catered for two, so grab your friend and go let some tension out.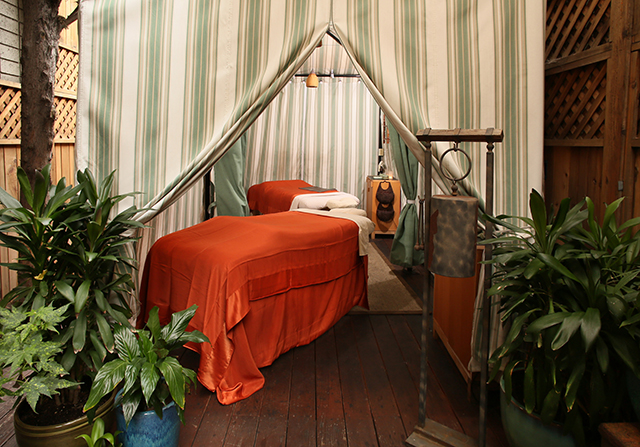 Café Gratitude
There are actually three locations in LA, but after a day at the spa, take a walk down the road to the Larchmont location. This place is very LA, and also very yummy. The menu is 100% organic plant-based while still being gourmet, so basically it's upscale Vegan. Café Gratitude is all about honest and transparent communication and your server does an excellent job of explaining how things work if you happen to be a first time guest. But basically, the menu is written in a way that when you order, you are ordering with positive affirmations, and although it may sound a bit odd, it's a really beautiful experience, which encourages conversation and engagement. "I am radiant and I am glorious," I mean, it feels good to say that, and also, order that exact meal and you will be very pleased.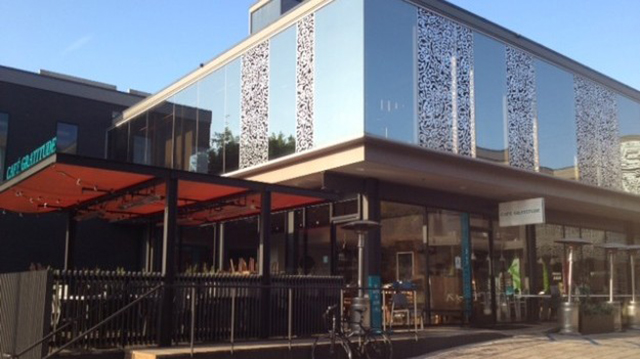 Velvet Lounge at the Culver Hotel
First off, don't let Culver City scare you off, as it's centrally located and has undergone a transformation worthy of a visit, plus, this historic hotel takeover is possibly the coolest thing to happen to the area in decades. The hotel itself is just stunning and meticulously designed by the chic owner. The lobby bar and restaurant is the place to be in the evening for live music but the hidden gem here is the Velvet Lounge which is their "speakeasy" bar located just up the lobby staircase. The space is eclectic and dark, which makes it a perfect spot to be seen but still not fully seen while sipping on expertly crafted cocktails, an aperitif after dinner or even a place to brag a bit with bottle service. The good news is, if you happen to indulge too much, there are some pretty killer hotel rooms right upstairs.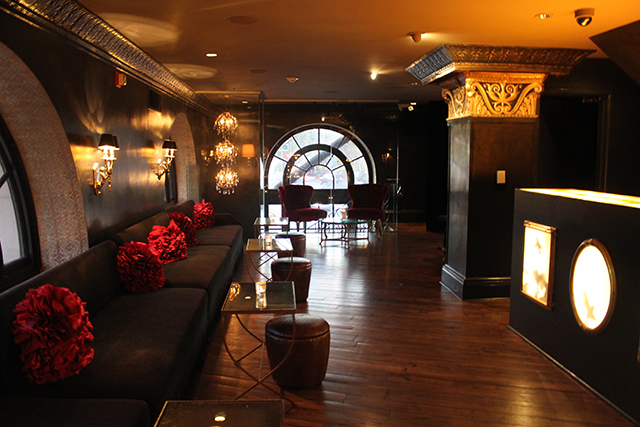 Photo Credit: Culver Hotel/Maya Mallick
Culina, Modern Italian at Four Seasons Los Angeles at Beverly Hills
With a name like that, it's a given that this place is pretty special. This might be the most obvious of places to bump into someone familiar, and it's also one of the places not to miss because the culinary experience guests receive is one that will be bragged about for an infinite amount of time because it's just that good. The restaurant has been regarded as "the best" by countless publications, and Chef Denis Dello Stritto has truly done an expert job of capturing the cosmopolitan ethos of Los Angeles while presenting exquisite dishes. Culina is open for breakfast, lunch and dinner but it's lunch that has been the most popular for entertainment industry leaders to be found closing a deal over a power lunch.
Earthbar
So here is another health spot that can't be missed in LA, and luckily there are plenty of locations all over the LA area, so it's kind of hard not to stumble into one, but the West Hollywood location is your best bet to stand in line next to someone you may recognize. Earthbar is a combination of highest quality products/supplements, a "food as medicine" juice bar and in the West Hollywood location, a Vibrance Clinic that offers nutrient I.V. drips and injections administered by health care professionals. Also, if you have never had an acai bowl, this is the best place to try one, as it's known as the best place in LA to get one.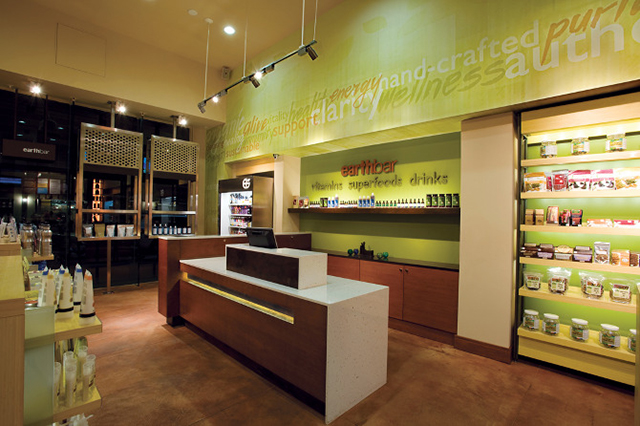 The Pie Hole
It really doesn't get much better than pie and coffee and The Pie Hole is known for their seasonal sweet and savory pies, which are made from scratch, daily. They also feature a full coffee program using their very own Fair Trade Organic coffee. The Arts District location is the place to be not only because the surrounding area is just so freaking cool with all the street art, but because it's basically where everyone comes to do their headshot since the art is just perfect for that "perfect" background that everyone is searching for. So have some pie, grab your coffee to go and go explore the area and see how many photo shoots you can spot in one day.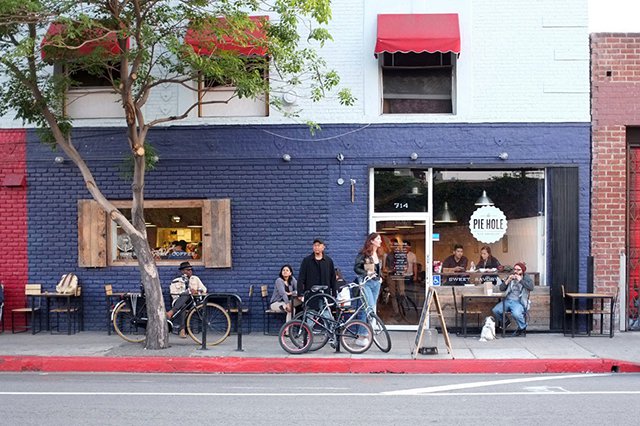 The Rooftop Pool at Andaz, West Hollywood
This might be one of the best pools in LA, and if you watch reality T.V., you've probably seen it a few times as it's regularly featured on different series. Andaz, West Hollywood is an iconic rock n' roll hotel with a rich history of musicians and artists having stayed there and even lived there. So if you want access to that epic rooftop pool, start by booking your room or suite, and make sure to get one that faces Sunset Boulevard. Up top, enjoy the pool that overlooks the Hollywood Hills and downtown LA to the Pacific Ocean, as it's the highest rooftop pool in Los Angeles. There are private cabanas and there's a bar with service staff, so all you need to bring is your sunscreen and most fashionable swimsuit.

About the Author: David Duran is a Brooklyn-based luxury, hospitality, culinary, and overall freelance travel writer who contributes to such publications as Fodor's, Travel + Leisure, Destinations Weddings & Honeymoon, and Caribbean Travel + Life, among others. When not traveling 20-25 days a month for his work, he spends his free time planning more travel! To read some of his work, check out his online portfolio, and follow him on Instagram and Twitter at @mrdavidduran.
Featured Vendor

Get Hertz Discounts
Subscribe to Our Blog!
Like Us On Facebook