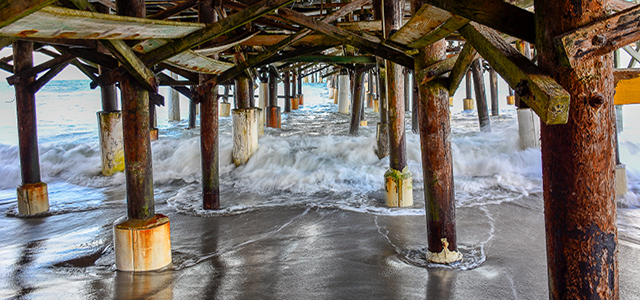 Jump in the Car and Go: Exploring Orlando's Nearby Beaches
When most people think of Orlando, Florida, they automatically think of amusement parks. There's nothing wrong with wanting to spend some time with friends or family in some of the world's best amusement parks, but what a lot of people don't realize is that with just a short drive, Orlando still offers some of that amazing Florida beach coast that the sunshine state is famous for. After days of standing in lines and overpaying for lunch, getting away from the madness might seem rather appealing, and luckily, within under an hour and a half of driving time, visitors to Orlando can jump out of their cars and dip their toes into the warm sand.
Cocoa Beach: Where Astronauts and Surfers Share Some Sand
Probably the most convenient beach to reach, this five-acre stretch of sand has always been a favorite for space enthusiasts to view space shuttle launches from nearby Cape Canaveral. For the rest of us, it's a clean and safe environment that has all types of unique boutique surf shops and places to grab some good food. Even the nightlife is exciting in Cocoa Beach, so if your day happens to turn into night while enjoying the water, an option of bars, rock and jazz clubs are just a short walking distance away from the sand. Canaveral Pier, a 900-foot wooden pier that was built in 1963 plays the role of landmark for the beach. At one time, it was a hangout for astronauts but now is more a surfer-dominated atmosphere. There is a 300-space parking lot, picnic areas, restrooms and changing rooms that include outdoor showers and seasonal lifeguards on duty.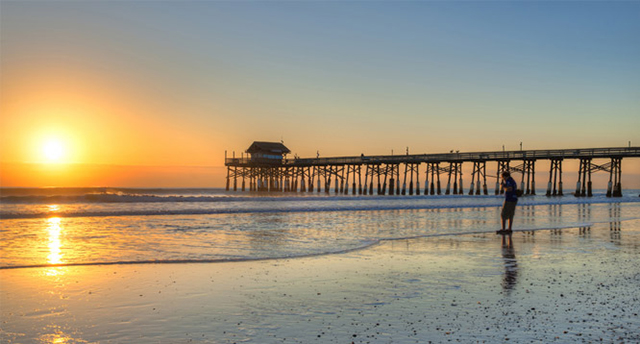 Daytona Beach: Drive on the Sand to Find that Perfect Spot
Don't let the wild stories of college spring break detour you from one of Florida's most popular beaches, that is unless you actually visit during spring break. The 23 miles of beach are family friendly and offer additional attractions besides the warm waters of the Atlantic Ocean. Beyond the boardwalk and pier, there are an array of beachfront parks and an exciting water park and family entertainment center for the kids to enjoy. Daytona is also a beach that permits vehicles (on about half of the beach stretch) to drive directly onto the sand, making a day on the beach an easier overall experience, especially when it comes to loading and unloading the car. There's also parasailing, snorkeling, and watercraft opportunities, in addition to food and shopping.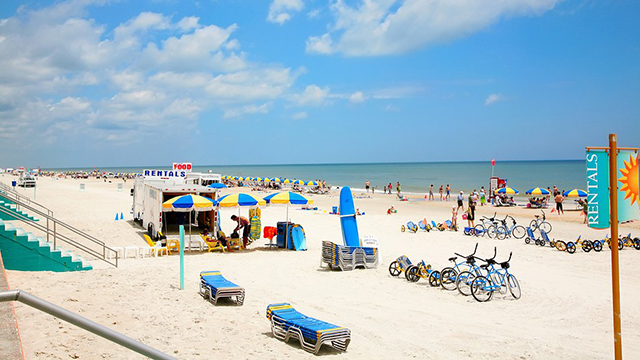 New Smyrna Beach: White Sand and Perfect Surf
Although family friendly, New Smyrna might be a better option for visitors looking for a little bit of more peace and quiet, as the pristine 13 miles of white-sand beach is typically less crowded than other nearby beaches. National surfing championships are held several times a year at nearby Ponce Inlet, north of New Smyrna. The offshore rock ledges at New Smyrna create continual wave breaks and provide fewer undertows, which makes it a surfer's paradise. Rental shops line the beach with both boogie boards and surfboards. Surrounded by lots of fresh seafood restaurants, New Smyrna is a great place to enjoy some catch of the day after a long day of soaking up the sun and riding the waves. Also nearby, visitors can view wildlife at Merritt Island National Wildlife Refuge, near Kennedy Space Center. And just down the road at Canaveral National Seashore are 57,000-acres of reserve that serve as a refuge for a variety of bird species and the nesting grounds of loggerhead sea turtles.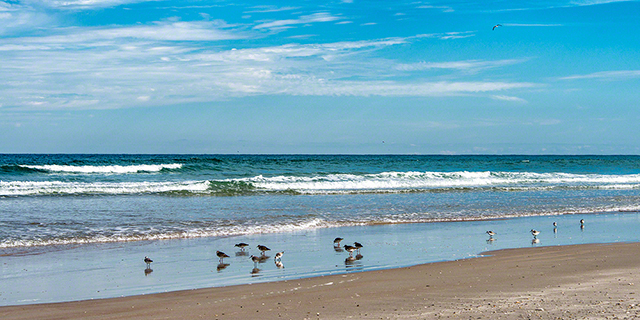 Canaveral National Seashore: Not For Rule Breakers, But For Naturalists
For visitors looking for fewer rules to follow, Canaveral National Seashore might not be the place to visit. There are no cars allowed on the beach, like Daytona, no rental shops to rent a boogie board or grab a drink, no big pier parties, surf shops, or even lights. But the 23 miles of pure Florida coastline is there, with pristine beaches of large-grained sand. It's not typically convenient for those big family picnics, as everything has to be carried several hundred yards from the parking lot to the beach, but the natural beach and soothing shores are still very much worth the extra effort. Parking is free at Canaveral National Seashore but once the limited parking is full, no additional visitors are admitted, so early morning makes for the best arrival time, especially on weekends. Parts of the seashore, which include Playalinda, are inside property owned by NASA and have extra security regulations that need to be followed; additionally those particular stretches are closed during launch preparations as Kennedy Space Center is within close proximity.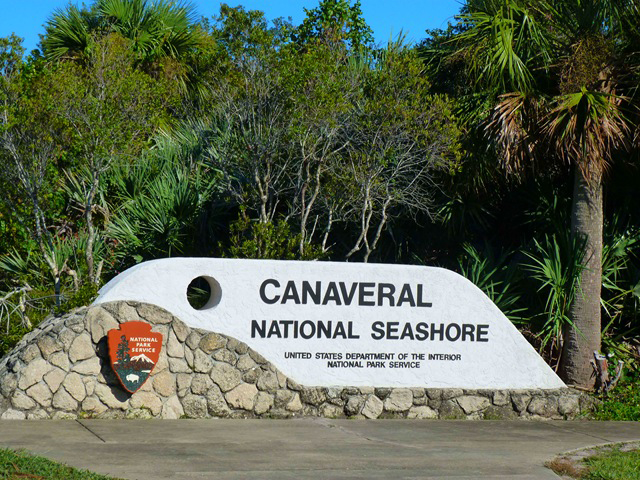 Melbourne Beach: Take a Drive Through History
The furthest, but not by much, beach from Orlando is also set alongside the Indian River Lagoon, just a short drive from Cape Canaveral. Melbourne Beach has miles upon miles of beautiful coastline in addition to fishing, snorkeling, and even golf is nearby. The beach is located near Historic Downtown Melbourne, which has all types of shopping and restaurants. Melbourne Beach is also home to many annual festivals such as the Independent Filmmaker's Festival, Aviation Day, Arts Festival and Oktoberfest. The beach is family friendly and again, less crowded than nearby beaches, and although it's the furthest, it does provide a history element that the others just cannot. Melbourne Beach was discovered by Spanish explorer, Juan Ponce de Leon in 1513 while searching for gold. The historic town is rich with historical buildings and enough information to satisfy any history buff.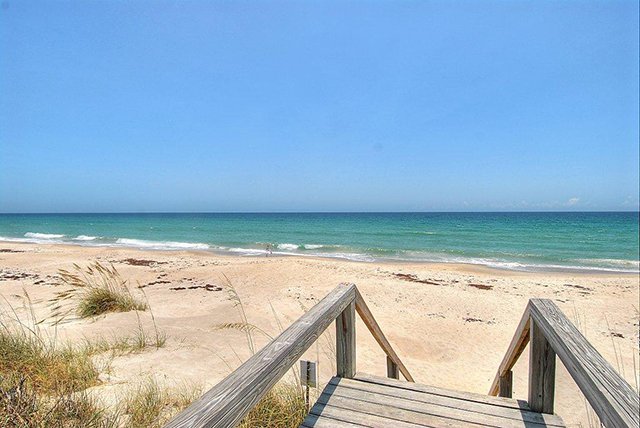 So Orlando truly does have a bit more to offer besides their amazing theme parks! The good news is, the five beaches highlighted above are all within a short drive away from inland Orlando, making your vacation options available to be a bit more expansive than one might typically think, and can include some of what Florida is also pretty famous for; it's beautiful beaches and coastline.
Main Image Photo Credit: © iStock/REYNALDO BRIGANTTY JR
About the Author: David Duran is a Brooklyn-based luxury, hospitality, culinary, and overall freelance travel writer who contributes to such publications as Fodor's, Travel + Leisure, Destinations Weddings & Honeymoon, and Caribbean Travel + Life, among others. When not traveling 20-25 days a month for his work, he spends his free time planning more travel! To read some of his work, check out his online portfolio, and follow him on Instagram and Twitter at @mrdavidduran.
Featured Vendor

Get Hertz Discounts
Subscribe to Our Blog!
Like Us On Facebook