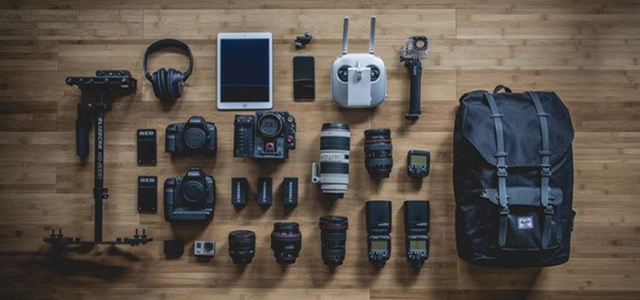 How to Keep Your Stuff Safe When You Travel
Holidays are the perfect way to relax, but the quickest way to ruin that moment of bliss is discovering your valuables have been stolen. We are here to avoid that happening to you. These tips will help you keep your stuff safe during trips. Whether you are on a road trip, city trip or summer vacation, these tips are useful at any time.
Keep Your Valuables in Different Places
Hey Mr. Thief: I've made it easy for you, and kept all my stuff in one location. This is the easiest way to prevent ALL your valuables from being stolen in the unfortunate event you run into a pickpocket. So store your valuables in different locations. It might require you having to open up an extra zipper, lock or bag now and then, but isn't that worth lowering the odds of being robbed of everything valuable? We think so! Put your camera in your handbag, your phone in the pocket of your coat and your keys in the pocket of your jeans for example. Same goes for your money. If you are travelling with a sufficient amount of money then don't store it all in the same place. Always store one of your credit cards in the hotel safe (and yes, you should have more than one card).
Get the Right Insurance
Let's be realistic, sometimes you're in the wrong place at the wrong time, no matter how many precautions you take. Sometimes all it takes is a second of not paying attention. This is why they invented
travel insurance
. Prepare yourself by getting the right travel insurance and resolve the horrible situation in a quick and clean way. Travel insurances sometimes offer extra coverage for things like your laptop, phone, camera and tablets. Just be sure to check if all your stuff is insured the way you need them to be, and exactly what your insurance covers.
Use TSA Approved Locks
When you fly, you and your bags will be thoroughly checked to ensure everyone's safety. Including your checked bags, which will go through a scanner. If the agents are worried about its content, they are allowed to break open your suitcase or cut your lock. To prevent this from happening, and them accidentally damaging your property, make sure to get a TSA approved lock.
While we are on the topic of locks, always bring a lock in case you're staying somewhere with a locker (like hostels). It is just one of those items that you will never regret bringing along, as it hardly takes up any space. Pacsafes may also be a wise investments, but mostly if you're traveling with backpacks that you can't store safely.
Don't Leave Anything Unattended
Sure it seems logical, but it's easy to leave your bag unattended for just a few seconds while settling a check, and a well-trained thief only needs a second. Always check if your car is locked (if your bags are stolen while your car is unlocked you are not covered by insurance), your bags are closed and your valuables are still where they need to be when you change locations. Especially in crowded places it is important to keep an eye on your bag. If you don't trust where you are, then carry your backpack on your belly for a while instead of your back.
Hide Your Valuables When Leaving the Car
When traveling by car make sure your valuables are hidden from sight. More often than you think people forget to hide their camera or e-reader from plain sight and that is basically an open invitation to steal them. It can be as simple as shoving the expensive stuff under the seat in front of you. Just make sure it isn't the first thing people see when walking past your car. If you want to keep them even safer, try the dashboard compartment or the trunk of your car. Did you know you are usually not covered by travel insurance if your stolen stuff was in plain sight?
We hope these tips will help you keep your stuff safe on your next trip. The most important tip is to just use your common sense: don't walk around slums flashing your Rolex and fancy DSLR camera. You know when to trust your gut if something or someone doesn't give you the right vibes. However, the world is a lot safer than you think, so go out and enjoy!
About the Author: Milou van Roon runs a Digital Media Agency called Explorista Media that is dedicated to making travel brands into online rockstars. She's hardly ever home in The Netherlands, and regularly abuses the European low cost flights under the excuse of 'blogging about it' on budget travel blog http://explorista.nl/en/. Be sure to follow her adventures on Instagram (@Explorista).
This post contains references to products from one or more of our partners. We may receive compensation when you click on links to those products. For an explanation of how ABN works, visit this page.
Featured Vendor

Get Hertz Discounts
Subscribe to Our Blog!
Like Us On Facebook